San Ysidro border crossing closed for hours; U.S. officials fire tear gas at migrants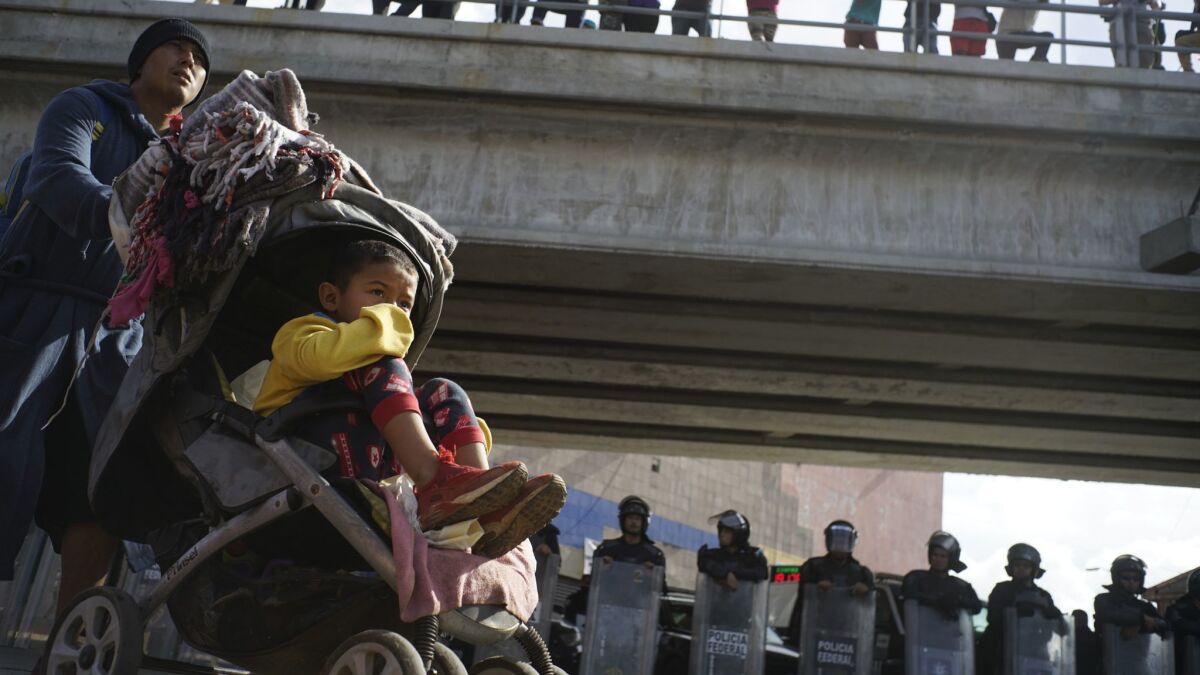 Reporting from San Ysidro, Calif. —
The Mexican border was closed for hours Sunday at the San Ysidro Port of Entry after a group of migrants in Tijuana stormed the area, prompting the U.S. Border Patrol to fire tear gas at the group.
The incident marks a serious escalation in the tensions that have roiled Tijuana in recent weeks as thousands of migrants from Central America have amassed there with hopes for entering the United States. President Trump has vowed to seal off the Mexican border in recent days and pushed to keep any migrants in Mexico as they await the immigration process.
Border Patrol officials said they used the tear gas after migrants threw objects at them. The gas was used to "dispel the group because of the risk to agents' safety. Several agents were hit by the projectiles," the agency said in a statement.
The dramatic images of the clash were already being used by the various sides of the immigration debate. Backers of Trump's crackdown said the events showed the need to secure the border, while some critics said they were disturbed to see tear gas used on the group, which included some children.
As Mexican authorities tried to move the migrants away from the border, gridlock was occurring at what is one of the world's busiest international crossings.
U.S. Customs and Border Protection closed northbound and southbound access, as well as pedestrian access, to the port of entry around 11:30 a.m. Sunday. At 3:45 p.m., authorities reopened pedestrian access. By 6 p.m., all northbound and southbound vehicle crossings were opened.
Extra Border Patrol personnel were deployed to the San Ysidro port on Sunday "in preparation for multiple planned demonstrations on both side of the border," according to a statement from U.S. Customs and Border Protection on Sunday afternoon.
"As the demonstrations on the Mexican side reached the border area, some members of the demonstration split off to head toward multiple locations along the border," the statement read. "Some attempted to illegally enter the U.S. through both the northbound and southbound vehicles lanes at the port of entry itself. Those persons were stopped and turned back to Mexico."
The port was closed "to prepare for the possibility that additional groups would also break off from demonstrations for a possible attempt or attempts to rush illegally through the port of entry," according to the statement.
The move came as hundreds of Central American migrants who have been gathering in Tijuana pushed past a blockade of Mexican police standing guard and rushed toward the border.
The migrants carried hand-painted American and Honduran flags and chanted: "We are not criminals! We are international workers!"
A small clash occurred late in the morning when migrants tried to run around Mexican federal police, leaving one officer with a cut on his lip.
A helicopter circled overhead when a small group of men and teenage boys ran past Mexican police to a small hole in the border fence.
U.S. authorities appeared to deploy tear gas and a flash bang, which makes a loud noise but does not fire a projectile, at a group of people who were trying to get through a section of the border fence.
Some at the fence could be seen throwing rocks.
At one point before noon, Border Patrol authorities fired what appeared to be a flash bang and launched tear gas at a group of people trying to make their way through a fence. Some mothers ran under a train, clutching their crying children. Photos from the scene showed children in the area where the tear gas landed.
Shortly after noon, the skirmishes appeared to be calming down. A woman used a bullhorn to spoke through the fence to U.S. Border Patrol agents, trying to persuade them to let in migrants.
"We don't want war, we don't want killing," she said across the line. In response, Mexican federal police in riot gear pushed people away from the fence.
At least three helicopters circled the area. Traffic was backed up along Interstate 805 into National City and Bonita.
Around 1:30 p.m., a large Homeland Security bus was ushered past the border barricade.
The additional personnel at the border included Customs and Border Protection officers, U.S. Border Patrol agents and Air and Marine agents recently sent to the region.
San Diego police also readied on-duty officers Sunday afternoon to respond to the border division if needed.
None of the migrants managed to cross the border into the U.S.
More than 4,700 Central Americans have been living crammed together in a Tijuana sports complex.
State authorities say by the time it is over, as many as 9,000 Central Americans will have arrived in Tijuana with the hope of crossing to the United States.
Many of them are from Honduras, a country beset by violence and poverty, and came with the intention of seeking asylum in the United States.
U.S. Secretary of Homeland Security Kirstjen Nielsen said in a statement the department "will not tolerate this type of lawlessness and will not hesitate to shut down ports of entry for security and public safety reasons. We will also seek to prosecute to the fullest extent of the law anyone who destroys federal property, endangers our front-line operators, or violates our nation's sovereignty." Homeland security will maintain "a robust presence" along the border and continued "close contact with Mexican authorities," according to the statement.
The Coalition for Humane Immigrant Rights, CHIRLA, an immigrant rights organization in California, condemned the use of tear gas against immigrants at the border.
"It is a despicable act on the part of the Trump administration and CBP officials to attack defenseless women and children firing tear gas, a chemical agent, at them," Angelica Salas, executive director for the organization, said in a statement. "These are human beings who are reaching a point of desperation because their asylum claims are being processed at a snail's pace or not at all."
On Sunday morning, before the border closed, President Trump used his presidential Twitter account to blame Democrats for allowing border crossings, and suggested that Mexico and "originating countries" should prevent caravans from reaching the border, or forming at all. Such caravans, he wrote, are "a way they get certain people out of their country and dump in U.S. No longer."
Less than 24 hours earlier, Trump had reiterated threats on Twitter to close the southern border — threats that have alarmed many in Mexico, since cross-border trade is a mainstay of the Mexican economy.
In his tweet, Trump also said migrants would not be allowed into the United States "until their claims are individually approved in court."
Others would "stay in Mexico," he added, without elaboration.
Mexico's incoming leadership denied a report that it had agreed to a Trump administration proposal requiring asylum seekers arriving at the southwest border to wait in Mexico as U.S. authorities consider their claims for safe haven.
The Washington Post reported Saturday that Trump had won the support of the government of Mexican President-elect Andres Manuel Lopez Obrador — who takes office on Dec. 1 — for a plan mandating that asylum seekers at the border remain in Mexico as their claims move through the U.S. immigration system.
Later Saturday, however, Olga Sanchez Cordero, Mexico's interior minister-designate, denied that Mexico had agreed to host people seeking U.S. asylum as their cases awaited judgment.
"There is no agreement of any sort between the future Mexican federal government and the U.S.," the incoming interior minister said in a statement.
Sunday's confrontation became become a part of the national immigration debate. Trump's weekend tweets, as well as the border incident, quickly elicited responses from Washington Democrats on weekend talk shows.
Sen. Amy Klobuchar (D-Minn.) interviewed on ABC's "This Week," was dismissive of the president's efforts to blame Democrats for the failure to enact comprehensive immigration reform, saying Trump himself had "gut-punched" such efforts.
Klobuchar said the Trump administration "should have been working with these Central American countries a long time ago" to curb mass flight from violence and poverty.
Rep. Elijah Cummings (D-Md.), the incoming chairman of the House Oversight Committee, said on NBC's "Meet the Press" that he does not support a potential deal where asylum-seekers coming through Mexico would stay in Mexico until their court date in the United States.
"That's not the law," he said. "They should be allowed to come in, seek asylum, that's the law."
Others said Sunday's event support Trump's policies.
"This makes the president's point: That these are people who are willing to not just defy immigration law in an abstract sense — crossing a border where nobody is looking — but actually rush the border in the full light of day," said Mark Krikorian, executive director of the Center for Immigration Studies.
Critics said they were troubled that federal authorities would use tear gas against mothers and children seeking asylum.
"What we saw at the San Ysidro border crossing should horrify the whole country; it was simply inhumane," said Cristóbal J. Alex, president of Latino Victory Fund. "His administration has gone from locking children in cages to firing tear gas at toddlers and mothers. These families have the right to seek asylum in the United States. Denying them entry makes a mockery of our American values."
Times staff reporters Patrick McDonnell, Laura King, Alene Tchekmedyian and Ruben Vives, correspondent Cecilia Sanchez, and San Diego Union-Tribune writers Kate Morrissey and Lyndsay Winkley contributed to this report.
---
UPDATES:
8:40 p.m.: Updated with reaction from advocates.
6:15 p.m.: Updated with new information from the San Ysidro Port of Entry.
5:05 p.m.: This article was updated with information about southbound lanes at the Port of Entry being reopened.
4:15 p.m.: This article was updated with a statement from the Nielsen.
4:05 p.m.: This article was updated with a statement from U.S. Customs and Border Patrol.
3:50 p.m.: This article was updated with the pedestrian crossing reopening.
3:20 p.m.: This article was updated with comments from Klobuchar and Cummings.
2:30 p.m.: This article was updated with comment from U.S. Customs and Border Protection.
2:10 p.m.: This article was updated with information from the border.
1:50 p.m.: This article was updated with comments from Trump and CHIRLA.
3:50 p.m.: This article was updated with information about pedestrian access on the border being reopened.
1:25 p.m.: This article was updated with more background information.
1:05 p.m.: This article was updated more information from the border.
12:35 p.m.: This article was updated with more information from the border.
This story was originally published at 12:15 p.m.
---
The stories shaping California
Get up to speed with our Essential California newsletter, sent six days a week.
You may occasionally receive promotional content from the Los Angeles Times.