Gang member charged in triple slaying at Torrance bowling alley
A 47-year-old Los Angeles gang member was charged Friday with killing three men at a Torrance bowling alley last month, the Los Angeles County district attorney's office announced.
Reginald Leander Wallace of Los Angeles faces three counts of murder, four counts of attempted murder and one count of possession of a firearm by a felon, according to the district attorney's office.
The charges include special circumstance allegations of multiple murders and killing to further the activities of a criminal street gang as well as allegations of using a handgun.
If convicted, Wallace faces death or life in prison without the possibility of parole. A decision on whether to seek the death penalty will be made at a later date, according to the district attorney's office.
Wallace was convicted of first degree murder as a juvenile in June 1989 and later convicted of possessing a gun within a school zone in 1997 and assault with a firearm in 1998, authorities said.
Three Los Angeles residents died in the Jan. 4 shooting: Michael Di'Shawn Radford, 20; Astin Kyle Edwards, 28; and Robert Earl Meekins Jr., 28. Two injured men were taken to a hospital, and two others opted to seek medical attention on their own.
Meekins went to the bowling alley that night to meet Astin Edwards, the godfather of his 5-year-old son.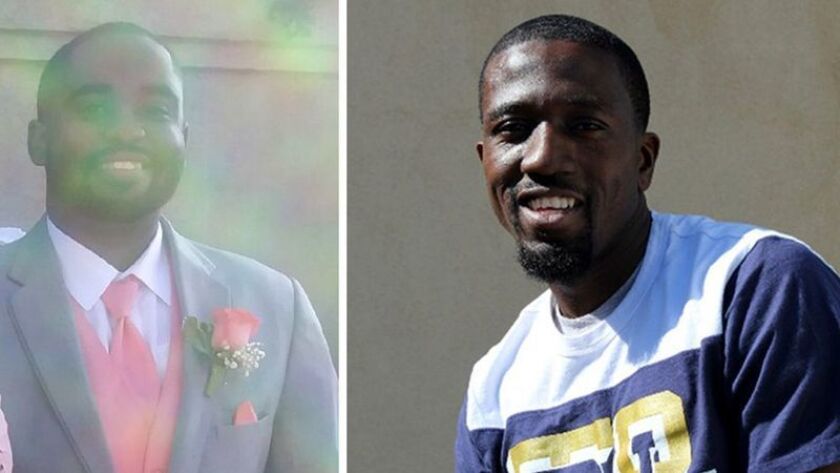 Torrance police arrested Wallace last month. He previously served 17 years in prison and was released in 2017.
The shooting at Gable House Bowl, a popular night spot in the city since it opened in 1960, began with a fight between customers, Torrance Police Chief Eve Irvine said last month.
The confrontation escalated to involve as many as 15 people, Irvine said.
During the argument, Wallace pulled a gun from his pocket and began firing into the crowd, Irvine said. It appeared that he was the only shooter inside the building, she added, describing the weapon as a handgun but declining to specify its caliber.
Wallace did not reload the gun, Irvine said.
---
The stories shaping California
Get up to speed with our Essential California newsletter, sent six days a week.
You may occasionally receive promotional content from the Los Angeles Times.