Los Angeles settles lawsuit with family of man shot by LAPD officers in Boyle Heights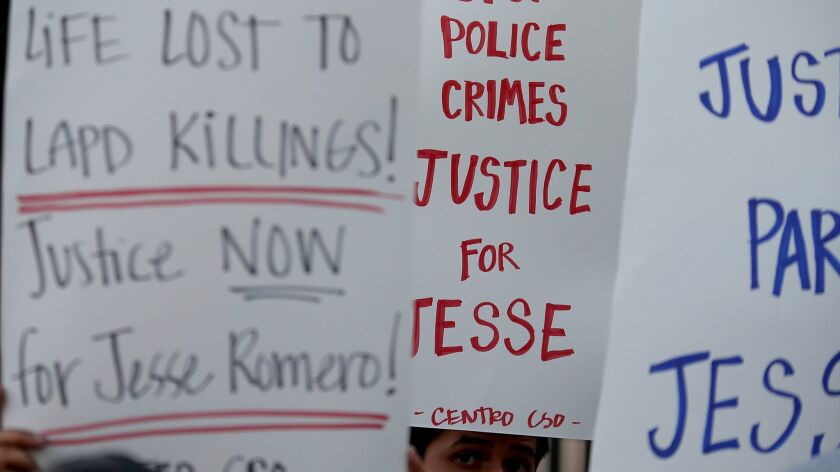 The city of Los Angeles has approved a $475,000 settlement for the family of a man shot by an LAPD officer in Boyle Heights last year.
Council members voted unanimously this week to approve the settlement for relatives of Fred Barragan, whose killing sparked outrage after a series of fatal shootings in the neighborhood by Hollenbeck Community Police Station officers.
Barragan's family claimed in a lawsuit filed last year that he was unarmed, had committed no crime and didn't try to evade police when officers shot him in an alley on March 24, 2017, near a Metro Gold Line station.
After the shooting, the Los Angeles Police Department said in a statement that Officer Hector Almeda fired at Barragan, 35, because he had pulled a gun from his waistband as he ran away from officers.
The death spurred a vigil and march from Mariachi Plaza to the Hollenbeck station the following day, where protesters demanded justice for Barragan and others shot by police.
It was another example of tensions between the Boyle Heights community and Hollenbeck police officers, who in 2016 shot six people.
The neighborhood had more fatal on-duty police shootings that year than any other neighborhood in Los Angeles, according to data compiled by the Los Angeles Times. The youngest killed were both teenagers: 14-year-old Jesse Romero and 16-year-old Jose Mendez, both of whom were fatally shot in 2016. Lawsuits in both shootings are pending.
Police said Barragan was shot after officers responded to gunshots that were heard from the nearby Hollenbeck station. Patrol officers searching for the source of the gunfire saw Barragan just before midnight, and when they tried to detain him, he ran, the department said in a statement. A loaded handgun was found in a fenced area a short distance away, police said.
Barragan was pronounced dead at the scene at 12:28 a.m., according to Los Angeles County coroner's records.
The lawsuit, however, described a different sequence of events, saying Almeda jumped hastily out of a police car and drew his gun while running toward Barragan, which prompted him to run from the officer.
"Within seconds of Barragan's running start, Almeda shoots his firearm at Barragan's back, who succumbs in a forward motion," the complaint said.
The suit also said officers failed to call paramedics quickly because they were trying to buy time to "fabricate a false basis so as to justify the shooting and killing."
Citing video footage, the complaint said that Barragan was shot in the back, but that officers suggested to the coroner's office "to post false information about the shooting … that Barragan was shot in his chest," in an effort to imply he was facing officers and posed a threat.
Dale Galipo, the attorney representing Barragan's mother, Guadalupe Barragan, said he recommended the settlement because he believed it was in the best interest of the family. He said he accepted the relatively low amount because of the question of whether Barragan possessed a gun at the time of his death.
"I don't believe the family is completely happy with the settlement and does not completely feel justice was done," he said. "I hope this provides some closure and that police agencies will continue to work on limiting these shootings."
An LAPD spokesman said the agency was not commenting on the matter and referred a reporter to their 2017 statement about the shooting.
alejandra.reyesvelarde@latimes.com
Twitter: @r_valejandra
---
UPDATES:
3:50 p.m.: This article was updated with a statement from the family's attorney.
This article was originally published at 1 p.m.
---
The stories shaping California
Get up to speed with our Essential California newsletter, sent six days a week.
You may occasionally receive promotional content from the Los Angeles Times.