Teachers union holds protest outside Broad museum on opening day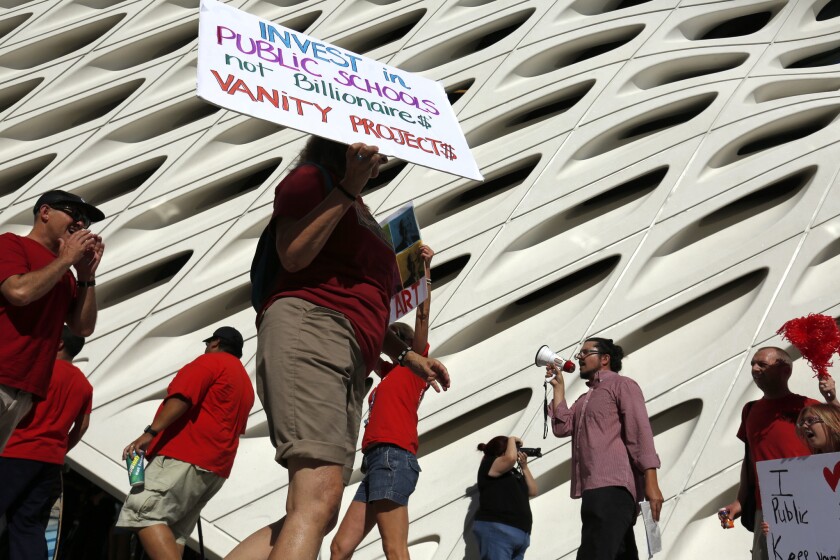 Before art aficionados could get their first look inside Eli Broad's new museum Sunday morning, they got an angry earful on the outside from teachers who have long battled the billionaire philanthropist over charter schools.
Seizing on the opportunity to steal some of the limelight surrounding the opening of the Broad, which will house Broad's renowned collection of modern art, a few hundred instructors from the L.A. Unified School District endured a blazing sun and took to the sidewalk in front of the museum.
"You want art for the masses?" one person shouted into a bullhorn.
"Then fund more classes!" others shouted in reply as they paraded back and forth under the museum's much-discussed honeycomb façade.
Clad in the red shirts of United Teachers Los Angeles, the union that represents teachers, the protesters were sounding off against Broad's involvement in a nascent plan to dramatically expand the number of charter schools operating in the district.
NEWSLETTER: Get the day's top headlines from Times Editor Davan Maharaj >>
Charters are independently run, publicly financed schools that are exempt from many rules that govern traditional schools; the teaching staff at most are not unionized. For years they have been a major flash point in the debate over how to improve public education as supporters argue that they offer an alternative to poor-performing district-run schools and opponents say they drain resources and are selective about the students they admit.
Currently, more than 100,000 L.A. students attend charters, about 16% of district enrollment, according to district figures. L.A. Unified has more charters, 207, and more charter students than any other school district in the country. Broad and his wife have played a major role in the growth of charters in Los Angeles and elsewhere, investing $144 million, according to figures released by their foundation.
While officials from the Eli and Edythe Broad Foundation said last month that the current plans for a charter expansion are still being formed, charter school representatives involved in the talks said the ideas being discussed are ambitious.
One person who attended a meeting said the goal was to enroll in charter schools half of all Los Angeles students over the next eight years. Another said there was discussion of an option that involved enrolling 50% of students currently at schools with low test scores.
An increase of that magnitude would dramatically escalate the fight the teachers' union has waged against Broad and others who have come out in support of the schools.
"Charter schools are destroying public education," said retired kindergarten teacher Cheryl Ortega, employing oft-used union rhetoric. "Mr. Broad wants to own 50% of our schools. …That's untenable."
In a statement, a spokeswoman for Broad said, "As families demand high-quality public school options — and more students want to attend public charter schools, we want to support them in meeting that demand. Our only interest is in supporting the growth of high-quality public schools."
The noisy reception seemed to generate little more than curious looks from visitors who lined up outside the museum, waiting for their chance to file in.
"It adds a little context," said Alyse Carter, an art student. "I'm going to remember when I came to the opening of Broad's museum and there was this issue that people felt strongly enough about that they came out to be heard."
Twitter: @joelrubin
ALSO
1 dead as new wildfire rages in Monterey County
Officers find man shot dead in Lakewood riverbed
---
The stories shaping California
Get up to speed with our Essential California newsletter, sent six days a week.
You may occasionally receive promotional content from the Los Angeles Times.