New L.A. councilman eyes ban on business, union donations to candidates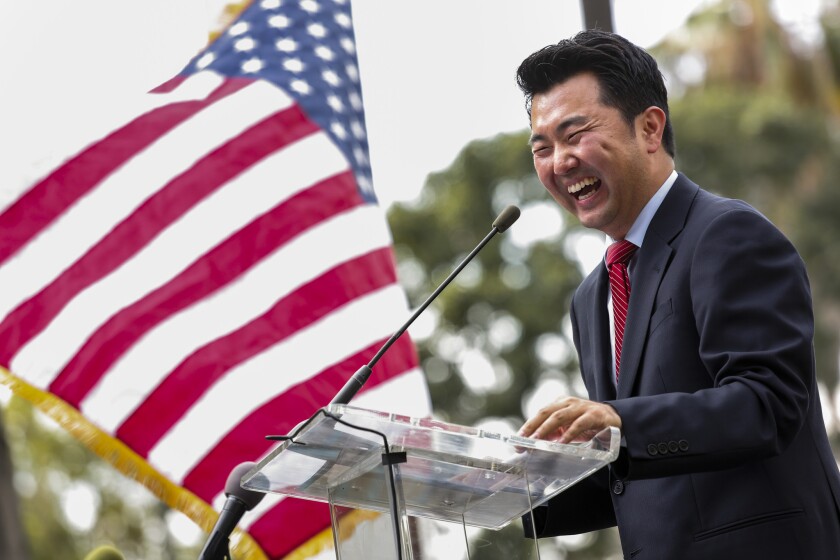 In his quest to win votes, Los Angeles City Councilman David Ryu campaigned this year as a City Hall outsider determined to shake up the status quo.
Now the new councilman says he wants to do just that, by banning city candidates from taking campaign money from businesses, labor unions and other groups.
But the bold and controversial plan hit turbulence even before it could be aired before the City Council. It's a stark sign of the test facing the new councilman as he tries to live up to his campaign promises as a change maker and be effective inside City Hall, where success often hinges on forging alliances.
Earlier this week, Ryu planned to put forward a sweeping proposal to change city law and significantly restrict the kinds of donations that campaign committees controlled by city candidates could receive.
Under his proposal, candidates would be barred from taking money from corporations, limited liability companies, labor unions, political parties and any other group donors. Only donations from individuals would remain legal.
The change would reduce the sway of special interests and make campaigns more transparent, argued Ryu, who represents neighborhoods stretching from Sherman Oaks to the Miracle Mile.
"With individual contributions, there's no question where it came from," he said Tuesday.
But Ryu never introduced his plan. Under city rules, Ryu needed at least one other council member to sign on before the proposal could be considered by the City Council. In an interview Friday, Ryu chief of staff Sarah Dusseault said the office had approached several lawmakers to seek their support.
"The general response was they needed more information," including about possible legal issues, Dusseault said. "It's a brand new idea."
Among those who raised concerns was Andrew Westall, a policy aide to council President Herb Wesson. Westall told Ryu aides that the proposal would be premature because city ethics officials would soon make recommendations about group donations, according to Wesson spokeswoman Vanessa Rodriguez.
Ryu chose not to continue shopping the proposal around to other council members. Instead, Dusseault said, he switched gears. He sent a letter to the ethics commission, requesting that the panel explore ways to ban campaign contributions to candidates by businesses, unions and other groups.
Political veterans say the idea faces an uphill climb. Proposing a ban would pit campaign reform groups, which see it as a way to avoid potential problems involving donations from groups, against political consultants who argue such restrictions would make it harder to raise funds and cause more money to be funneled into independent expenditure committees, which aren't controlled by candidates and can spend unlimited amounts.
Ethics commission President Jessica Levinson added there could be legal problems with a ban in the wake of a landmark U.S. Supreme Court ruling that struck down limits on political spending by corporations and unions on free speech grounds.
At City Hall, "anything that limits campaign spending is probably a hard sell," said Zev Yaroslavsky, a former county supervisor who is now an adjunct professor of history and public policy at UCLA.
"But I think David feels an obligation to fulfill the promises he made during his campaign," Yaroslavsky said, adding, "This, for him, is a manifestation of increasing independence in city government."
Some City Hall observers say the episode raises concerns about whether Ryu is capable of carrying out his legislative agenda. "You don't bring a major proposal like that, which you know is going to upset the apple cart, without having a plan to go forward," political consultant Dermot Givens said. "He's playing amateur hour."
During his campaign, Ryu forswore contributions from real estate developers, an idea he had hoped to impose citywide until city ethics officials warned him against singling out one set of donors.
He made his push for new restrictions on group donors following a Times report on the challenges of tracking who is behind donations made by business entities, particularly small, privately held limited liability companies that don't have to publicly report who owns them. Such donations can leave it unclear who is financially supporting a candidate, despite city rules meant to ensure transparency.
The ethics commission recently started exploring whether to demand more information from businesses and other groups that donate directly to candidate committees, something that staff said would be easier to defend in court than an outright ban.
Ryu said the city needed to go further, pointing to restrictions in San Diego, which only allows candidates to take money from individuals or political parties, and New York City, which prohibits direct donations from corporations, limited liability companies and partnerships.
Businesses and other entities are a significant source of campaign cash in L.A. They gave more than a fifth of the money donated to city candidates over the past decade, according to a city report. To soften the blow from banning such donations, Ryu said the city should boost the ratio of public matching funds it offers to qualifying candidates.
California Common Cause Executive Director Kathay Feng praised the idea. "The reality is that when entities give money, it's very hard to know who's behind that funding," Feng said.
Some campaign consultants counter the ban would increase the influence of independent committees. Under court rulings, the restrictions would not apply to those campaign groups, which are not subject to city fundraising and spending limits.
"It would drive up the spending on independent expenditures to obscene levels," said Larry Levine, a political consultant based in Sherman Oaks. "Money is going to find its way into political campaigns. Whenever you have contribution limits, you have runaway spending by independent expenditures."
Barring businesses and other groups from giving to candidates has also spurred legal battles. Such rules were deemed to be a violation of free speech rights and tossed out in an Albuquerque case. But San Diego's ban survived such a challenge: A federal judge ruled it was justified by "important anticorruption and anticircumvention interests."
Dusseault said it wasn't surprising that the "big, bold, brand new idea" Ryu was proposing would need time to gain traction. Political consultant Michael Trujillo, who was not involved in the Ryu race, said that simply floating the idea is a political win for the new councilman.
"Even if no one seconds his motion, his voters are going to say, 'We get that. That's why we voted for you. We want you to shake things up,'" Trujillo said.
Follow @latimesemily for what's happening at Los Angeles City Hall
---
The stories shaping California
Get up to speed with our Essential California newsletter, sent six days a week.
You may occasionally receive promotional content from the Los Angeles Times.