Cal State faculty union postpones planned strike after tentative salary agreement is reached
Members of the California Faculty Association chapter of Cal Poly Pomona march through campus Tuesday to President Soraya Coley's office.
(Irfan Khan / Los Angeles Times)
The California Faculty Assn., a union that represents about 26,000 members, has has put off a strike that had been scheduled for next week.
(Irfan Khan / Los Angeles Times)
Faculty union members at Cal Poly Pomona, part of the Cal State system, practiced marching through campus in the days leading up to a scheduled strike last month. The strike was canceled after a last-minute deal was struck between union and university leaders.
(Irfan Khan / Los Angeles Times)
The Cal Poly Pomona campus. The California Faculty Association has put off a strike that had been scheduled for next week.
(Irfan Khan / Los Angeles Times)
Soraya Coley, Cal Poly Pomona president, speaks to faculty after a protest march to her office Tuesday.
(Irfan Khan / Los Angeles Times)
Cal Poly Pomona President Soraya Coley, left, hugs retired mathematics professor Harriet Lord, who marched with other faculty to Coley's office Tuesday.
(Irfan Khan / Los Angeles Times)
A massive strike next week that could have crippled California State University campuses was put on hold Thursday, after administrators and the union representing faculty announced a tentative agreement over a long-running salary dispute.
The five-day strike, which was set to begin Wednesday, was postponed pending approval of the agreement by California Faculty Assn.'s members and board of directors, union and university officials said in a joint statement.
Details of the agreement will be announced Friday morning by Cal State Chancellor Timothy P. White and CFA President Jennifer Eagan in a joint news conference.
Interested in the stories shaping California? Sign up for the free Essential California newsletter >>
Once ratified by the union, the tentative agreement will be voted on in May by the Cal State Board of Trustees.
University officials resumed talks with the union Wednesday in a final attempt to avert what could have been the largest strike by higher education faculty in the nation.
Both parties agreed to hold off on strike preparations during a two-day "blackout period" and also agreed to refrain from talking publicly about the negotiations.
Efforts to reach an agreement began almost a year ago.
The faculty group had demanded a 5% pay raise, citing studies that show Cal State has the money to do so and that faculty members are underpaid compared with those at other public institutions.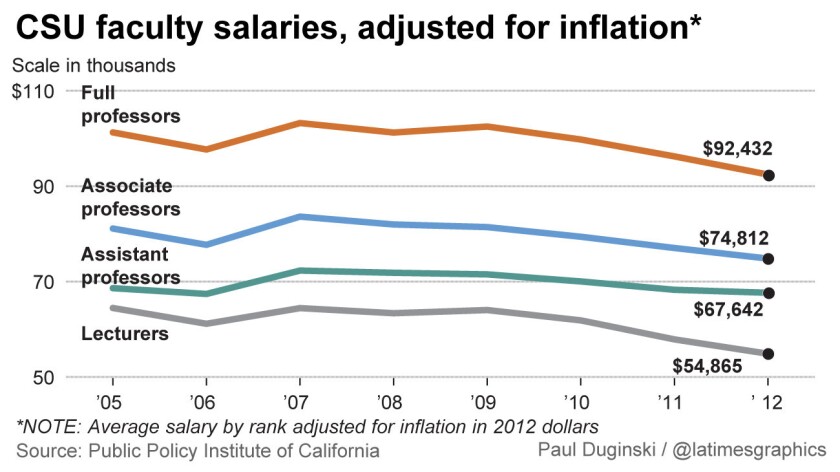 University officials, facing financial pressures since state budget cuts during the recession, said there was room in the budget for only a 2% raise, with additional increases possible in the future.
An independent mediator released a report last week that sided with the union and said a 5% raise was warranted. The Cal State Board of Trustees met earlier this week to discuss the report's conclusions.
In a meeting last week with The Times' editorial board, Cal State Chancellor Timothy P. White said he was sympathetic to the faculty union's position.
The challenge, he said, is balancing faculty compensation against the costs of higher enrollment, academic support programs and much-needed maintenance and upgrades to buildings and technology.
Follow @RosannaXia for more education news.
ALSO
Cross has no place on L.A. County seal, judge rules
Rain moves into Southern California and will linger through Sunday
Social workers charged with child abuse in case involving torture killing of Gabriel Fernandez
---
The stories shaping California
Get up to speed with our Essential California newsletter, sent six days a week.
You may occasionally receive promotional content from the Los Angeles Times.