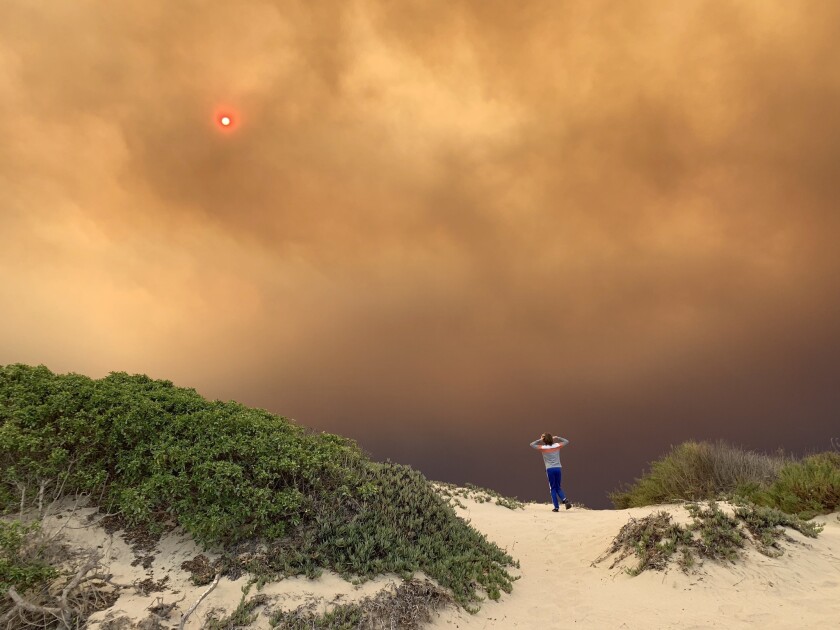 Three fires are burning throughout California, leaving a wake of destruction.
The Woolsey fire in Ventura and Los Angeles counties has left two people dead and destroyed at least 370 structures while threatening 57,000 more. At least 250,000 residents have been evacuated.
The Hill fire has burned more than 4,000 acres, and in Northern California, the Camp fire has killed least 29 people and destroyed more than 6,700 structures. It's the state's most destructive fire in history.
We asked readers to share their photos of the fires from throughout California.
"This photo taken from Firestone Fieldhouse at Pepperdine University shows the smoke creeping into Malibu on Friday morning."
"This photo was taken moments before Pacific Coast Highway was closed as the Woolsey fire was heading toward Malibu."
"The view of the Woolsey over Malibu Valley Farm on Friday."
"What you see here is not the famous fog of San Francisco; it's the thick smoke of the Camp fire in Paradise, Calif. This picture was taken on the Bay Bridge heading into San Francisco. The smoke was so bad that you could barely see the skyline of San Francisco."
"The picture was taken on Thursday, when the Woolsey fire just started to burn. The view is from Oak Hills Elementary School playground."
"The view of the Woolsey fire on the hills, behind the Hilton Foundation building in Agoura Hills Friday evening."
"This photo depicts the smoke from the Woolsey and Hill fires looking down from the window of an eastbound plane headed towards Las Vegas Friday morning."
"This is a view of the smoke from Santa Monica Beach on the first day of the fire."
ALSO:
---