Firefighters battle blazes across California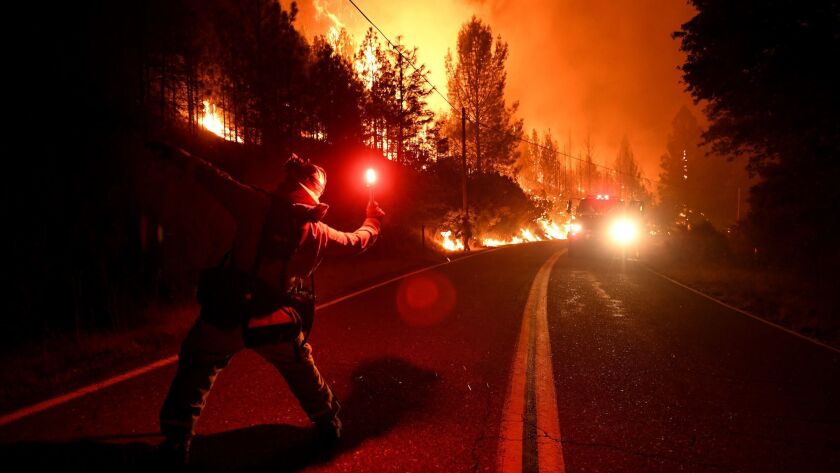 Firefighters are continuing to battle blazes across California, including a 166-acre fire that prompted evacuations of campers and visitors at San Gabriel Canyon over the weekend.
The Fork fire started just before noon on Sunday above Azusa on Highway 39 at the junction of East Fork Road, according to Nathan Judy, a spokesman for the U.S. Forest Service. There is zero containment.
Two campgrounds were evacuated, as were recreational visitors near streams and creeks, Judy said. Highway 39, two miles north of Sierra Madre Boulevard, will likely remain closed through Monday.
There have been three minor injuries to firefighters, two of them heat related and one from a falling rock, Judy said. The cause of the fire remains under investigation.
In Northern California, firefighters are continuing to battle the Delta fire, which had forced the shutdown of a stretch of Interstate 5. As of Monday morning, the fire had burned 47,110 acres and was 5% contained, according to the California Department of Forestry and Fire Protection.
More than 2,000 firefighters are battling the blaze, according to Cal Fire officials.
The I-5 between Redding and Mt. Shasta was reopened Monday morning, with travel reduced to one lane in each direction for approximately 17 miles.
So far, traffic hasn't been too heavy on the 5 as cars and trucks return to the highway, said Lt. Kyle Foster, commander of the California Highway Patrol's Mount Shasta office.
Even though one lane of the freeway is open in both directions, exits remain closed — even to local residents — between the Vollmers and Sims Road exits. The closed lanes are being saved for firefighters, Caltrans workers and contract crews.
Over the last few days, as drivers were routed around the 5 Freeway, traffic backed up for several hours along Routes 299 and 89 — roads not built for the level of traffic seen on the 5. On Thursday, traffic worsened on Route 299 when a car and a semitruck collided near Oak Run, leaving the truck jackknifed across both lanes of one of the main detours around I-5.
"We always want to avoid detouring traffic as much as possible because Interstate 5 on any given day has 20,000 vehicles travel down it," Foster said.
Just as CHP cautions passengers during a winter weather advisory to have plenty of water, food and fuel before leaving home, the agency warned travelers taking the detour to do the same. In Burney, a town of about 3,200 on Route 299, USA Gasoline had to close their diesel pumps due to low fuel levels. One store worker who lives on Route 89 had to leave home an hour early just to get to work on time. The store ran out of several drinks as customers stuck in traffic streamed inside.
"The very first thing we ran out of was water," said store cashier Mathew Pixley.
The Delta fire started Wednesday about 1 p.m. Investigators are still not certain what sparked it, but have said it was definitely human-caused.
The fire's behavior has been extreme from the start. Motorists trapped on the freeway described towering flames up to 300 feet high. So far, there have been no fatalities.
A portion of the Delta fire has also connected with the nearby Hirz fire, which is 95% contained at 46,150 acres.
In Napa County, the Snell fire has burned 2,490 acres and is 30% contained.
Twitter: @Brittny_Mejia
---
UPDATES:
1:45 p.m.: This article was updated with comments from Lt. Kyle Foster, commander of the California Highway Patrol's Mount Shasta office, and cashier Mathew Pixley.
11:15 a.m.: This article was updated with I-5 being reopened.
8:40 a.m.: This article was updated with acreage for the Delta fire.
This article was originally published at 8:25 a.m.
---
Life is stressful. Our weekly mental wellness newsletter can help.
You may occasionally receive promotional content from the Los Angeles Times.