More than a third of people shot by L.A. police last year were mentally ill, LAPD report finds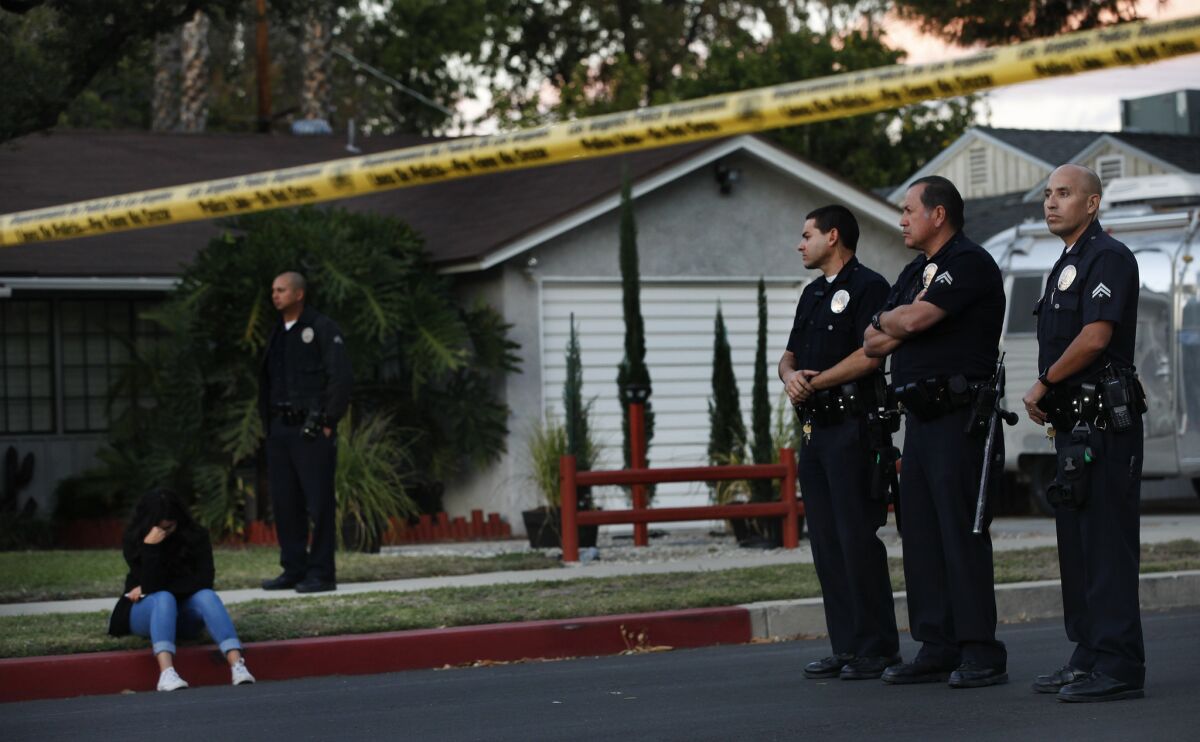 More than a third of the people shot by Los Angeles police last year had documented signs of mental illness, nearly triple the number from the year before, according to a lengthy review by LAPD officials made public Tuesday.
The report also found that African Americans continued to account for a disproportionately high number of people shot by officers, given the city's demographics. Eight of the 38 people — or 21% — struck by LAPD gunfire in 2015 were black, the report said. African Americans make up about 9% of the city's population.
The sweeping 300-page analysis — an effort designed to help identify ways to reduce use-of-force incidents — offered an in-depth look at how and when Los Angeles police officers used force in recent years.
But the numbers also offered a stark reminder of questions that have plagued the LAPD and agencies across the country: How can officers safely interact with a growing mentally ill population? And how can departments heal strained relationships with black residents when police shootings of African Americans remain disproportionately high?
LAPD Chief Charlie Beck told his civilian bosses Tuesday that the report would offer a framework for the Police Commission, the department and the public to talk about how Los Angeles police use force.
He and other top brass stressed that although encounters in which officers use force were relatively rare — accounting for fewer than 2,000 of the 1.5 million contacts officers made last year — the department was eager to drive the number down.
"We're more than willing to look ourselves in the mirror and say, 'What's occurring and how can we do better?'" Beck said.
A handful of last year's shootings generated questions and criticism that continue to linger. Two of the most high-profile incidents — one on skid row, the other near the Venice boardwalk — involved officers killing black men who were homeless.
On Tuesday, activists packed the commission meeting to mark the one-year anniversary of the skid row shooting, in which officers fatally shot Charly "Africa" Keunang after, police say, he grabbed a rookie cop's holstered gun. Keunang had previously spent years in a prison mental hospital.
As Beck began to speak to the commissioners, activists leaped from their seats, holding signs with Keunang's name. "Can't kill Africa!" they chanted.
Other agencies have been pushing for reforms in how the criminal justice system treats mentally ill offenders, whose numbers are increasing in jails and courtrooms. Federal authorities are pressuring county supervisors to improve jail conditions for mentally ill inmates. L.A. County Dist. Atty. Jackie Lacey is looking at ways to divert mentally ill people from the criminal justice system.
Fourteen of the 38 people shot by LAPD officers in 2015 had documented signs of mental illness, the LAPD's report said. And about a quarter of the nearly 1,900 less-serious uses of force — which range from an officer using a Taser or firing a bean-bag shotgun to grabbing someone — involved someone the officer believed was mentally ill.
Beck said the department was also looking at how officers could best interact with someone believed to be mentally ill and under the influence of drugs or alcohol. The chief also noted an increase in shootings involving people investigators later determined may have been trying to commit "suicide by cop."
Brittney Weissman, an executive director with the National Alliance on Mental Illness, said the sharp uptick in shootings of mentally ill people "raises a lot of questions for us." She called for more de-escalation training for officers along with diversionary programs for mentally ill people who are arrested.
"I do think that every law enforcement agency has room for improvement in dealing with people with mental illness and the homeless, and the LAPD is no exception," Weissman said.
LAPD officials noted the department has already made some changes reflecting the trends described in the report, including last year's rollout of so-called de-escalation training focused on slowing down volatile situations, particularly those involving people who may be mentally ill.
The department is also making less-lethal devices — the use of which increased last year — more readily available to officers. Officers are also now required to carry Tasers, and soon will keep bean-bag shotguns in the front of their patrol cars instead of the trunk.
Another area of the report that prompted questions from experts and police commissioners was the number of African Americans shot by police last year.
Black residents, department officials said, are also over-represented among violent crime victims. The report said African Americans also made up 41% of violent crime suspects in 2015, 33% of violent crime arrestees and 26% of people stopped by police.
LAPD officials said it was important to understand that the over-representation of African Americans in the criminal justice system was not limited to police shootings. Still, Capt. John McMahon told commissioners that this "department won't rest until we get that number to zero. That's the only number that is acceptable to us."
Peter Bibring, a senior staff attorney for the American Civil Liberties Union of Southern California, said he was troubled by the numbers.
"It's not surprising that if the LAPD is disproportionately stopping and searching African Americans that they are also disproportionately using force, including deadly force," Bibring said. "This is a point that we've been trying to make for a long time."
Twenty-two — or 58% — of the 38 people shot by LAPD officers in 2015 were Latino, the report found. Latinos make up 48% of the city's population.
The report also noted a sharp jump in the number of in-custody deaths, which rose to a dozen in 2015 compared with four the year before. Police said at least half of those incidents involved someone who, according to toxicology tests, was under the influence of drugs.
Police commissioners welcomed the analysis, saying it offered valuable data that could be used to identify trends that could be addressed in training and tactics.
Police Commissioner Robert Saltzman said the report was among the most important he had seen during his nine-year tenure.
Discuss this story on our Facebook page >>
Matt Johnson, the commission's president, noted that the inspector general would soon publish his own report that would also include recommendations for "strengthening" department policies to minimize serious uses of force by officers.
LAPD officials said they expected their report to prompt more questions and changes for the department as its policies for using force continue to evolve.
"At the end of the day, the instances in which we use force … is extremely rare," Assistant Chief Michel Moore said. "But at the same time, each incident is one too many if it can be avoided."

Twitter: @katemather and @JamesQueallyLAT
ALSO
Ku Klux Klan 'without robes' makes headlines, but influence fading, anti-hate group says
Gunman in Prius shoots at unmarked LAPD vehicle, police say
Kidnapping suspect escapes on foot, ending hours-long standoff in O.C.
---
The stories shaping California
Get up to speed with our Essential California newsletter, sent six days a week.
You may occasionally receive promotional content from the Los Angeles Times.