Rains to diminish across Southern California, but risk of mudflows and floods continues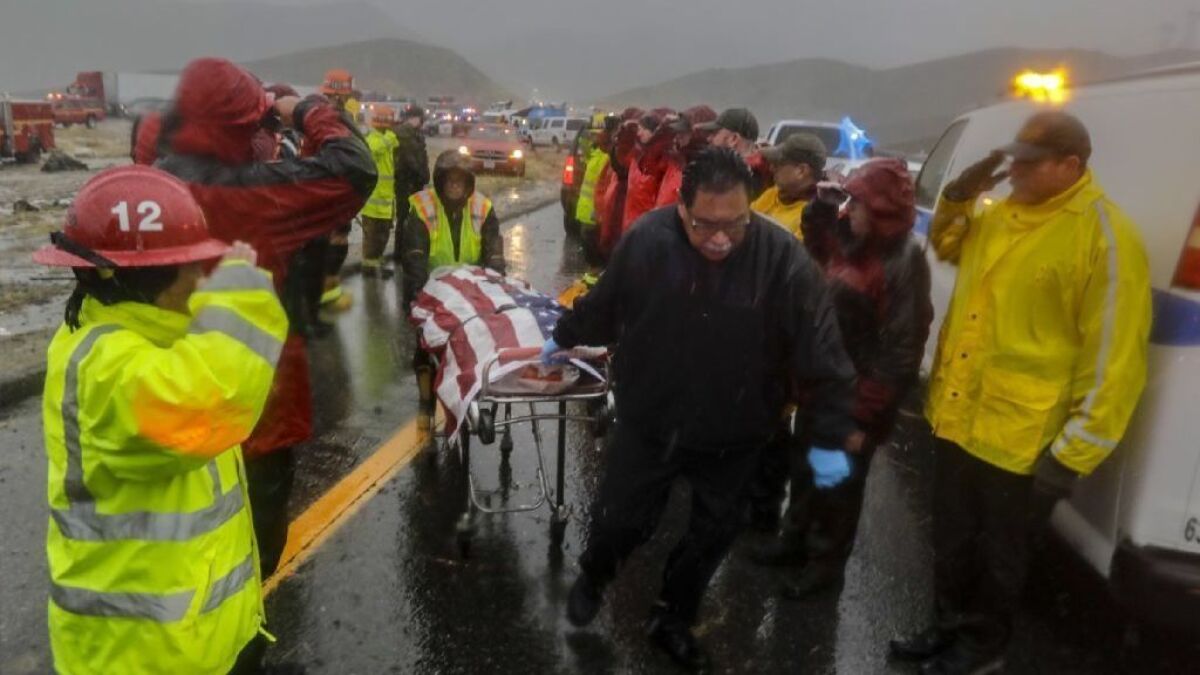 Intense rainstorms that caused flooding and at least one death in Southern California over the weekend are expected to diminish Sunday, with mild precipitation lingering into Tuesday.
"The worst has already happened," said Kristen Stewart, a meteorologist with the National Weather Service in Oxnard.
A weaker storm system bringing light rain will move across Los Angeles, Santa Barbara and Ventura counties until early in the week, according to the weather service. The storm is also expected to dump rain and up to 16 inches of snow in mountainous areas, which could impact the stretch of Interstate 5 known as the Grapevine.
Gusty winds coming from the south and southwest at up to 45 mph will continue through Tuesday night, according to the NWS, which has issued a winter storm warning for the area.
People should still be on the lookout for flooding and avoid driving through any road that appears submerged, no matter how shallow, said National Weather Service meteorologist Keily Delerme. She noted that a vehicle can be swept away in just 12 inches of water.
An earlier storm this weekend moved into Santa Barbara County on Saturday with intense bursts of rain and wind that topped 80 mph. Though the storm tapered off in the evening, it picked up again early Sunday, with wind gusts of up to 60 mph and overnight rainfall totals of up to 3 inches.
Highway 101, which was closed in both directions in Montecito on Saturday morning because of mudflows, was reopened to traffic Saturday night, Caltrans officials said.
A 17-mile stretch of Pacific Coast Highway in the Malibu area was closed due to a mudslide but reopened in both directions by late Sunday afternoon, according to Caltrans. No homes were affected.
Early Saturday, a Ventura County sheriff's search-and-rescue team member was killed and three other team members were injured in a crash on rain-slicked Interstate 5 near Gorman in northern Los Angeles County, officials said. The group was on its way to Mt. Pinos for a training exercise when they saw a crash on the freeway and stopped to help.
"While they were assisting people, a vehicle plowed into the scene," Ventura County Sheriff's Sgt. Eric Buschow said. "They stopped to help people because that's what they do. This is another tough day for us."
At least six other people were hurt and taken to hospitals.
The victim, Jeff Dye, was a volunteer with the Fillmore Mountain Search and Rescue Team, the Sheriff's Department said.
In Malibu on Saturday afternoon, Caltrans crews worked to clear the highway of mud up to 3 feet deep south of County Line Beach. A RV camper parked along the side of PCH became submerged in mud and surrounded by tree branches.
Ventura County Fire Capt. Joe Dullam said the highway was also covered in two spots near Deer Creek Road that have been problematic in recent storms, including one area where several vehicles became stuck in early January.
"This is pretty much what we expected," Dullam said.
Don Burpee said it's not the first time the neighborhood has seen mud wash down from the nearby hillside that burned in the Woolsey fire. But Saturday's mudslide was the largest, the Malibu resident said.
"Sure, you worry about it. You do what you can," Burpee said. "But there is kind of a limit to what you can do."
Times staff writer Angel Jennings contributed to this story.
The stories shaping California
Get up to speed with our Essential California newsletter, sent six days a week.
You may occasionally receive promotional content from the Los Angeles Times.