California's emergency alert system has been a disaster. A statewide fix is planned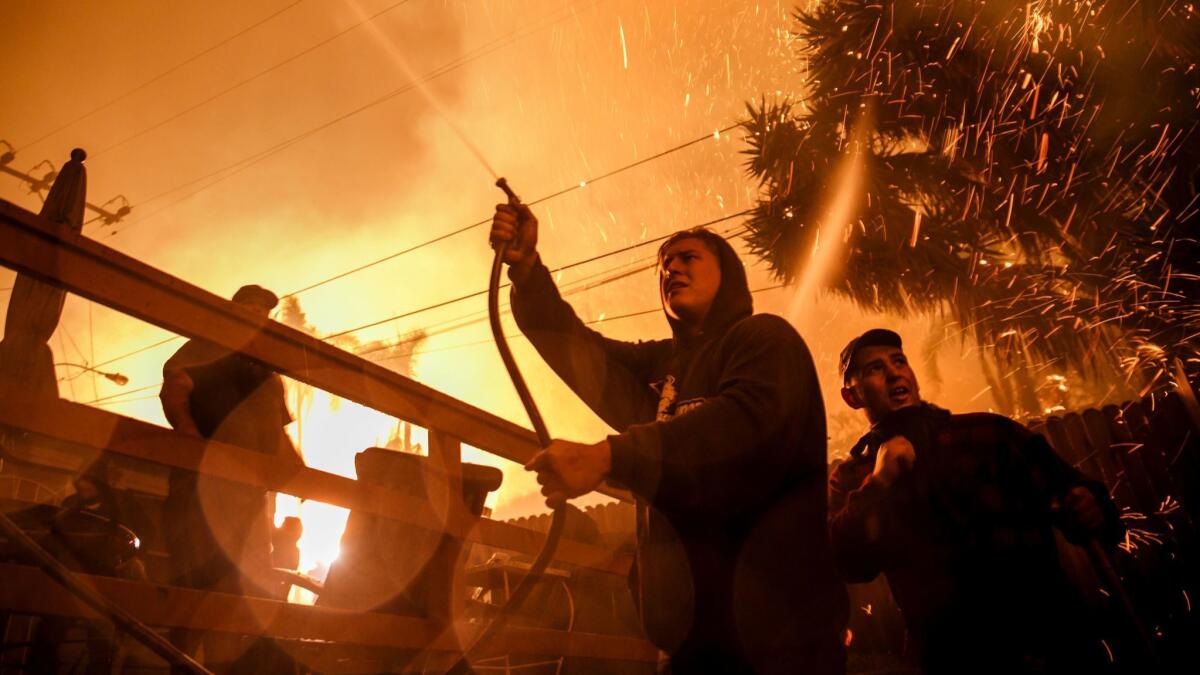 In Mendocino County, emergency staffers waited for a supervisor to show up before they warned residents of a growing fire siege in 2017.
In Santa Barbara County, officials hesitated to issue blanket evacuation orders before mudslides ripped through Montecito in 2018 because they worried they might trigger a panic.
And in Butte County in November, whole neighborhoods in Paradise were never told to evacuate as the Camp fire swept toward town.
In each case, local emergency preparedness agencies failed to adequately warn communities that death was approaching. Experts say the failures point to an approach to emergency management — administered by individual counties — that has proved outdated in an era of massive, fast-moving wildfires and other extreme weather events.
"People imagine that all this public warning stuff has been handled. That somebody somewhere is in charge of it and it's all getting done. … It isn't," said Art Botterell, who was an emergency services coordinator with the California Governor's Office of Emergency Services before retiring last year.
In the wake of an unprecedented number of wildfire and mudslide deaths over the last two years — as well as demands from lawmakers — Cal OES has for the first time proposed a standard set of emergency alert protocols for counties throughout the state.
The guidelines were released to public agencies across California on March 22 and provide an outline of how they should prepare for and react to unfolding emergencies. The 85-page document gives a list of best practices for agencies to consider, from general ideas like building an up-to-date list of residents' contact information to very specific points on how to word an evacuation order and how often emergency response staff should be trained.
"Recent disasters in California have highlighted troubling shortfalls, differences and inconsistencies among various alert and warning programs," Cal OES Director Mark Ghilarducci wrote to the state's public safety agencies in a letter introducing the guidelines.
Repeated wildfires have spurred some counties — such as San Diego, Ventura and Lake — to adopt a forward-thinking approach to emergency planning. Those communities use several methods to communicate with residents, including social media, third-party software programs and the federal government's Integrated Public Alert and Warning System.
Others, meanwhile, have been slow to adopt technological advances. Some counties rely heavily on opt-in alert systems that few members of the public are aware of. Others haven't prepared messaging for non-English speakers. Still others have not enrolled in the free IPAWS program, which can ping virtually all cellphones in a given area.
Napa County, for example, used only a subscriber-based alert system during the Atlas fire in 2017. Ventura County was slow to send out Spanish-language information during the Thomas fire two months later. During the Camp fire, flames moved faster than Paradise emergency planners anticipated and severed communications before everyone could be told to flee.
Although there's no language in the guidelines requiring public safety agencies to comply with state protocols, a bill introduced last year by state Sen. Mike McGuire (D-Healdsburg) and signed by the governor would withhold state grants for emergency management support from agencies that don't update their procedures and plans accordingly.
Reaction to the guidelines has been mixed.
"It really helps to provide a framework or road map for best practices," said Andrew Freeborn, the public information officer for the Kern County Fire Department.
In rural Alpine County, however, officials said they hadn't had a chance to read the recommendations. "I wear a lot of hats here," said Christine Mills, Alpine County's support services coordinator.
Holly Porter, director of San Diego County's Office of Emergency Services, questioned whether the carrot-and-stick approach of McGuire's law would work. She said, however, that she welcomed the state's push for a cultural shift in disaster preparedness.
"Fire personnel are there to put out fires, law enforcement is there to initiate evacuations; there has to be somebody that's linking all these things," Porter said, "but also on a sunny day thinking about the big picture."
The guidelines could be viewed as an upgrade to the Standardized Emergency Management System that California established after the Oakland Hills fire in 1991, which set up a framework for responding to and managing emergencies involving multiple jurisdictions and agencies, Botterell said. That system served as the model for the National Incident Management System established after the Sept. 11, 2001, terrorist attacks.
Both systems emphasize a bottom-up approach, with local agencies communicating with a regional command staff, which in turn communicates with the state and federal governments.
But California's system was never applied consistently, which led to overlap and gaps in responsibility during unfolding events, Botterell said. The system focused on how to manage an ongoing event, yet barely touched on how to alert the public.
There's a tendency for people in public safety to be afraid of warning. They usually see it as an opportunity to get in trouble.
— Art Botterell, formerly with the California Governor's Office of Emergency Services
"Warning has not been viewed as a thing in itself. Instead, warning has generally been attached to particular programs and particular hazards … funded by one agency or revenue stream," Botterell said. "So the idea that there was this overall generic thing called 'public warning' really has not had a lot of legs, historically."
Since the civil defense system was touted during the Cold War era, the public has generally had faith that someone, somewhere, is ready and capable to respond during a crisis, Botterell said. But recent disasters have exposed the truth.
When gale-force winds drove fires from Sonoma County's foothills into Santa Rosa's Coffey Park neighborhood in 2017, the person responsible for warning locals hesitated to use the federal government's Wireless Emergency Alerts system, which communicates information to every cellphone in a given area. The official was afraid of making the wrong decision and triggering a mass panic.
"There's a tendency for people in public safety to be afraid of warning. They usually see it as an opportunity to get in trouble," Botterell said. "There is a significant political risk of being hauled in front of your county supervisors because they got a lot of angry phone calls because you interrupted the football game."
The new guidelines leave no room for that kind of calculation.
"When dealing with uncertain or conflicting information about a threat, the Alerting Authority should choose to err on the side of protecting the public," the guidelines state (the emphasis is theirs).
History shows that when people are alerted to an emergency, they don't usually panic. They look around to see if other sources reinforce the alert — neighbors who are evacuating; a similar warning on TV, the radio or internet — and then make decisions for themselves, said Lucien Canton, an emergency management consultant previously with the Federal Emergency Management Agency.
"A lot of these things we think about — social breakdowns — these things don't happen … to the extent that people think," he said. "Look at [Hurricane] Sandy — people were taking care of each other."
What's required is that agencies provide the public with necessary information. Any plan that accomplishes that must also address non-English speakers, people with hearing or physical disabilities and people beyond cellphone range who do not have landlines.
In San Diego County, Porter, the emergency operations center director, said this would be a challenge for many communities. She added, however, that the new Cal OES guidelines were a step in the right direction.
"I think it's that important," she said. "We're talking about life-and-death situations."
For breaking California news, follow @JosephSerna on Twitter.
Sign up for Essential California for news, features and recommendations from the L.A. Times and beyond in your inbox six days a week.
You may occasionally receive promotional content from the Los Angeles Times.