Eight people have died this year in California wildfires. Here are some of their stories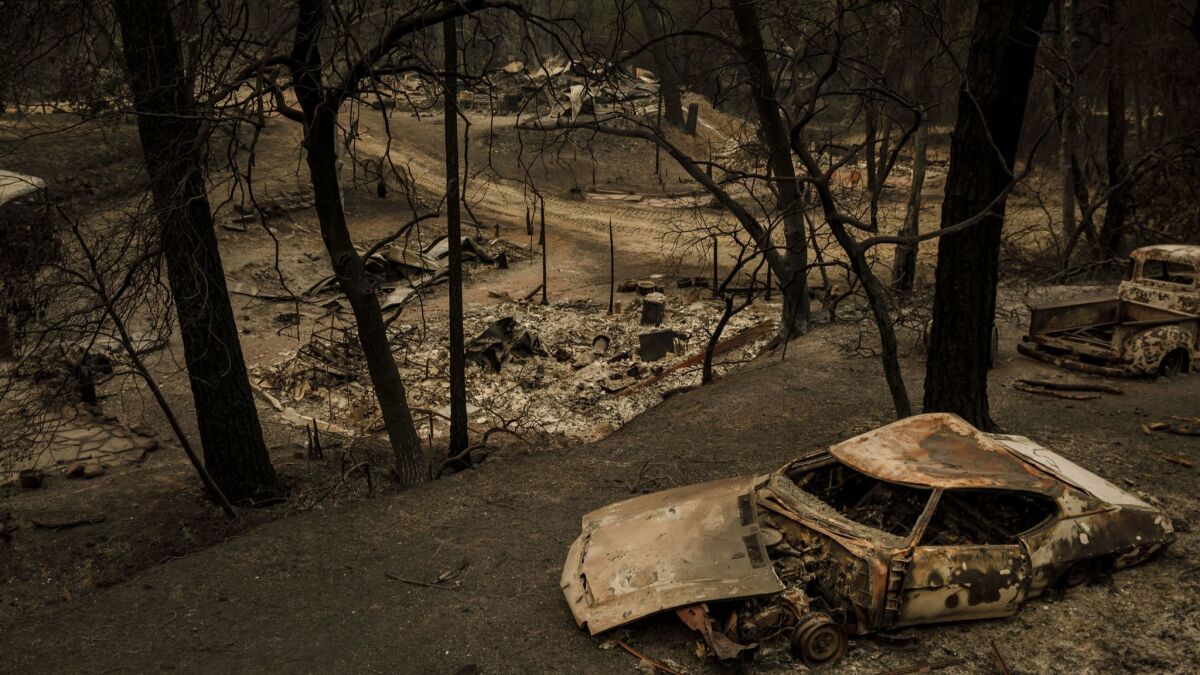 By the end of July, fires in California had claimed at least eight lives this year. Here are some of their stories.
Melody Bledsoe, 70; James and Emily Roberts, 5 and 4
Carr fire
Melody Bledsoe, 70, and her great-grandchildren Emily and James Roberts, ages 4 and 5, died when the Carr fire ripped through Bledsoe's Redding home July 26 . Bledsoe's granddaughter Amanda Woodley confirmed the news in a public Facebook post.
Woodley said Bledsoe did everything she could to save the children. "She was hovered over them both with a wet blanket," she wrote.
"My heart is crushed," she said on Facebook. "I can't believe this is real. I just keep seeing all of their beautiful faces."
According to news reports, the children called their great-grandfather while he was at the store, saying the fire was approaching.
Speaking to the Sacramento Bee, Ed Bledsoe wept as he recounted trying to get back to the house, and said his two great-grandchildren were "absolutely angels."
"She took care of me and them kids like we were a team," Ed Bledsoe told the Record Searchlight. "Every day, every day of her and my life, I told her, 'I want to thank you for being my lady.'"
— Andrea Castillo
Brian Hughes, 33
Ferguson fire
It takes skill and perseverance to become captain of a hotshot crew, but also patience, leadership and positivity. Those are the characteristics that Brian Hughes, captain of the Arrowhead Interagency Hotshots, embodied, according to his colleagues.
"He was just a wonderful human being," Woody Smeck, superintendent of Sequoia and Kings Canyon national parks, said during a press conference Monday. "He was caring, kind, positive. His personality was infectious. People were drawn to him."
Hughes was killed July 29 when he was struck by a tree while working with his crew to set a back fire — a tactic designed to limit a fire's spread — on the east side of the Ferguson fire in late July, according to the National Park Service. He was treated at the scene, but died before he could be taken to a hospital.
"The team at Sequoia and Kings National Parks is devastated by this terrible news," Smeck said in a statement. "Our deepest condolences go out to the firefighter's family and loved ones. We grieve this loss with you."
Hughes, who was originally from Hilo, Hawaii, had worked with the Arrowhead hotshots for four years. They are an elite crew of 20 firefighters based at Sequoia and Kings Canyon national parks.
"They go into the steepest of the steep, the most rugged of the rugged areas," said Mike Theune, a spokesman with the parks. The Arrowhead team, one of two hotshot crews within the National Park Service, was working on a two-week rotation when the fatality occurred, he said.
— Melissa Etehad and Alene Tchekmedyian
Don Ray Smith, 81
Carr fire
Don Ray Smith, 81, of Pollock Pines was a private bulldozer operator who was overtaken by flames in the Carr fire in Redding. Emergency personnel found his body in the area of Benson Drive and Rock Creek Road on July 26.
— Ruben Vives
Jeremy Stoke, 37
Carr fire
Jeremy Stoke was a Redding fire prevention inspector who died fighting the Carr fire. His death was announced on July 27.
"We ask for your thoughts and prayers for his family and the RFD as we process this tragic loss," the Redding Fire Department said in a statement.
Stoke had served as a firefighter for 17 years, 14 with the Redding Fire Department, according to a statement from Gov. Jerry Brown.
He "died while working to ensure the residents of west Redding had a chance to escape the flames" and left behind his wife, a 13-year-old son and a 9-year-old daughter, according to the statement.
— Sonali Kohli
Braden Varney, 36
Ferguson fire
Braden Varney died trying to protect a Mariposa County community from the Ferguson fire on July 14.
Varney was driving a bulldozer cutting firebreaks when the machine "overturned in treacherous terrain," Rep. Tom McClintock (R-Elk Grove) said in a tribute before the House of Representatives.
Varney was from Mariposa and had worked for the California Department of Forestry and Fire Protection for a decade, according to a statement from Gov. Jerry Brown. He was a second-generation bulldozer operator, and he left behind a wife, a 5-year-old daughter and a 3-year-old son.
"Braden is known by everyone in Mariposa County and is a star in our community and is a friend of everyone," Mariposa County Sheriff Doug Binnewies told the Associated Press.
— Sonali Kohli
The stories shaping California
Get up to speed with our Essential California newsletter, sent six days a week.
You may occasionally receive promotional content from the Los Angeles Times.