Caltrans aims to rebuild Highway 1 on top of massive landslide near Big Sur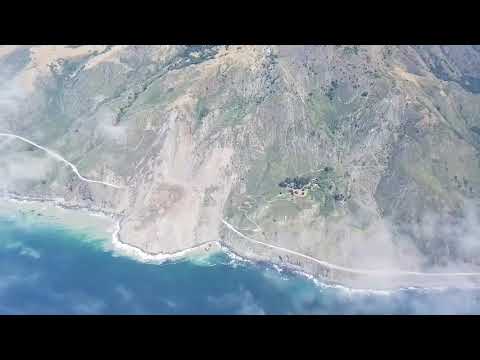 A massive new landslide along California's iconic coastal Highway 1 has buried the road under a 40-foot layer of rock and dirt, the latest hit in a winter of crippling slides and flooding.
What do you do when a mountainside buckles and 5 million cubic yards of earth slide on top of your highway?
If you're Caltrans, you build over it.
At least that's the plan the agency announced Wednesday for battered Highway 1 in Monterey County, where the biggest landslide ever along the Big Sur coast buried the road at Mud Creek on May 20.
The new highway will run over the landslide — in an area no longer moving — and be protected with embankments, berms, rocks, culverts, netting and other material, Caltrans said.
The agency submitted its plans to local, state and federal officials but does not yet have a projected cost or a start or end date for the project.
The slide occurred in the middle of the night and covered a third of a mile of the highway. It added 13 acres of additional coastline and put Highway 1 under 40 feet of dirt and rock.
It also further isolated Big Sur, which has been virtually cut off from the outside world all year since the Pfeiffer Canyon Bridge failed and an area aptly named Paul's Slide … slid.
"Our staff has been working hard to tackle the weather-related challenges faced by Highway 1," Caltrans Director Malcolm Dougherty said in a statement. "We have made tremendous progress on Pfeiffer Canyon, have opened Paul's Slide and now we have good news on the slide at Mud Creek. Our goal is to reconnect the areas impacted by the winter storms as quickly and safely as possible."
This past winter's storms caused more than $1 billion in damage to state and local roads and highways, according to Caltrans estimates.
For breaking California news, follow @JosephSerna on Twitter.
ALSO
Summer storms, round 2: Expect more downpours, thunderstorms and humidity
A wet winter makes some California hikes more treacherous than usual
China's Gobi Desert feeds Yosemite National Park's forest, study says
Sign up for Essential California for news, features and recommendations from the L.A. Times and beyond in your inbox six days a week.
You may occasionally receive promotional content from the Los Angeles Times.