California wildfires: Made homeless by flames, evacuees face hardship, disease and desperation
Evacuees from the camp fire set up a tent city at the Walmart parking lot in Chico, Calif.
(Marcus Yam / Los Angeles Times)
DeAnn Miller and Ron Irick eat breakfast as they seek temporary shelter at a Walmart parking lot for Camp fire evacuees in Chico, Calif.
(Marcus Yam / Los Angeles Times)
Jessica Sijan, whose family is from Paradise and lost everything to the Camp Fire, volunteers to sort out clothes for evacuees gathered at a Walmart parking lot in Chico, Calif.
(Marcus Yam / Los Angeles Times)
Brenda Wilson, who just moved to Magalia from Chico, kisses her dog Scooby, as they seek temporary refuge at the Walmart parking lot for Camp fire evacuees, in Chico, Calif.
(Marcus Yam / Los Angeles Times)
DeAnn Miller eats her breakfast at a Walmart parking lot where she is seeking temporary shelter as she awaits to find out if her home survived the Camp fire, in Chico, Calif.
(Marcus Yam / Los Angeles Times)
Kat Layman, left, and Valeries Palomares, set up an air mattress inside a U-Haul truck that a friend had rented for them. Their mother, Diana Palomares, was released from the hospital and needed a place to stay.
(Marcus Yam / Los Angeles Times)
Evacuees try to stay warm Tuesday evening. Volunteers have said they plan to shut down the tent settlement in Chico and help people find shelter elsewhere, but evacuation centers are crowded.
(Marcus Yam / Los Angeles Times)
Many of the fire evacuees living in tents or their vehicles are now facing homelessness.
(Marcus Yam / Los Angeles Times)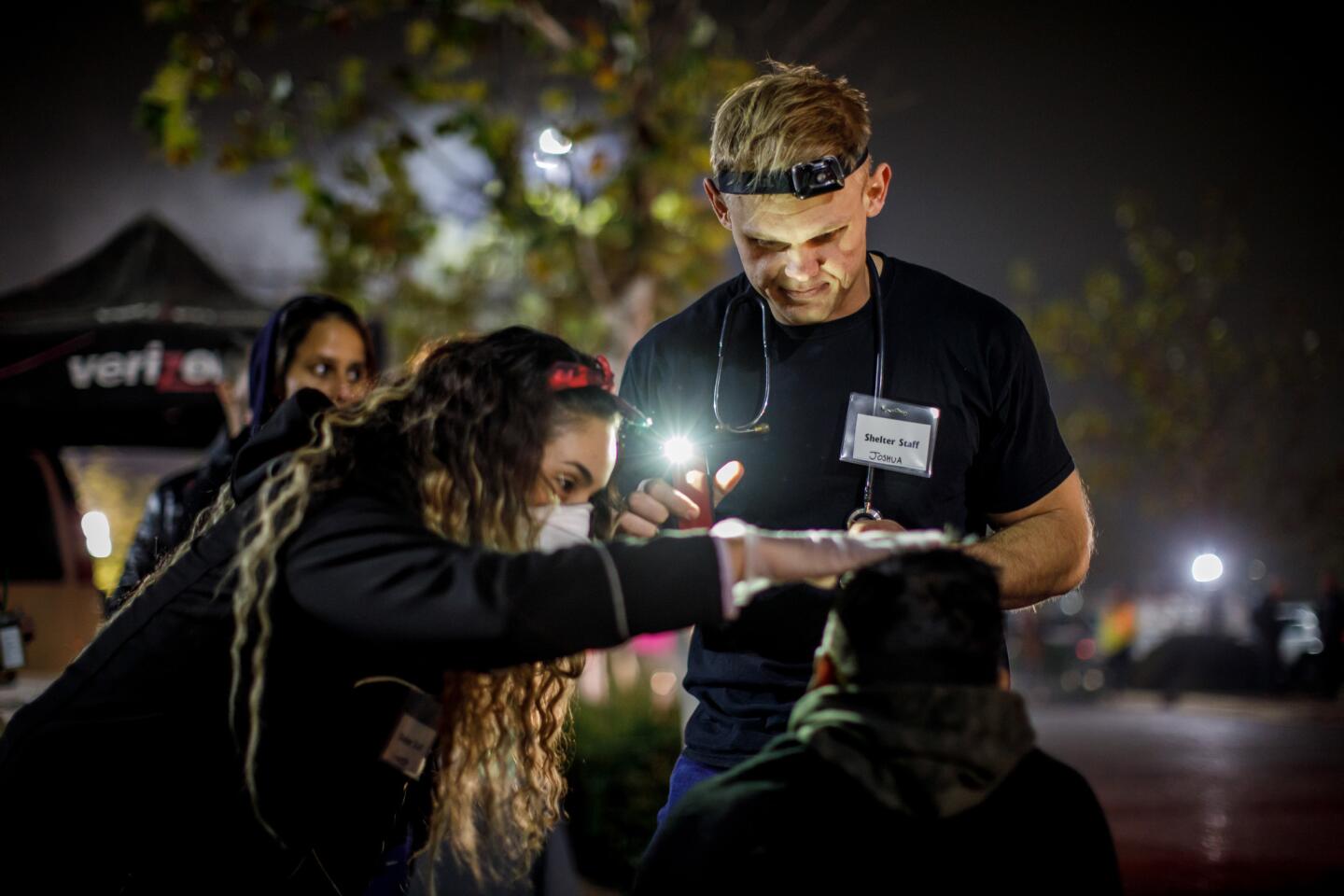 Joshua Crane and Vanessa Ruelas, both volunteers at a makeshift medical station, tend to a displaced resident at a Walmart parking lot where evacuees of the Camp fire have gathered in Chico.
(Marcus Yam / Los Angeles Times)
Chris Yarbrough plays a guitar donated to him after he lost his home in the Camp fire.
(Marcus Yam / Los Angeles Times)
Reporting from Paradise, Calif. —
Don Hardin burrowed between blankets in his SUV, and switched on the heater whenever the shivers returned.
Even during the day Thursday, the 81-year-old Camp fire evacuee, who has arthritis, struggled to stay warm. When temperatures dropped near freezing Wednesday night, Hardin popped a sleeping pill.
Nearby, a woman bear-hugged her grandson for body heat and, inside a small green tent, a man had nightmares of his escape from flames — he flashed back to the car he watched drive into the fire, wondering if he could have saved the people inside.
It had been one week since the Camp fire destroyed everything they owned and respite still seemed out of sight. In a region that was facing a housing shortage even before the fire, some survivors were forced to seek refuge in a tent city outside a Walmart in Chico. For others, evacuation centers established outside the burn zone have become breeding grounds for disease. On Thursday, Butte County health authorities warned that an outbreak of norovirus was spreading with alarming speed, and appeared to have sickened survivors in at least four shelters.
In the days since sheets of flames sprinted through Paradise, killing at least 63 people and decimating the entire town in minutes, evacuees have endured hardship and sorrow in a surreal state of limbo. Some sleep in their trucks to keep warm and swallow tears as they imagine the shells of their homes. Others pray that unanswered texts to missing friends don't mean what they think they mean, and they feign normalcy for the sake of their children.
"Rain is coming and these people need a shelter over their heads," said Debby Barbero, a volunteer who has been coordinating donations at the tent settlement.
As a group, the volunteers decided that Sunday at 1 p.m., they would need to shut down the makeshift donation center and tent city and try to help people find shelter in the meantime.
"This is unsustainable right now," she said, adding that it has been difficult to find shelter space for evacuees.
Matters weren't much better for those who had managed to find space in the evacuation centers.
By Thursday, an outbreak of the highly contagious norovirus had spread to several shelters. At the evacuation locations, 145 people had come down with vomiting or diarrhea, said Lisa Almaguer, the public information officer for the Butte County Department of Public Health. Twenty-five people had been hospitalized, she said.
"The number of sick people is increasing every day," Almaguer said.
Outside Walmart on Wednesday, volunteers weaved through tents, handing out homemade muffins and warm towels, which people used to clean their faces. A man who had just spent $30 inside the store offered toiletries and kept his eyes peeled for the perfect family.
"Anybody got a couple boys?" he asked, holding a pack of Hot Wheels toy cars. "I'm hoping I can put a smile on your kids' faces."
Nearby, DeAnn Miller propped herself up on her maroon walker. The cold temperatures helping firefighters aggravated her arthritis, she said, so it had been a long, familiar night.
Miller, 57, who goes by Dee, lived on the streets of Chico for a year and a half until May, when her Uncle Joe gave her a 16-foot travel trailer, which she parked in nearby Magalia. She hasn't been able to get a hold of her uncle or check on her trailer, Miller said, and she evacuated so quickly that she took nothing with her, not even a change of clothes.
"To just get a home again and to lose it like this …" she said, trailing off and assuming the worst. "I don't want to be homeless again."
A few feet away, Karen Kaksonen pulled out her cellphone and stared at a picture of her 800-square-foot home reduced to ash. All that remained was a brick chimney. The 33-year-old, who had lived in Paradise for more than half of her life, thought back to the 2008 fire and how her home perched high on a mountain always seemed to escape the flames. The firefighters, she remembered telling her grandmother, would "never let the fire get this high."
For a few nights, Kaksonen and her boyfriend stayed at a hotel, but when the reservation ended they searched for other spots. Everything was sold out, so they headed to the Walmart in Chico and pitched a tent. When it got really cold, Kaksonen, her boyfriend, her mother and her mother's fiance all crammed into one tent, relying on one another's body heat.
For some, a semblance of routine offered solace in the face of loss.
Before 9 a.m. Thursday on the other side of town, the girls' basketball team from Paradise High School trickled into their rival's gym in Chico for their first practice since losing their hometown a week earlier.
Out of 15 girls and two coaches, only one had a home that was still standing.
The Bobcats' varsity coach, Sheila Craft, locked eyes with her Chico High counterpart, Gina Snider, and the two women hugged.
"We don't know what school's going to look like," said Craft, who lost her home. "But we're sure going to try to have a season."
The sound of the basketballs echoed in the gym as girls dribbled down the shiny wooden court. Nets swished and the girls let out happy cries, forgetting, at least for a moment, the swirling ash and salmon-colored disc of a smoke-tinged sun outside.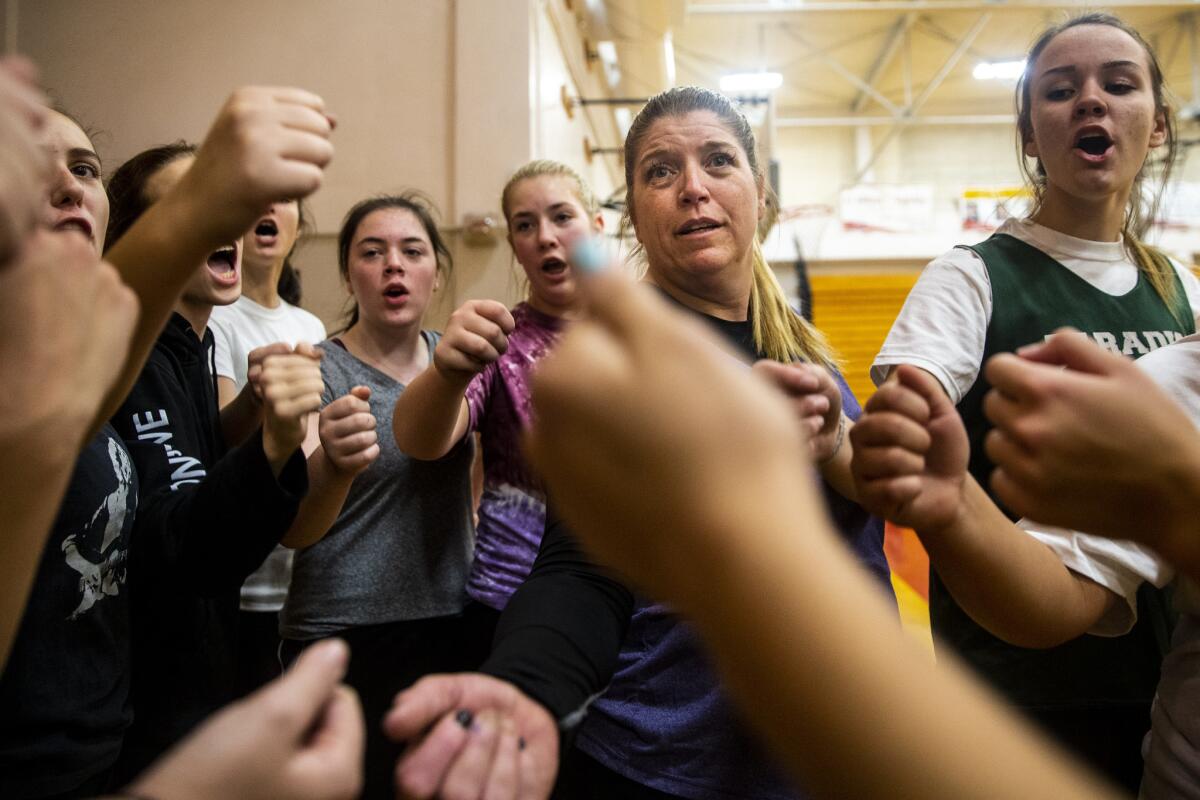 Tessa Lawrie, whose 15-year-old daughter sprinted up the court, explained her family's situation to her daughter's junior varsity coach. They'd lost their home in Paradise, Lawrie said, so they were staying at a cousin's home in Chico along with Lawrie's mother and stepfather, who also lost their home.
"One big, happy family having a slumber party," she said, adding that they also had three cats, two dogs, a hamster and a rabbit in the home. The fish tank, she said, didn't make it out.
"We have to keep smiling and going through the motions," she said, for the sake of her children. "They need some sort of normalcy right now. Their whole world has been turned upside down."
When Paradise High athletic director Anne Stearns arrived, she spoke about survivor's guilt. Her home in Chico had survived, as had the home of a volleyball player she knew. The girl still had a home, Stearns said, and she felt terrible about it.
When Craft, the varsity coach, called a team huddle, the girls sat on the edge of the court, faces raised.
"We will have a basketball team," Craft assured them, explaining that their first game would be up north in Susanville on the Tuesday after Thanksgiving.
"We will have games as long as everybody is wanting to stay and play. Parents, don't worry about transportation. We have so many teachers who don't have work. They'll drive you."
She talked about logistics, when practices would be held, how to get information and transportation and clothes.
Every game this season will be an away game. Even if it's supposed to be a home game. Paradise High is still standing. But there's not much else left in the town of 26,000 or so.
Still.
"The season is not about winning anything, doing anything great," Craft said. "It's about us staying together. We can't lose a whole season of learning."
She teared up.
Rheann Colwell, a 16-year-old junior, came to practice in black jeans, a black T-shirt and sandals. Her home in Paradise is a pile of ash. What clothes she could grab before evacuating were in Weaverville, at her grandparents' house.
She raised her hand at the end of the meeting. She needed shoes.
Craft kicked off her black slip-ons. They were size 9.5, too big. Snider handed over her red Chuck Taylor All Stars. Size 7.5, too small. Kylee Weinbarger, 15, ran to her bag and returned with another pair of well-worn Chucks.
These were white — well, sort of white — size 8.5, a perfect fit.
Practice began.
For more news from the Los Angeles County courts, follow me on Twitter: @marisagerber
---
UPDATES:
6:45 p.m.: This article was updated with an updated death toll.
This article was originally published at 5:30 p.m.
Sign up for Essential California for news, features and recommendations from the L.A. Times and beyond in your inbox six days a week.
You may occasionally receive promotional content from the Los Angeles Times.