Mother of O.C. freeway shooter on trial for hit-and-run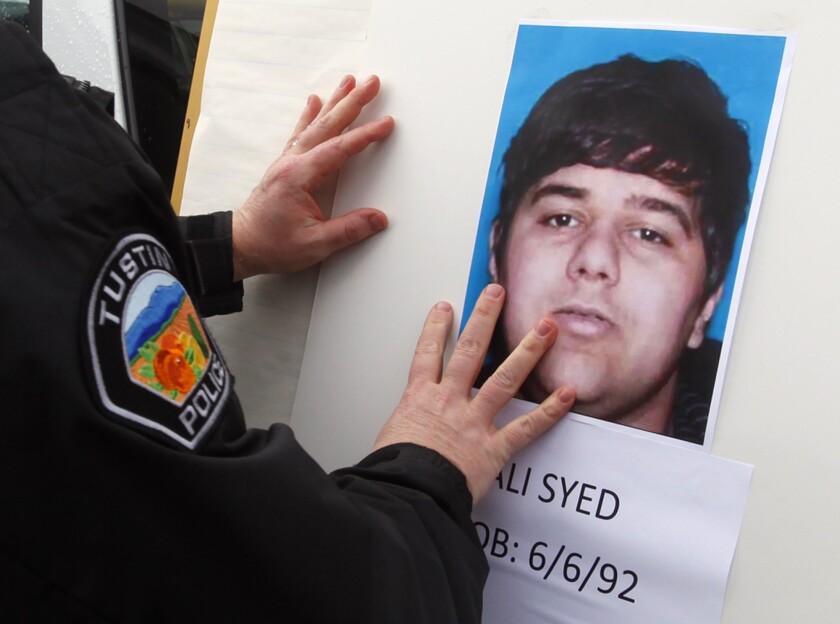 This post has been corrected. See the note at the bottom for details.
The mother of an alleged carjacker who went on a killing rampage as he roared across the freeways of Orange County last spring was set to stand trial Tuesday in her own hit-and-run case.
Sarwat Syed, 43, is accused of causing an accident that injured a mother and her two young children and fleeing the scene without offering to help the victims.
The Ladera Ranch woman faces felony counts of hit-and-run driving in the 2011 accident and faces a potential maximum sentence of four years in state prison.
The woman's son, Ali Syed, dominated headlines in February when he went on a violent rampage that left three people dead. The youth eventually jumped out of his car and shot himself to death after pulling off the freeway in Orange.
His mother's situation unfolded in June 2011, while she was driving her SUV on the 405 near Irvine Center Drive in Irvine. Officials said her car slammed into the side of a Honda Accord carrying three passengers, a woman and her 9-year-old son and 4-year-old daughter.
The collision caused the family's vehicle to spin off the road, but instead of stopping to help, Syed sped away, officials said.
The 4-year-old girl eventually underwent four surgeries to repair her jaw, eye sockets and nose.
Detectives investigating the case arrested Syed about two months later.
[For the record, 4:10 p.m., Sept. 17: An early version of this post said that two young girls were injured in the alleged hit-and-run accident. A young boy and girl were injured.]
ALSO:
Kabbalah Centre founder Philip Berg dead at 84
Vista Murrieta High football players charged with sex crimes
Parolee gets 55 years for sexually assaulting 4-year-old girl
E-mail: anh.do@latimes.com
Twitter: @newsterrier

---
The perils of parenting through a pandemic
What's going on with school? What do kids need? Get 8 to 3, a newsletter dedicated to the questions that keep California families up at night.
You may occasionally receive promotional content from the Los Angeles Times.