Massive oil drilling project in Carson is dropped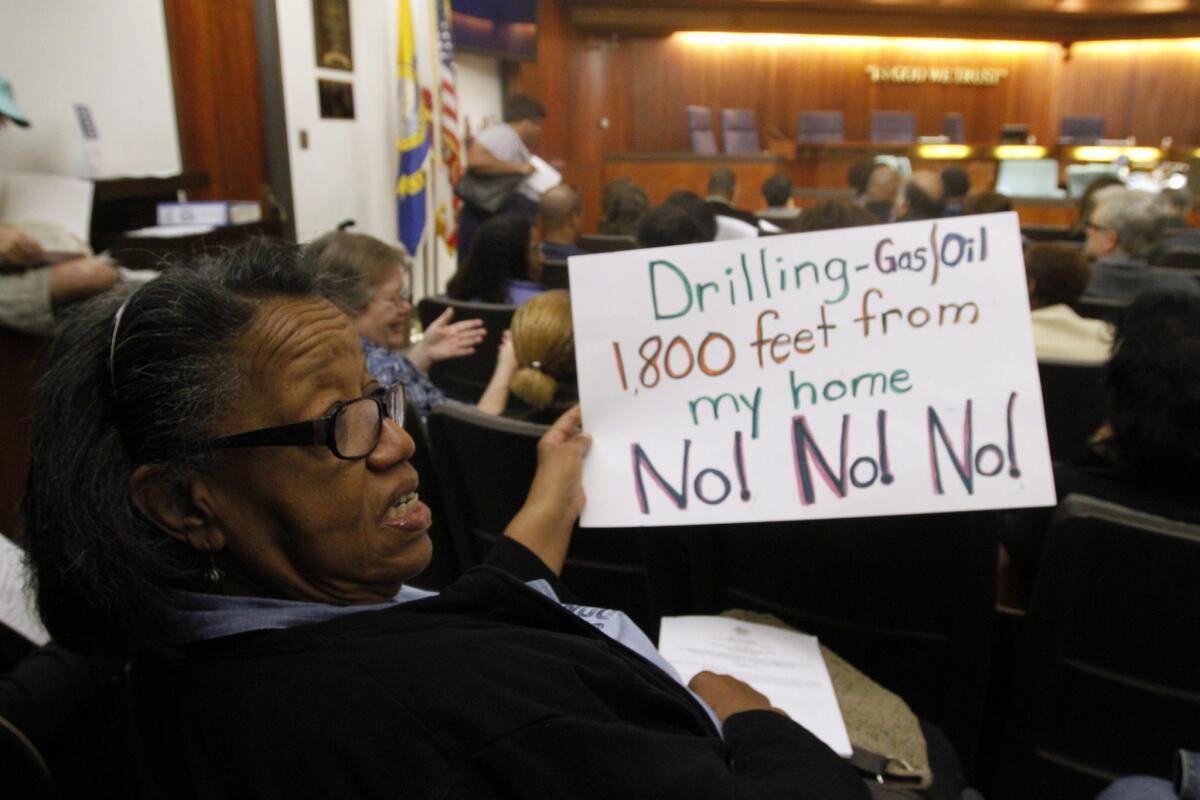 A former subsidiary of Occidental Petroleum says it's pulling the plug on a massive oil drilling project in Carson, a decision welcomed by activists and residents who had fought the project for years.
California Resources Corp., which was spun off from Occidental last month, said in a statement Monday that the proposed project "is no longer practical in the current commodity price environment." In the last year, oil prices have plunged.
The company also said it is asking city officials to stop processing its application to drill. "We have greatly appreciated the opportunity to get to know and work with the Carson community," the statement read.
City Atty. Sunny Soltani told the Los Angeles Times that city staff will immediately stop work on the project's application and pending environmental review.
Dianne Thomas, a Carson resident of 43 years whose home is about two miles from the proposed drilling site, described her reaction to the news as "euphoria."
"We don't have to worry about our water that we drink, we don't have to worry about our air quality that we breathe.… We're talking about a way of life for us," said Thomas, a member of the Carson Coalition, a community group that vocally opposed the project.
The project, first put forth by Oxy in 2012, proposed drilling more than 200 wells, some more than 2 miles deep, in northern Carson near the Cal State Dominguez Hills campus and a number of homes.
Residents initially raised concerns about whether the company would employ hydraulic fracturing or other controversial well-stimulation techniques. At first, Oxy officials said they might use fracking to coax more oil from the Dominguez Oil Field, where more than 600 wells have been drilled since the 1920s, but they later reversed course and vowed not to use the technique there.
Still, many residents continued to express doubts Oxy would keep its word.
The City Council grabbed headlines last year when it issued a moratorium on all oil drilling in the city. The temporary ban was intended to let city lawmakers study the safety of "unconventional" well-stimulation methods such as acidization and fracking and their authority to regulate them. The city also halted negotiations with Oxy over the project in response to the company's announcement that it would be moving its headquarters to Texas and spinning off its California operations.
The move captured the attention of environmentalists and labor unions statewide and even Gov. Jerry Brown, who called the city's mayor to discuss the moratorium at length.
Ultimately, city leaders voted to allow the moratorium to expire.
Since then, Soltani said, council members have been working to draft a city ordinance that would govern new oil drilling projects. The draft law would ban fracking and acidization, bar distribution lines from running near schools or residential areas, require certain safety procedures at drilling sites and require bonds in the event of an environmental disaster. The proposed regulations are expected to be heard by the Carson Planning Commission in the next few months, Soltani said.
Thomas of the Carson Coalition said that she hopes the proposed oil regulations are passed and that they would make future prospects of drilling in her neighborhood "very unattractive."
Comprehensive state regulations on fracking have yet to go into effect: They were released this month and will kick in July 1. In the interim, a state law that took effect last year requires oil companies to obtain permits before fracking.
Meanwhile, cities turned to local ordinances. In addition to Carson, Beverly Hills, Compton and Los Angeles also explored city regulations that would ban fracking, acid stimulation and other well-stimulation methods.
Carson Treasurer Karen Avilla said California Resources' decision to step away from the project won't have much effect on the city's coffers. "We didn't count on that money because it was never an approved project," Avilla said.
Rock Zierman, chief executive of the California Independent Petroleum Assn., said the dropping price of oil has dried up capital budgets that would typically be dedicated to new drilling projects such as the one in Carson.
"That's something companies are universally having to face this year, both in California and across the country," Zierman said. But, he added, operators are well-adjusted to the boom-and-bust nature of the oil industry and could pick up those projects again when prices increase.
Carson Mayor Jim Dear said that although he wants Carson to be perceived as "open for business," city officials will carefully consider any future oil drilling proposals.
"It's got to be beneficial to the people of Carson," Dear said. "Otherwise, we're not interested."
For more breaking news, follow me @cmaiduc
Sign up for Essential California for news, features and recommendations from the L.A. Times and beyond in your inbox six days a week.
You may occasionally receive promotional content from the Los Angeles Times.