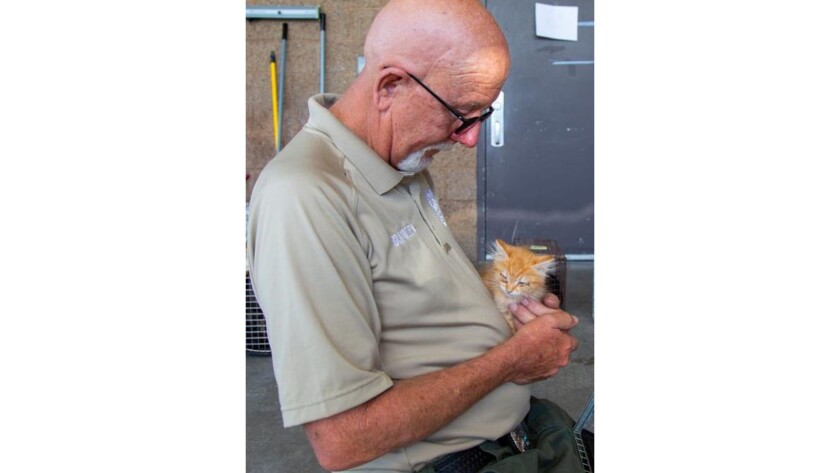 Authorities rescued scores of cats from a Moreno Valley home Monday and arrested its owner on animal cruelty charges.
Riverside County sheriff's deputies were dispatched to the house in the 22000 block of La Jolla Circle shortly after 7:30 a.m. to conduct a welfare check.
Once outside, they smelled an odor so foul they thought there might be a dead body in the house, according to a news release from the Riverside County Sheriff's Department.
Inside, deputies found about 78 cats in various states of neglect and at least two dogs in what officials called a hoarding environment.
At least 15 cats — many of which were in cages — were dead or had to be euthanized, authorities said. Investigators initially estimated there were about 100 cats, 18 of which were dead, but later revised the total.
Kristen Gotangco, 44, was arrested on suspicion of animal cruelty. She was being held at the Larry D. Smith Correctional Facility in lieu of $600,000 bail.
Moreno Valley Animal Services officers took the surviving animals to the city's shelter, where they're receiving medical attention in a separate treatment area. Some could be ready for adoption in about two weeks, officials said.
Steve Fries, the city's Animal Services director, said the facility is equipped to care for the influx of rescued pets, but added that he hopes residents will adopt them once they're available.
"Our goal is that, hopefully, once we have the ability to transfer ownership of those animals, that they have positive outcomes," he said. "We hope that they get an opportunity and a second chance for life, and that we can put them into homes where they'll be well cared for."
---