LAPD recovers 'millions' in stolen goods, arrests man linked to celebrity break-ins targeting Usher, Adam Lambert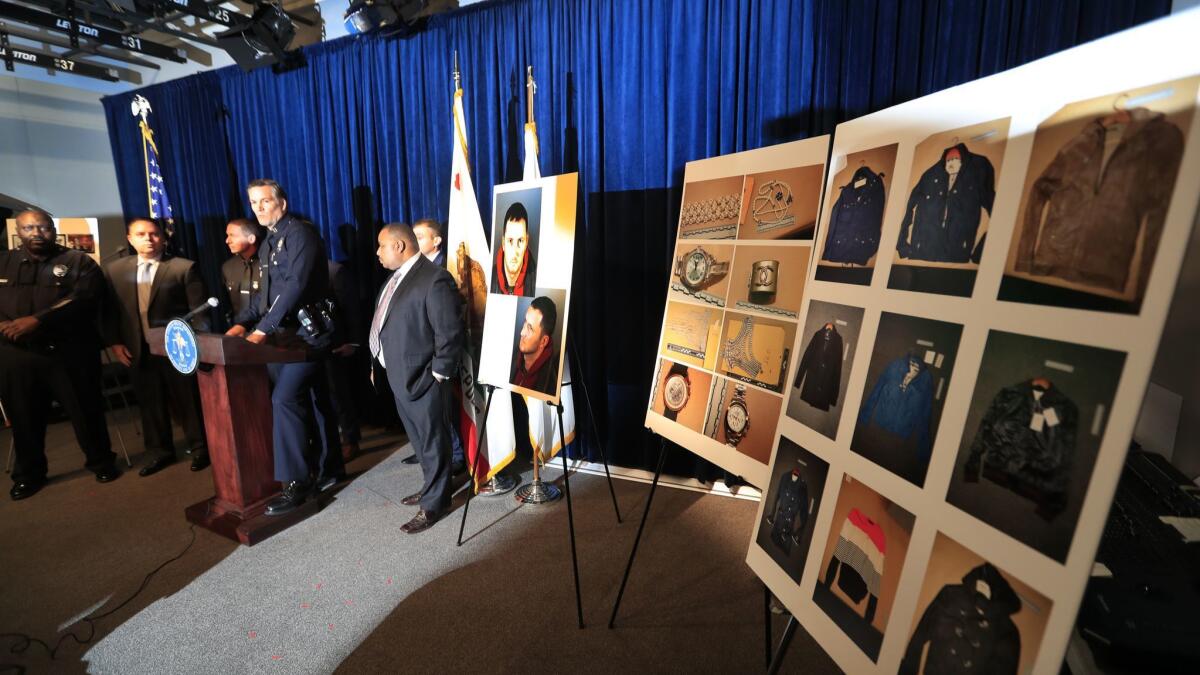 A man who is thought to have posed as a prospective home buyer or Realtor to scout targets for future burglaries has been accused of boosting millions of dollars in expensive artwork, jewelry and liquor from high-end residences, police said Wednesday.
Benjamin Eitan Ackerman, 32, of Los Angeles was arrested in September. Police think he spearheaded the theft of more than 2,000 valuable items from at least 13 homes in the Hollywood Hills, Encino, Tarzana and Sherman Oaks in 2017 and 2018, authorities said during a news conference at police headquarters in downtown Los Angeles.

For the record:
5:25 p.m. Jan. 3, 2019An earlier version of this story said that in November, 13 men with alleged ties to a South Los Angeles set of the Crips street gang were charged in a separate series of burglaries. The alleged gang ties were to a set of the Bloods street gang.
The items, valued in the "millions," were found during a search of a storage locker belonging to Ackerman in September, the Los Angeles Police Department said. Some of the famous victims included singers Usher, Adam Lambert and Jason Derulo, and a member of the cast of "The Real Housewives of Beverly Hills," said LAPD Det. Jared Timmons, the lead investigator in the case.
Ackerman was arrested Sept. 20, but he has yet to be formally charged with a crime. Online jail records show he was released on $1-million bond Sept. 24, and police said there were no restrictions on his travel as a condition of his release. Paul Eakins, a spokesman for the Los Angeles County district attorney's office, said the LAPD had not yet presented a case against Ackerman. Timmons said police are gathering additional evidence.
Attempts to contact Ackerman were not successful Wednesday, and it was not clear whether he had retained an attorney. Investigators said they believed he had been involved in "criminal activity for the past several years." Court records show Ackerman was convicted of burglary or petty theft on three occasions in Los Angeles County in 2013 and 2014.
Detectives said they began to focus on Ackerman after they noticed he had signed his middle name in guest books at open house events for multiple homes that later were ransacked, Timmons said. Some employees at the open houses also noticed Ackerman had asked specific questions about rare artwork that was on display.
Timmons described Ackerman as a sophisticated criminal with a penchant for modifying artwork so it could be resold. In some cases, Ackerman may have modified identifying numbers or marks on certain paintings and photo prints so he could conceal from buyers that the items had been stolen, authorities said. He also destroyed or otherwise tampered with surveillance cameras during several of the burglaries, Timmons said.
"When he showed up, he was dressed to the nines," Timmons said. "He acted the part; he was very slick. He appears to be very fluent with technology."
Police said they thought Ackerman had accomplices who helped him steal the items or resell them, but no one else has been arrested or charged in the case. Timmons said Ackerman also had "connections to New York" and may have been fencing stolen artwork there. The detective declined to elaborate.
The LAPD is trying to locate possible additional victims and has asked people who live in the neighborhoods that were targeted to visit a website with pictures of the recovered stolen items.
The burglaries are part of a surge in celebrity break-ins during the last two years. High-value thefts have occurred at the homes of singer Alanis Morissette, ex-Lakers guard Nick Young, recently traded Dodgers outfielder Yasiel Puig and hip-hop star Nicki Minaj. The hauls from each were substantial, with the jewelry carried out of Morissette's home in February 2017 valued at $2 million.
In November, 13 men with alleged ties to a South Los Angeles set of the Bloods street gang were charged in a series of burglaries that dated to at least October 2017. At least 10 were in custody at the time, and prosecutors said they thought the suspects might have been responsible for additional crimes in Pasadena, Santa Monica and other cities with affluent neighborhoods.
In some of those cases, investigators said, the robbers monitored celebrities' social media posts to determine when they would be out of town.
Puig's house was broken into while he was at spring training with the Dodgers in 2017. Burglars struck again about an hour after the Dodgers lost Game 7 of the 2017 World Series, with officers responding to another burglar alarm at Puig's Encino home. Officers found a smashed window and items missing.
Young's house was hit while he was attending the NBA's All-Star weekend in 2017. Last year, a break-in occurred at the home of Los Angeles Rams wide receiver Robert Woods while the team played host to the Minnesota Vikings.
Timmons said police were still trying to determine whether Ackerman was connected to the other celebrity burglaries. Detectives have been in contact with police in Santa Monica and Beverly Hills and with the Los Angeles County Sheriff's Department to see whether there are other victims in other jurisdictions.
Twitter: @JamesQueallyLAT
Sign up for Essential California for news, features and recommendations from the L.A. Times and beyond in your inbox six days a week.
You may occasionally receive promotional content from the Los Angeles Times.