For Dodgers' Yasiel Puig, home run streak is overshadowed by record run of home burglaries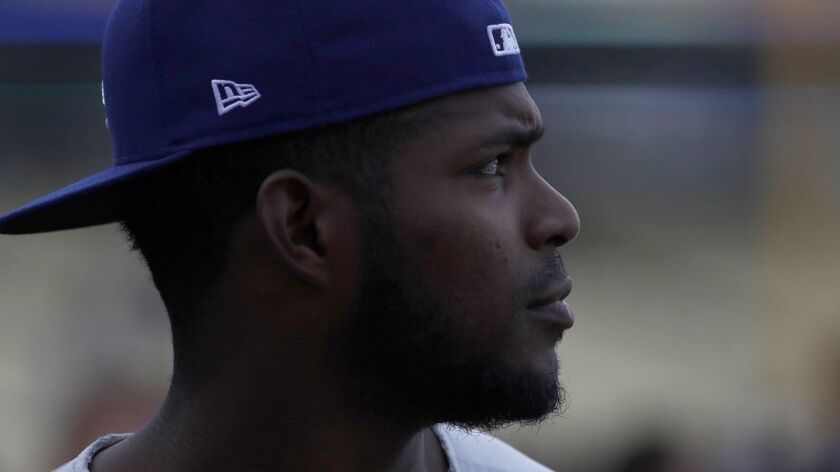 He may be knocking out home runs lately, but Dodgers right fielder Yasiel Puig may go down in the record books as the undisputed king of home burglary calls.
While Puig was helping secure another Dodgers victory Tuesday night — following a weekend of home runs — burglars broke into his home on Louise Avenue in Encino, enforcement sources said. The incident marks the fourth time one of Puig's two Los Angeles homes have been hit by burglars.
A cellphone linked to security cameras at the home alerted a member of Puig's entourage who called the Los Angeles Police Department immediately, about 8 p.m, according to two police sources.
Surveillance footage revealed that the intruders had broken in through a window at the back of the house, according to sources. Officers are still working to determine what was stolen.
As is frequently the case with burglaries at athletes' homes, detectives suspect the crooks knew Puig was on the field when they visited his property.
Burglars first hit a home Puig owns in Sherman Oaks in March 2017 and made off with at least $170,000 worth of jewelry. He was one of several celebrities whose homes were seemingly targeted by burglary crews seeking high-end jewelry and items sometimes kept in safes.
Then, about an hour after the Dodgers lost Game 7 of the 2017 World Series, officers responded to a burglar alarm at Puig's Encino home. Officers found a smashed window and items missing. The LAPD's Commercial Crimes Division is investigating the break-in along with the jewelry theft.
The third burglary occurred Sept. 1, shortly after the end of a Dodgers game. Security cameras linked to a cellphone captured two suspects trying to break in. Puig, or a member of his entourage, was able to use a speaker on the system to yell at the men, who ran away.
In 2018, the San Fernando Valley has experienced a spate of celebrity burglaries, including break-ins at homes belonging to rapper Wiz Khalifa and actress Christina Milian. A former home of singer Post Malone was also hit.
In 2017, burglars broke into the homes of a dozen other celebrities across the Valley and western Los Angeles. Those break-ins included the Brentwood mansion of Alanis Morissette, where thieves made off with a safe containing $2 million in jewelry and other valuables. In another incident, nearly $500,000 in valuables were stolen from the home of NBA guard Nick Young.
Twitter: @lacrimes
---
The stories shaping California
Get up to speed with our Essential California newsletter, sent six days a week.
You may occasionally receive promotional content from the Los Angeles Times.