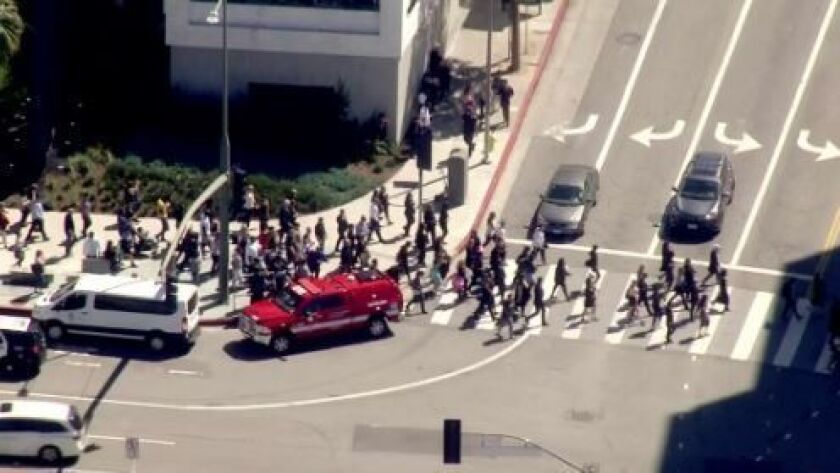 A suspected gunman who caused a panic among shoppers and forced the closure of the Westfield Century City Mall on Friday has been arrested, police said.
Nicholas K. Oates, 25, was arrested Saturday night after officers saw him at the Venice Beach boardwalk, Los Angeles police said. He was taken into custody without incident.
The handgun he is believed to have used in Friday's incident has not been found, police said.
Police released a surveillance camera photo on social media of the suspect early Saturday, which helped in their search, officials said. The flier said he was wanted on suspicion of arson and assault charges and was considered armed and dangerous.
Arson/Assault With A Deadly Weapon suspect from the Century City Mall incident. Male, possibly Hispanic or Asian, 20-25 years old, 5'8" to 5'10", 130-150 lbs. He is to be considered armed & dangerous. If seen, do not approach & call 911. Any info contact Major Crimes 213-486-7260 pic.twitter.com/J6ydu3TsVG

— LAPD HQ (@LAPDHQ) March 16, 2019
Police responded to initial reports of a man with a gun inside the mall's Amazon store about 12:40 p.m., LAPD Officer Jeff Lee said. Chaos broke out as some shoppers ran outside while others sheltered inside stores, some believing there was an active shooter in the mall.
Some shoppers who were ordered to shelter in place were allowed to evacuate several hours later. Among those trapped in the mall was former Florida gubernatorial candidate Andrew Gillum.
"I'm in Los Angeles to film an interview with @billmaher tonight," he tweeted. "Stopped by the mall to pick something up and a reported active shooter situation ensued. I'm currently in a secure location."
But officers failed to find the gunman and determined that a suspicious package found in the Amazon store did not contain an explosive. There were reports, however, that the package had been set on fire.
---