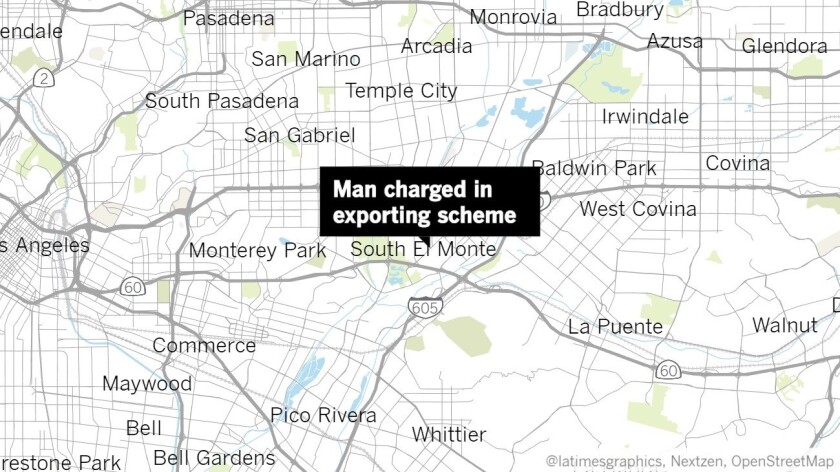 A 67-year-old South El Monte man has been charged with illegally exporting cesium atomic clocks from the United States to Hong Kong.
The indictment against Alex Yun Cheong Yue, who was scheduled to be arraigned in federal court in Los Angeles, was unsealed Thursday in Boston.
Wai Kay Victor Zee of Hong Kong and his company, Premium Tech Systems, Ltd. were also charged. Zee remains at large in Hong Kong, according to Justice Department.
The indictment alleges that in 2016, Yue used a fictitious company to purchase cesium atomic clocks from an unidentified California-based firm that "provided semiconductor and systems solutions" to customers in the aerospace, defense, communications and network data industries.
Yue represented to the seller that the clocks were being purchased for domestic use in the development of cordless phones.
The ruse was successful and Yue wire-transferred the seller approximately $140,000, according to the indictment. The clocks were subsequently shipped from the seller's facility in Massachusetts to a fictitious company created by Yue. Three days later, without a required export license from the U.S. Department of Commerce, Yue allegedly sent the clocks to Zee.
Cesium atomic clocks are precision devices that measure time using the frequency of atomic emissions from the element cesium, according to a website maintained by the U.S. Naval Observatory. They have "a time management accuracy of … one second in 1,400,000 years."
Cesium atomic clocks have multiple commercial and governmental uses and are employed in global positioning systems, network timing protocols and national defense and space applications, according to the Justice Department.
Export of the devices is regulated and requires a special export license issued by the Commerce Department.
The indictment says that the clocks are "controlled for export for anti-terrorism and national security concerns."
A Justice Department official declined to elaborate on possible dangerous uses of such clocks beyond the language of the indictment. It's unclear what the clocks Yue purchased were intended for.
In 2017, Yue allegedly tried to purchase another cesium atomic clock, this time representing that it would be used at a calibration laboratory in California. He allegedly told the seller that he did not intend to export the clock.
When the seller insisted on a site visit, Yue canceled the order and obtained a refund. A few days later, Yue wire-transferred funds in the amount of the refund to a bank account in Hong Kong.
In addition to the illegal exportation count, the indictment charges Yue and co-defendants with conspiracy, smuggling and attempted illegal exportation of the clocks. The alleged export violations carry a potential sentence of up to 20 years and a fine of $1 million. The smuggling charge has a sentence of up to 10 years and a $250,000 fine.
---