Chris Brown's probation revoked; he remains free in treatment program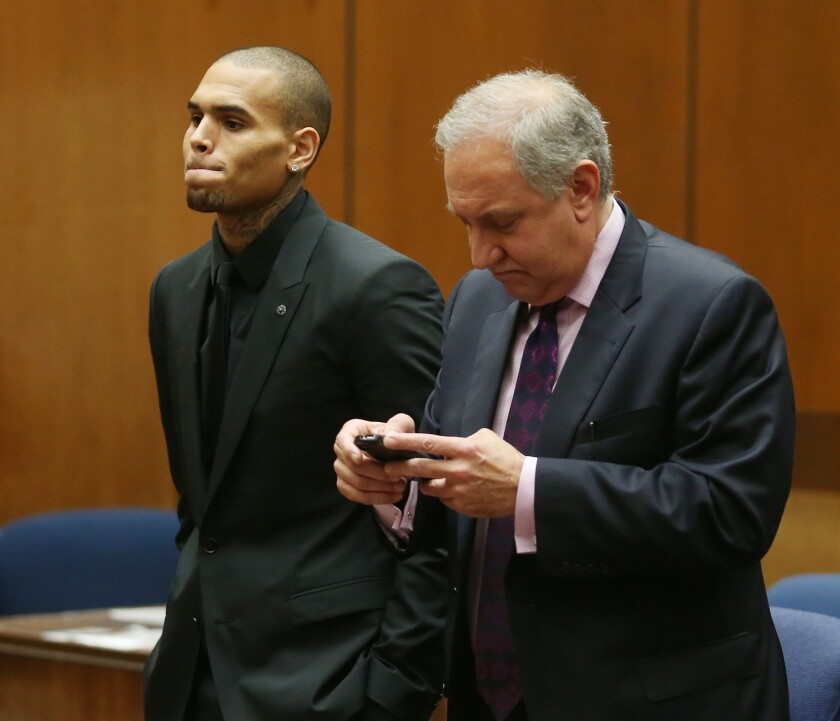 A judge revoked Chris Brown's felony probation in his 2009 conviction for assaulting Rihanna but chose to let him remain free after Brown showed progress during a stay in rehab.
The R&B singer made a brief appearance Monday in a downtown Los Angeles courthouse, where a judge found that he violated the terms of his probation by being arrested in October for a misdemeanor assault charge in Washington, D.C.
L.A. County Superior Court Judge James Brandlin had previously ordered Brown to undergo 90 days of rehab, complete 24 hours a week of community labor and submit to periodic drug tests during his probation.
But Brandlin said he was pleased with Brown's progress and was disinclined to take the singer into custody.
Brown pleaded guilty to the felony assault on his then-girlfriend Rihanna, which occurred Feb. 8, 2009, in a rented Lamborghini in Hancock Park.
The terms of his five-year probation require that he obey all laws. But the singer has struggled to comply.
After his arrest in the nation's capital, he entered a treatment program for anger management. In November, Brown was kicked out of the program after he threw a rock through his mother's car window, according to a probation report.
DOCUMENT: Read the probation officer's report
According to the report, Brown has attention deficit disorder and suffered a "setback mentally and emotionally" when he was "not credited for all the hours" he served in community labor and underwent a period of depression.
The incident occurred Nov. 10 during a family counseling session, when his mother said she wanted him to remain in treatment, records show. Brown allegedly walked outside and threw a rock through her car window, which shattered. No one was hurt.
The treatment center immediately expelled him for violent behavior, according to a letter in the probation report.
In a recent probation report, Brown acknowledged that he suffered from ADD and depression earlier this year when a judge gave him an additional 1,000 hours of community labor. The additional hours came after prosecutors disputed his community work in Virginia.
In addition to treatment, Brown is working three eight-hour shifts of community labor each week.
ALSO:
Girl, 14, shot dead on her bicycle in Compton is identified
Andy Warhol painting of Farrah Fawcett: Jaclyn Smith weighs in
Sheriff's officials taped threat to arrest FBI agent, prosecutor says
richard.winton@latimes.com
---
The stories shaping California
Get up to speed with our Essential California newsletter, sent six days a week.
You may occasionally receive promotional content from the Los Angeles Times.