What mall has the tallest Christmas tree? That comes at a price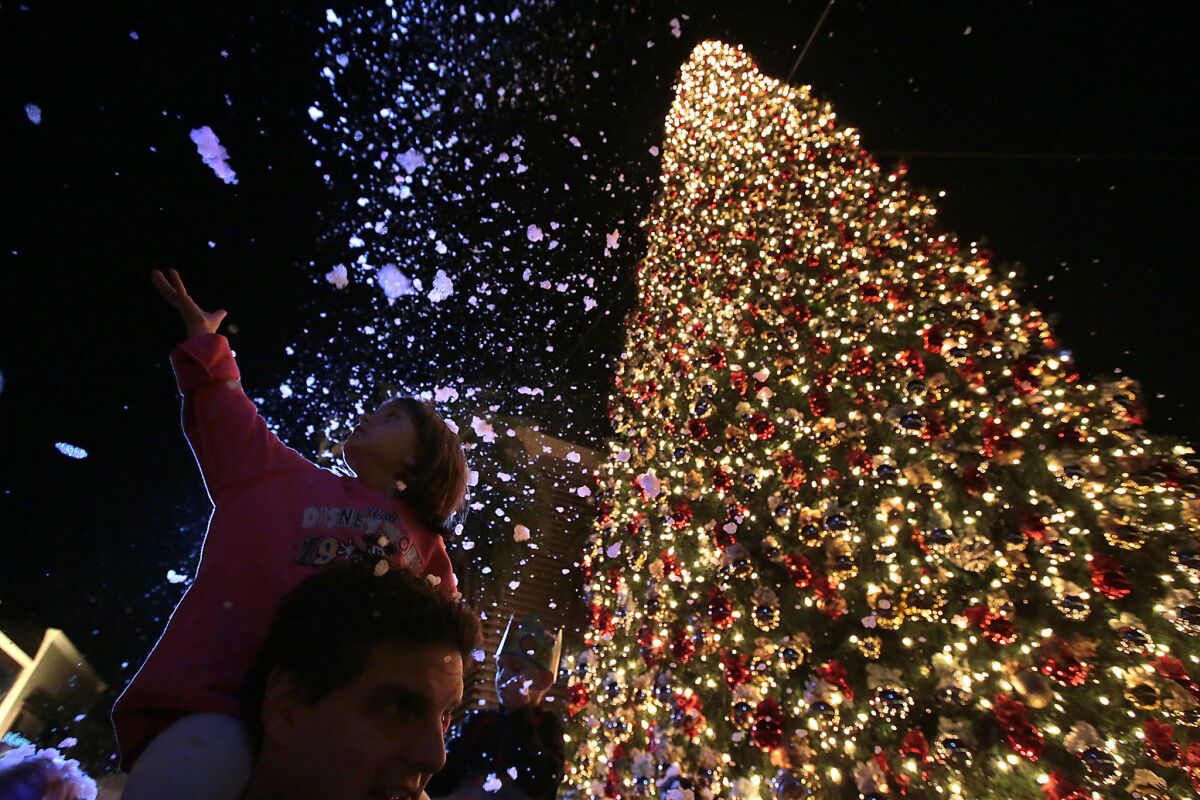 When the lights were flipped on in a night of song and celebration over the weekend, the 90-foot Christmas tree at Fashion Island stood as another colorful and enormous addition to the small forest of arbors that sparkle to life for the holidays in shopping centers throughout Southern California.
The Newport Beach center's white fir cost roughly $1,000 per foot, a price that covered transportation, set-up and decoration. But even with such a hefty price tag, the tree still falls 25 feet short of being the tallest in the region, and perhaps the country.
To have the biggest tree comes at a premium and Laguna Niguel-based Victor's Custom Christmas Trees is one of the few go-to businesses if having a tree that soars into the heavens is a priority.
The 96-foot white fir near South Coast Plaza? Victor's Custom Christmas Trees installed it. The 100-footers standing at the Grove in Los Angeles and at the Americana at Brand in Glendale? Also the work of the company.
With so many malls looking for big trees, Victor Serrao discovered a niche market: Companies willing to pay top dollar to secure the title of the tallest tree in Southern California, or at least one that is high enough to draw gasps from customers.
This year, the founder, president and chief executive of Craig Realty Group, paid what he estimated to be about $25,000 extra for what the company calls "twin trees" standing 115 feet when fully decorated in the Outlets at Anthem in Phoenix and the Citadel Outlets in Los Angeles.
"A lot of people want to have that little mantra," said Steven Craig, who heads the realty group. "It's worth something."
The payment comes as part of his ongoing contract with Serrao, which Craig first signed in 2010. The agreement, which can go on for as long as Craig wishes, ensures that Serrao will supply the tallest of the tall trees only to malls owned by Craig, by a convincing margin of 15 feet.
Some centers, however, like to downplay the competition. In Newport Beach, Fashion Island's tree used to clock in as the tallest Serrao provided, protected under a contract similar to the one now held by Craig. The tree stood at 115 feet for several years but shrunk to 40 feet in 2009 because of construction in front of Bloomingdale's — the tree's usual spot.
When the construction finished, Fashion Island dropped the contract and selected a 90-foot tree instead, a size "just right for that spot," which had been reconfigured and was surrounded by towering palm trees, Stacie Ellis, director of marketing for Irvine Co. Retail Properties, said in a statement.
Meanwhile, the South Coast Plaza tree height has always been chosen according to the height of the surrounding poplars in Town Center Park, where the holiday addition has been installed annually for the past 32 years, said Debra Gunn Downing, the shopping center's executive director of marketing.
Developer Rick Caruso said the trees at his Grove and Americana properties draw on his childhood memories of a well-decorated Los Angeles during the holidays. A model of Santa in his sleigh that hangs at the Grove even mimics a model he remembers hanging near the intersection of Santa Monica and Wilshire boulevards.
"I think the trees are big enough," he said, noting that they are both in keeping with the surrounding property and high enough to be powerful and unique. "It just feels right and feels like the holidays. It's a holiday, celebrate it!"
Victor's Custom Christmas Trees started life on a much smaller scale, first attracting customers as a Christmas tree lot in 1959 and then branching into providing trees for specific requests, such as trimming limbs from part of the trunk so a tree would fit flush against a living room wall, or finding a way to color a tree pink to match a woman's pink poodle.
"From there on, it just grew," Serrao said, noting that his father began soliciting shopping malls, hotels and even Disneyland before getting into the how-tall-can-you-go business.
This year, the company is set to provide 14 trees, the smallest of which will stretch 35 feet into the air. The process for getting them to their destinations began in August, when he traveled to Northern California with his son, just as he once traveled with his father, to start tagging potential trees on timber company land with the help of locals.
"It's a very, very tiny niche business," said Rick Dungey, a spokesperson for the National Christmas Tree Assn., a trade group that represents the live Christmas tree business. "You can't fit an 80-foot tree inside most homes."
Still, Serrao's trees fall far short of what the Guinness World Records holds to be the tallest cut Christmas tree: a 221-foot Douglas fir erected in 1950 at Northgate Shopping Center in Seattle. The tree cost $19,000, Life magazine reported at the time, roughly the equivalent of $185,000 today, as calculated using the Bureau of Labor Statistics Consumer Price Index inflation calculator.
The title is a contentious one. John Egan, of New York-based Egan Acres Tree Farm, believes that a tree his company set up — a 135-footer that stood in 2007 at a Six Flags in Vallejo — is in fact the largest ever erected.
The famed Northgate tree, he argues, was actually constructed from three arbors put end-to-end-to-end.
While Serrao has thought about beating the 221-foot record himself, by finding a tall tree and placing it in the town nearby, he decided it all seemed too egotistical.
"We could do it. Anybody could do it," he said. "If you had enough money, anybody could do it."
His trees nonetheless reign supreme today. The Northgate Mall is forgoing a live tree this year. And the largest tree that Egan's New York-based company plans to install, in Boston's Faneuil Hall, measures just 83 feet. Any other contenders remain to be seen.
ALSO:
Restaurant worker found stabbed to death in Venice
Man gets 50 years to life for killing wife near Irvine preschool
Elderly Glendale man dies after severe beating in possible burglary
The stories shaping California
Get up to speed with our Essential California newsletter, sent six days a week.
You may occasionally receive promotional content from the Los Angeles Times.