CicLAvia 2014 underway: We cover it live here. Join us
Cyclists fly by dancers at a "@PinDropParty" in the 2nd Street Tunnel.
(Patrick T. Fallon / For The Times)
A couple rides a tandem bike past a library during CicLAvia.
(Patrick T. Fallon / For The Times)
Mayor Eric Garcetti welcomes cyclists and pedestrians to CicLAvia.
(Patrick T. Fallon / For the Times)
An onlooker helps bike riders cool off with a stream of water.
(Patrick T. Fallon / For the Times)
Cyclists and pedestrians gather in Mariachi Plaza in Boyle Heights during CicLAvia.
(Patrick T. Fallon / For the Times)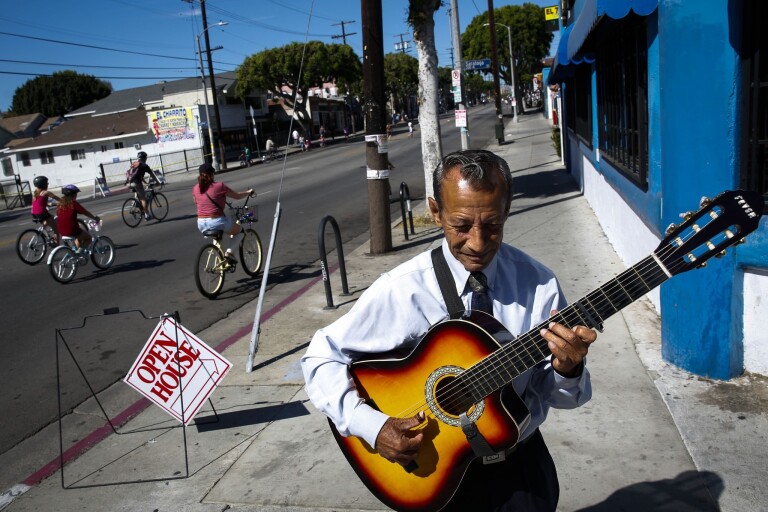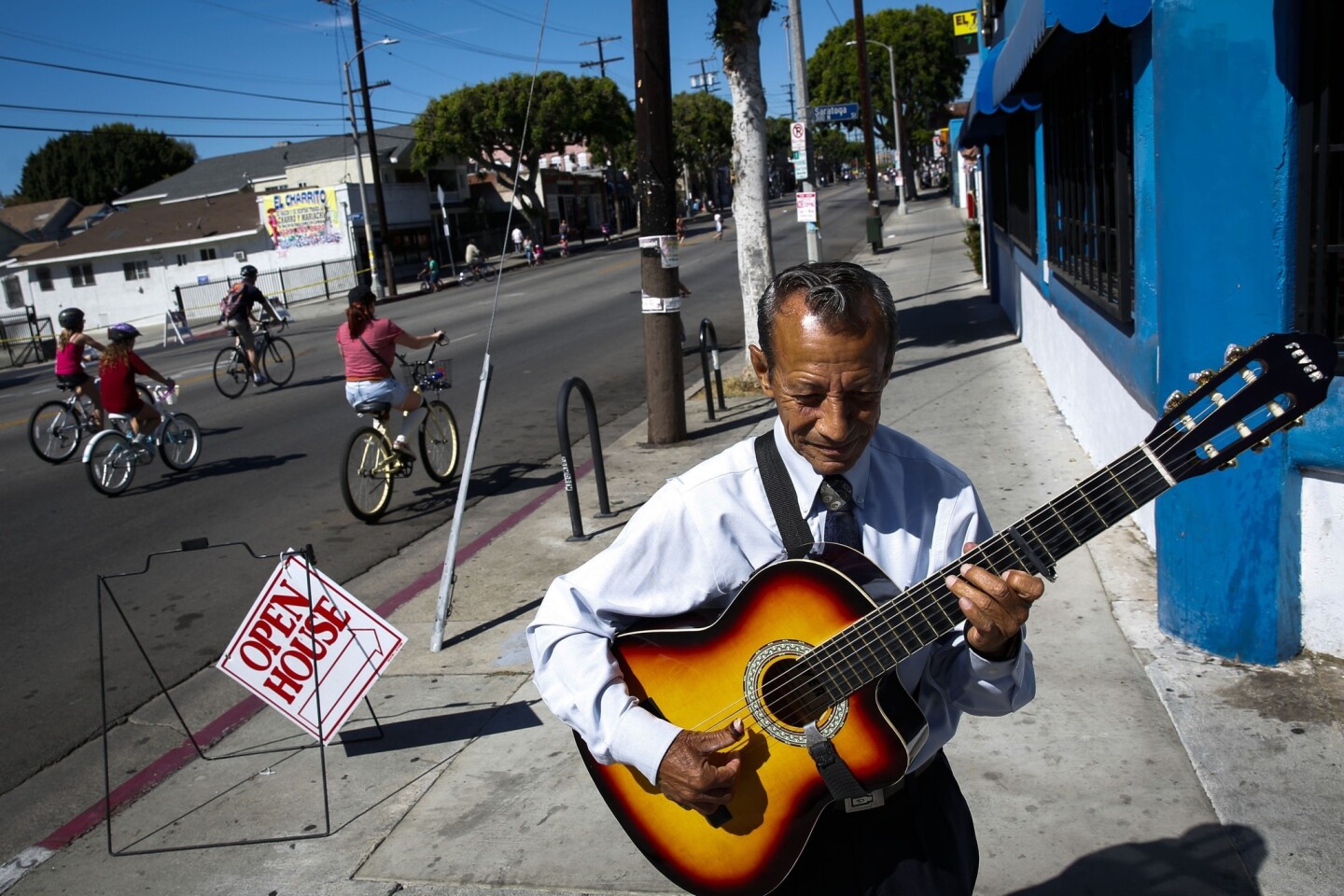 Louis Enrique Orosco plays the guitar outside El 7 Mares restaurant as cyclists ride by.
(Patrick T. Fallon / For the Times)
A couple push bicycles past a beauty salon in Boyle Heights as cyclists, pedestrians and neighbors gather on the street during CicLAvia.
(Patrick T. Fallon / For the Times)
Los Angeles isn't often thought of for its sprawling public spaces, but CicLAvia co-founder Aaron Paley and Mayor Eric Garcetti would like to remind you that L.A. is actually public-space rich, because 15% total land area in L.A. belongs to the public. In the form of open roads.
"Our streets are our largest public asset. They occupy 15% of Los Angeles' total land area and serve as our city's circulation system. We need them to also foster community by providing places to gather and enjoy," Garcetti said in the Great Streets strategic plan released in September.
CicLAvia, underway today in downtown L.A., is a celebration of both public spaces and public gatherings, and is made up of an almost entirely new route going through the heart of L.A. and into Los Angeles County. We cover it live below. Join us at @LANow. Tweet us your photos and share your thoughts throughout the day.
"Streets are for places for us to walk on, to have a cup of coffee on, to admire a mural," Paley told the Los Angeles Times in a recent interview, "to hold hands and go for a stroll, to just enjoy a little bit of town."
This year's new CicLAvia stops include the Broadway Theater District, Boyle Heights, Chinatown and East Los Angeles, crossing over the 1781 boundary of the pueblo of Los Angeles. "We've never left the city before," Paley noted. For the first time CicLAvia will also go into Echo Park, reaching its southernmost point.
Although this has been a big year for biking in the city, thanks to the new 3-foot buffer rule requiring drivers to stay at least 3 feet away from cyclists while passing, Paley wants to clear up the confusion that CicLAvia is a biking event. It's not. It's an everyone event.
"It's an event about civic space and about bringing people together. We don't want people to think they can only participate if they have a bike."
So bike riders, walkers, skateboarders or any other mode of transportation one may dream up are welcome to join the festivities this Sunday from 9 a.m. to 4 p.m.
---
For reporting and exclusive analysis from bureau chief John Myers, get our California Politics newsletter.
You may occasionally receive promotional content from the Los Angeles Times.