L.A. sanitation worker taunted over perceived homosexuality wins $17.4-million verdict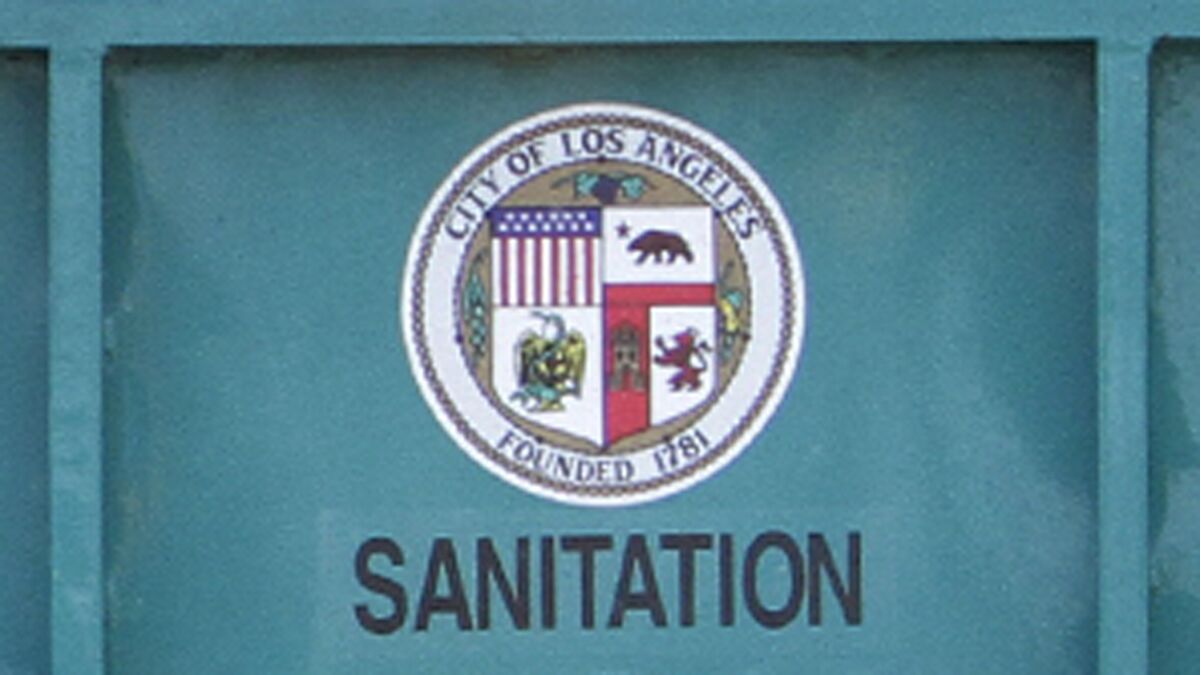 A Los Angeles jury has awarded a former city sanitation worker $17.4 million after finding that he endured repeated harassment by his supervisors, who falsely perceived that he was gay.
Jurors deliberated for about two hours Wednesday before unanimously deciding that James Pearl of L.A. was subjected to verbal abuse, hazing and a bullying campaign in which his portrait was photoshopped to show him in a same-sex relationship with a subordinate. The images were then circulated among city employees, Pearl's attorney said.
When a colleague alerted a manager in the highest ranks of the Bureau of Sanitation about the mistreatment, the supervisor failed to take action, according to court papers.
Now 55, Pearl has been on permanent disability and suffers from physical and psychological damage, his attorney said.
"The most outrageous part is the city had the information and sat on it," said Todd Nevell, whose Pasadena firm represented Pearl.
"As a result, it exposed the city to all of this further harm and damage.… It was not the rank and file engaged in this misconduct; it was the leaders of the department."
Rob Wilcox, a spokesman for the L.A. city attorney's office, said that the city had not decided whether to seek an appeal and that the office was "reviewing our options."
Pearl began working for the Bureau of Sanitation in 2002 and was promoted in 2006 to a wastewater collection supervisor, according to his lawsuit filed in 2014 in Los Angeles County Superior Court.
In 2011, he filed a discrimination complaint with state regulators, alleging he was transferred to an office in Reseda on the basis of being black and as retaliation for complaining about a fellow worker's misconduct.
Days after making the complaint, Pearl was formally told that the city was recommending him to be fired. He was accused of falsifying time documents for a subordinate whom fellow employees also perceived as being gay, and his termination occurred Aug. 30, 2011.
Pearl reported his firing to state regulators, contending it was retaliation and motivated by his perceived sexual orientation.
He also fought his firing through internal procedures with the L.A. Board of Civil Service Commission. The panel ultimately determined that his firing was unfounded and he was reinstated after 13 months off the job.
While off work, a supervisor continued showing at least seven underlings the edited photos that showed him in a fabricated same-sex relationship, Pearl's attorneys wrote in court papers.
On his return, he had a lower-paying day shift, faced more accusations of misconduct, and was given the same supervisor who had been showing the photographs.
Managers and supervisors referred to Pearl by derogatory terms, according to court papers, and circulated offensive messages about him.
Pearl contended he found objects at his desk suggestive of or related to homosexual sex, his lawyer said.
But in court papers, the city contended that Pearl did not complain internally about the alleged mistreatment, and said his assignments were dictated by work orders that accrued amid budget cuts and a lack of staff.
City lawyers also argued that Pearl did not know about the photoshopped images until after his termination, when others told him. The attorneys referred to Pearl's deposition, when he said he heard gay slurs in the workplace but did not know if they were directed at him.
"The image and comments were trivial and isolated, at best," city lawyers argued in court papers. "Based on whatever comments he claims he heard and knowledge he gained about a purported image, none of these rise to the level of severe and pervasive."
The sanitation bureau did not respond to a request for comment.
Nevell, Pearl's lawyer, said his client — who is happily married to a woman — felt redeemed by the jury's award.
"He's obviously vindicated," Nevell said. "He's just been stepped on, and to have the jury vindicate him, he was in tears. For the first time in a long time, he's hopeful."
Twitter: @MattHjourno
ALSO
Months after renowned Woodland Hills hairdresser's body is discovered in a pool of blood, his wife is arrested
Two charged in slaying of homeless man — the third person killed this year in Hollywood
Gunman with rifle opens fire at LAPD near South L.A. park, prompting massive search
---
UPDATES:
9:30 p.m. This article was updated to reflect that the sanitation bureau did not respond to a request for comment.
This article was originally published at 6:15 p.m.
The stories shaping California
Get up to speed with our Essential California newsletter, sent six days a week.
You may occasionally receive promotional content from the Los Angeles Times.