With L.A. City Hall infested by rats, one councilman cites homeless crisis
The Los Angeles City Council on Friday ordered a handful of city agencies to draw up an assessment of fleas and vermin at City Hall, with at least one member linking the problem to the ongoing homelessness crisis.
City officials told council members that they believe the rat infestation was triggered by the demolition of Parker Center, the former police department headquarters being dismantled across from City Hall East on Los Angeles Street.
But Councilman Joe Buscaino drew his own connection between a 2016 court injunction, which limited how and when the city can seize and destroy the property of homeless people on skid row, and the City Hall rat infestation and recent cases of flea-borne typhus.
"Rats are a symbol of this injunction," said Buscaino, who represents Watts and the harbor area. "They are emblematic of how we lost control of the homeless, trash and encampment issue. And if we can't protect the greatest symbol of our own democracy, our own City Hall, if we can't protect our own staff from this medieval disease, then we should all pack up and go home."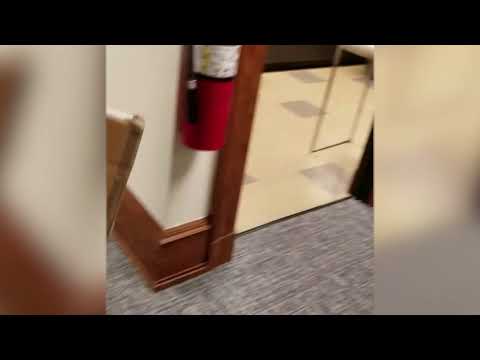 City workers at several offices say they've seen evidence of rats. The City Council president has submitted a motion asking for a report on the "scope of vermin and pest control issues." (Source: Office of Los Angeles City Councilwoman Monica Rodrig
Branimir Kvartuc, a Buscaino spokesman, said his boss wants L.A. to challenge the injunction. Buscaino later added in a written statement that city lawyers have advised city workers to interpret the injunction "very conservatively, which is resulting in giant mountains of trash."
Pete White, executive director of the Los Angeles Community Action Network, countered that the injunction has "nothing to do with a typhus outbreak — nor does it have anything to do with rats." Under the injunction, the city can still destroy property that poses an immediate threat to public health.
The injunction "in no way prohibits a robust rat extermination plan," he said.
White, whose organization advocates for poor people on skid row, said his group has repeatedly called for more trash pickup and other measures to deal with rodents. City leaders should take those steps instead of trying to blame legal protections for skid row residents and their property, he said.
County health officials declared a typhus outbreak last year in downtown L.A., saying people should avoid stray or wild animals, including rats. Typhus is a flea-borne illness that occurs when fleas bite rats and become infected with bacteria known as Rickettsia typhi or Rickettsia felis.
The illness can spread to humans through flea bites or the feces of infected fleas when rubbed into cuts or scrapes in the skin, according to the U.S. Centers for Disease Control and Prevention.
Personnel Department officials say last year's typhus outbreak is unrelated to recent reports of rodents in City Hall and in neighboring buildings.
Still, one city employee said her doctor diagnosed her with typhus in November — and believes she contracted the disease while working in her City Hall East office. Deputy City Atty. Elizabeth Greenwood said she has not returned to work since November.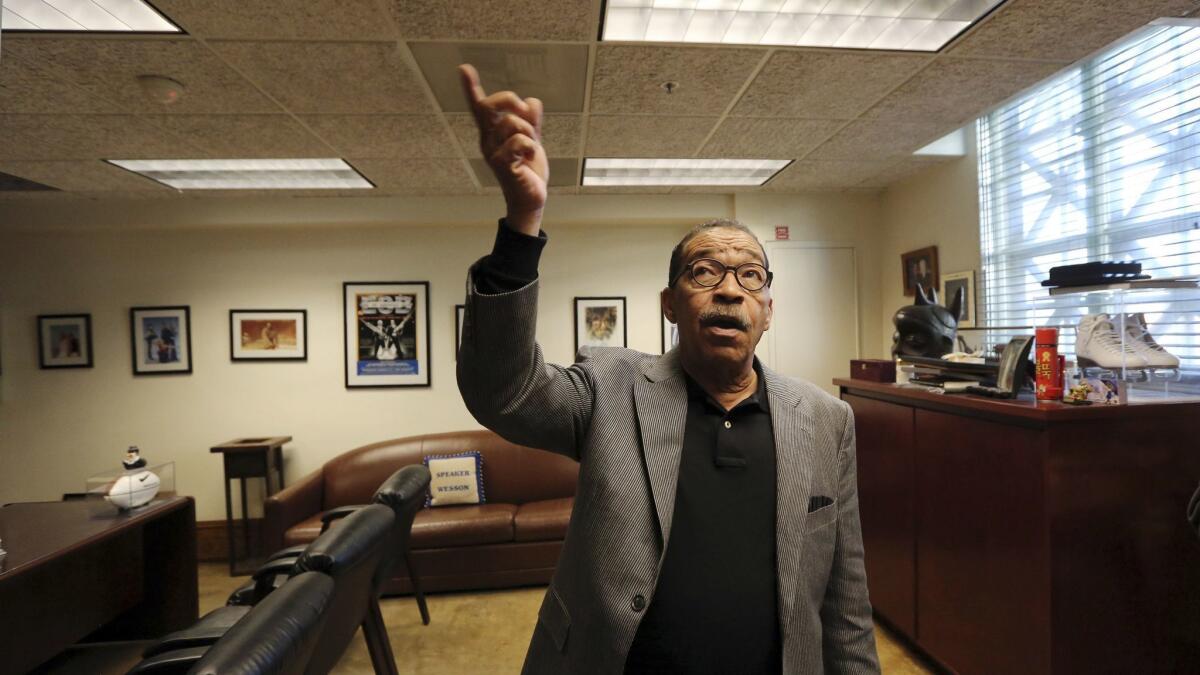 City employees have been complaining for months about the rat situation, saying they had found rodent droppings, partially eaten house plants and tiny paw prints on paperwork.
Since August, rats have been repeatedly spotted in the office of Councilwoman Monica Rodriguez. Last year, staffers tried without success to catch one using cardboard boxes — a chaotic attempt captured on video.
Three rats were eventually trapped by pest control workers, a staffer said.
"We have yet to see one carrying a piece of pizza, like in the New York subway," said Rodriguez, who represents the northeast San Fernando Valley.
City officials said that, in the coming weeks, there will be cleanups of the entire Civic Center area, with crews increasing the frequency of street sweeping and removing vegetation that can provide food or hiding places for rodents.
In a letter this week, Personnel Department officials advised workers to empty the trash in their offices each night, put away food and water, and limit the number of potted plants they keep.
On Friday, a pest control company also was assigned to visit each floor in City Hall and City Hall East to determine the scope of the flea and rodent problem. Officials said they are still examining whether carpets on particular floors will need to be ripped out and replaced.
That possibility drew concern from Councilman Paul Koretz, a champion of environmental issues, who warned that carpet debris can be a "huge problem" in landfills.
"Hopefully we can find an appropriate way to recycle them," said Koretz, who represents part of the Westside.
He also voiced worries that pest control crews may use poisons that could harm other wildlife. A city official overseeing the work said any flea spray used inside city buildings will be non-toxic.
Council President Herb Wesson, whose staff found evidence of rodents in his office last year, said some in City Hall might not want carpets removed from their offices. He warned there will need to be a new carpet-cleaning protocol if that floor covering is allowed to remain.
"The things we need to do, we have to do immediately," Wesson said.
Twitter: @DavidZahniser
Times Staff Writer Dakota Smith contributed to this report
Sign up for Essential California for news, features and recommendations from the L.A. Times and beyond in your inbox six days a week.
You may occasionally receive promotional content from the Los Angeles Times.