L.A. immigration activist files suit claiming DACA application was rejected as 'political retaliation'
A Los Angeles immigration activist whose arrest last year sparked protests and allegations of misconduct against federal law enforcement officials is now suing the Department of Homeland Security, claiming her application for protection from deportation as a "Dreamer" was unfairly rejected on the basis of her activism.
Claudia Rueda, a 23-year-old Cal State L.A. student, filed the federal lawsuit Tuesday alleging that the government violated its own policies in rejecting her application under the Deferred Action for Childhood Arrivals program in October of last year.
"The only discernible difference between Ms. Rueda and the hundreds of thousands of others who have been approved for DACA status is her political speech and activism against ' defendants' immigration practices," the lawsuit said.
Rueda first gained attention across Southern California in May 2017, when she and six others were arrested outside her home by agents with U.S. Customs and Border Protection.
At the time, Rueda and other local activists said she was arrested in retaliation for her advocacy on behalf of her mother, Teresa Vidal-Jaime, who had been swept up in a drug raid carried out by the Border Patrol and the Los Angeles County Sheriff's Department a month earlier. Although law enforcement officials said Vidal-Jaime had nothing to do with the alleged drug activity, she was held on a civil immigration violation.
Rueda led protests objecting to her mother's detention, and Vidal-Jaime was released from federal custody on May 12, 2017, over the objections of U.S. Immigration and Customs Enforcement. The Border Patrol arrested Rueda outside her home six days later, and she spent several weeks in federal custody.
Speaking at a news conference in downtown Los Angeles on Tuesday morning, Rueda wore a shirt that read "ICE out of LA!" and teared up as she spoke. Rueda said her arrest last year, which she often refers to as a "kidnapping," left her traumatized, taking a toll on both her physical and mental health.
"I'm here today because the Department of Homeland Security is targeting me," she said. "They want to deport me, they want to silence me for my political activism, but I'm not going to stay silent."
A spokeswoman for the Border Patrol's San Diego field office would not immediately comment on the suit. The Department of Homeland Security referred questions to the Department of Justice, which declined to comment on the case.
Attorneys representing Rueda said her complaint is the first lawsuit challenging a rejected application under DACA, an Obama-era program that has protected nearly 800,000 young immigrants in the country illegally after they were brought to the United States when they were children.
The DACA program has been the subject of intense legal fights since last year, with the Trump administration seeking to end the program despite polls showing a majority of Americans oppose the idea of deporting the so-called Dreamers. U.S. Atty. Gen. Jeff Sessions announced the program would cease accepting new applications in September 2017, kicking off a series of court battles that have produced conflicting rulings. Currently, those who had prior protections under the DACA program can still seek renewals.
Rueda first applied for DACA protection in July 2017, prior to Sessions' announcement, so she would have been eligible at the time.
Allegations of retaliatory conduct by immigration authorities have become more common in the last two years. Earlier this month, a number of immigrant rights groups filed a federal lawsuit in Seattle accusing ICE of repeatedly arresting people who have advocated on behalf of undocumented immigrants.
The lawsuit highlighted a number of purportedly vindictive arrests made by ICE, including several in which activists in the country illegally were arrested shortly after organizing demonstrations or making comments to the media. Earlier this year, the Southern Poverty Law Center filed a petition alleging that a Memphis journalist had been detained by ICE because of his critical reporting on local immigration enforcement.
Rueda said she hopes her lawsuit will stop ICE and the Border Patrol from responding to criticism with what she believes are unjustified arrests.
Rueda's ordeal began in April of last year when Vidal-Jaime, 54, was arrested during a raid at a Boyle Heights apartment complex where more than 30 pounds of cocaine and $600,000 in cash were found. Vidal-Jaime's husband, Hugo Rueda, and three other men were arrested on suspicion of drug possession.
Though investigators said Vidal-Jaime was not involved with the alleged drug trafficking, she was held for several weeks in federal custody. Rueda began to organize demonstrations protesting her mother's detention. Her mother was released on $2,000 bail.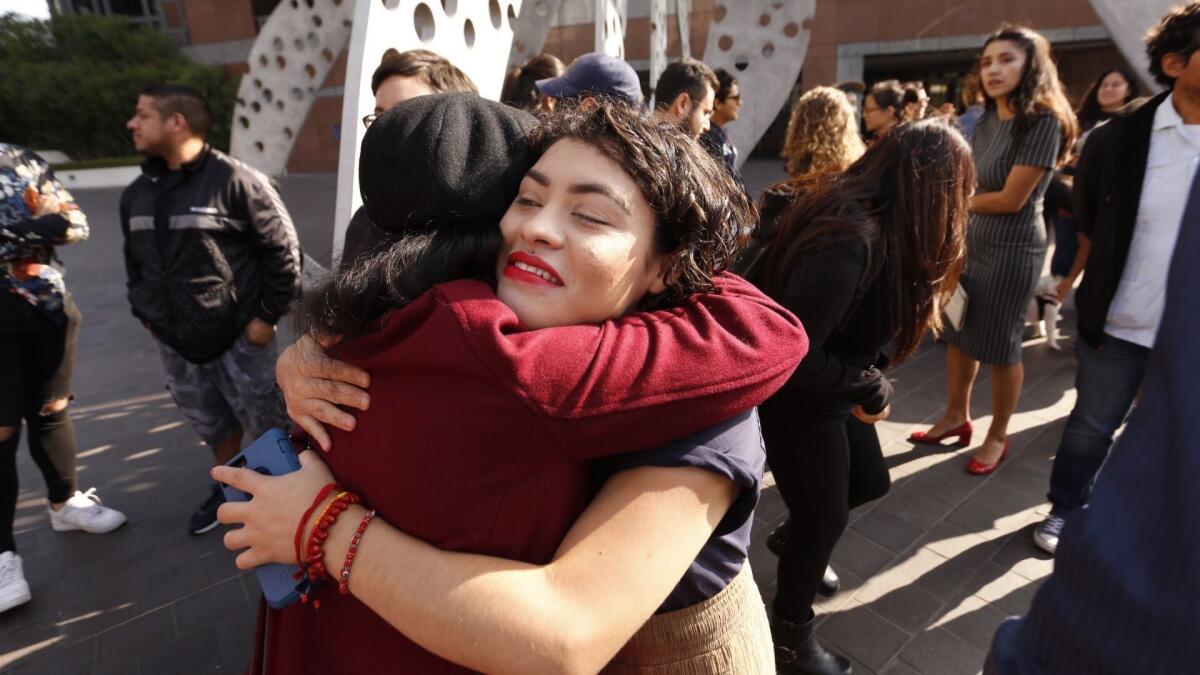 Six days later, Rueda was one of seven people arrested as part of an investigation into what the Border Patrol called "a cross-border narcotics smuggling operation." All seven, however, were arrested on suspicion of immigration violations, not drug offenses, the Border Patrol said last year.
Mark Endicott, a supervisor with the Border Patrol in San Diego, told The Times last year that Rueda was "part of a support network" for a drug organization. Rueda and her attorneys have vehemently denied she has any links to criminal activity, and none of those arrested have been charged with drug offenses in the year since the incident, attorneys said.
Both Rueda's and her mother's cases are still winding their way through the immigration court system, said Rueda's immigration attorney, Monika Langarica.
According to the lawsuit, the rejection of Rueda's DACA application violated the Department of Homeland Security's internal policies because immigration authorities did not make a request for evidence or provide Rueda with a notice of their intent to deny her application. A copy of the rejection letter, which was reviewed by The Times, includes only a one-line denial with no explanation.
John Ulin, an attorney representing Rueda, described her as a fierce advocate for her community and for fellow students.
"She is the ideal Dreamer," Ulin said. "She's a kid who grew up in Los Angeles, became a model student."
Rueda said she knows bringing the suit could stoke further action from immigration authorities.
"For me, fighting is the only way to show what's going on," Rueda said. "To show how immigration activists are being politically repressed for speaking out."
Times staff writer Marisa Gerber contributed to this report.
Follow @JamesQueallyLAT for crime and police news in California.
---
UPDATES:
12:35 p.m.: This story was updated with comments made during a news conference in downtown L.A.
This story was first published at 11:00 a.m.
Sign up for Essential California for news, features and recommendations from the L.A. Times and beyond in your inbox six days a week.
You may occasionally receive promotional content from the Los Angeles Times.