Recall notices, a clown activist and a rowdy debate over marijuana. Welcome to a meeting of the Maywood City Council
First the mayor accused a councilman of withholding money from the city. Then the city clerk accused the mayor of wrongfully cutting an item from the agenda. Then all five Maywood council members and the clerk got served with recall petitions as the meeting degenerated into wild jeers and thunderous applause.
And that was before the clown showed up.
"Where do you come from?" someone asked Edwin Thomas Snell, who wore a pink, curly wig, jumbo neon green glasses and a red nose.
"Your mother's house," the sassy clown replied. "Now the meeting is a circus," one man yelled as the riled-up crowd laughed.
It took just 30 minutes for Wednesday night's Maywood City Council meeting to devolve into the latest bit of theater in a city that's struggled with financial issues and political infighting.
But in this case, much of the tumult seemed to arise from a case of political reefer madness: Many people who showed up were there to speak for or against a proposed amendment to the city's zoning codes that would permit marijuana dispensaries to set up shop in a tiny town of just over one square mile.
In an often vain effort to restore order, Mayor Ramon Medina spent the night banging a gavel.
"The gavel is going to break," Jose Gaxeola, 65, exclaimed.
At one point, Medina seemed to run out of the energy needed to pound the wooden hammer, and few could hear him speak over the loud chants of "recall" and "fuera" (out).
Lt. Sam Arellano of the Los Angeles County Sheriff's Department had to try to reclaim calm at least seven times during the meeting, reminding people not to interrupt speakers.
"It's the responsibility and duty of the mayor to control the crowd," he said. "But sometimes we have to help."
The standing room only crowd often broke into shouting matches. Some residents held signs of a pot plant crossed over with the words "No Marijuana."
Sara Mesa, 32, a Maywood resident, was among those who disapproved of the measure.
"We voted for you guys to be here and represent us, and you're clearly not paying attention to what the people are saying," she said. "We don't want that trash in our city."
Julio Sanchez, 36, who is suffering from Stage 2 testicular cancer and recently moved to Maywood, said he supported the measure. He said cannabis helps him manage his pain.
"It helps my well-being," Sanchez said.
Despite the number of speakers who opposed the measure, the council voted in favor of it. Some residents immediately began to chant "Recall, recall."
"All we need now is for the dead politicians to come back and try to reclaim their seats," said Gustavo Pantoja, 65.
Standing nearby, Jose Guevera, 58, said he was an independent spectator at the meeting. He said he came to figure out whether the city council would move forward with the measure.
"I was concerned because I have grandchildren that go to school here," he said.
Both men said they were not surprised by how the meeting fell into disarray, noting that Maywood has a history of politically testy meetings.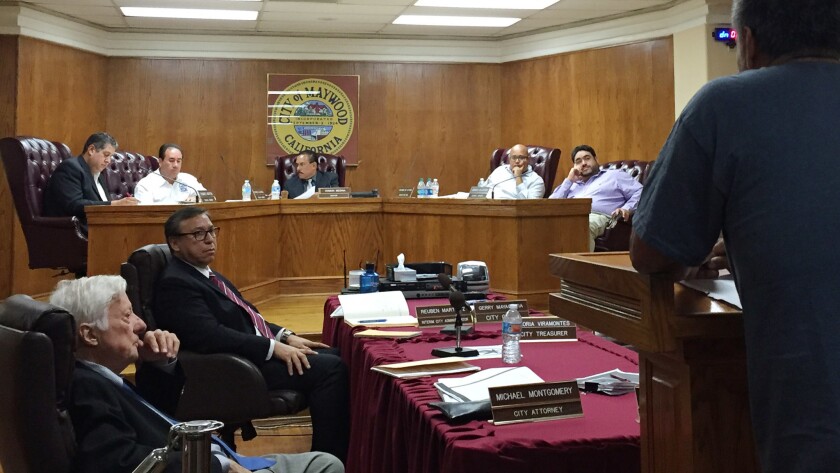 The meeting ended shortly after 10 p.m. By then, fewer than a dozen people remained in the council chamber.
Councilman Thomas Martin left the room before a reporter could ask questions about the recall notice. Councilman Sergio Calderon said he hadn't looked at it and didn't know what to say.
Mayor Pro Tem Eduardo De La Riva and City Clerk Gerardo Mayagoitia said they believed that they received the recall notices because they have been vocal critics of the council majority.
"Me and Eddie have been a team, and the fact that the mayor and the new council majority have understood that we have been working together, of course they're going to recall me," Mayagoitia said.
According to the recall notices for De La Riva and Mayagoitia, the grounds for the recall is that they refused to accept responsibility for their actions.
On the other side, Medina, the mayor, said he wasn't surprised to receive a recall notice. "I'll just keep going until we do things right."
As for Councilman Ricardo Villarreal, he had a more simple answer: "I'm just going with the flow."
For more Southern California news, follow @latvives on Twitter.
---
For reporting and exclusive analysis from bureau chief John Myers, get our California Politics newsletter.
You may occasionally receive promotional content from the Los Angeles Times.