Oversight committee wants to scale back iPad purchases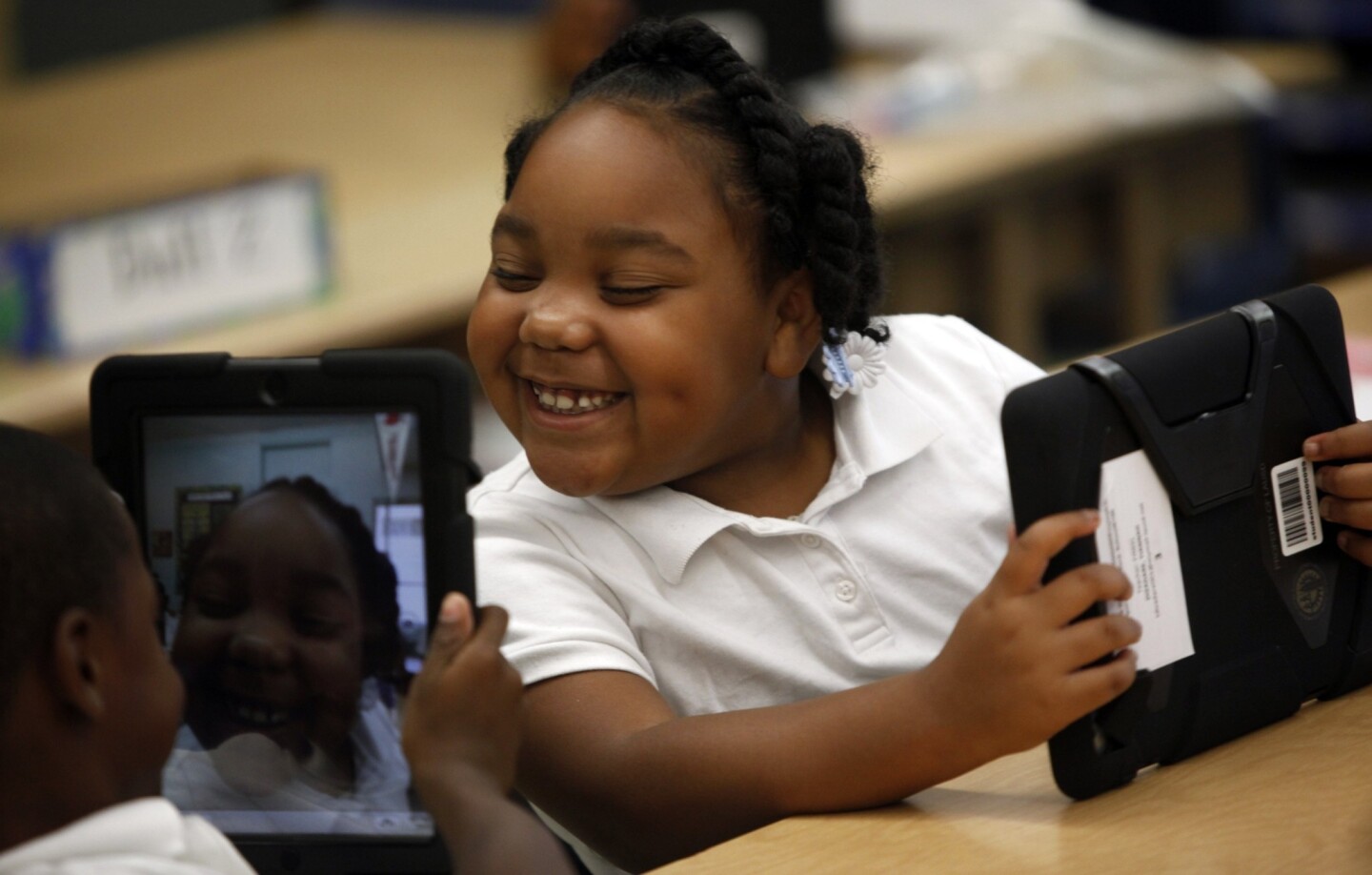 Tiannah Dizadare smiles as she works with classmate Avery Sheppard as they explore their new LAUSD-provided iPads.
(Bob Chamberlin / Los Angeles Times)
King Shelton, left, and Zylan Giles work with their new iPads at Broadacres Avenue Elementary School in Carson.
(Bob Chamberlin / Los Angeles Times)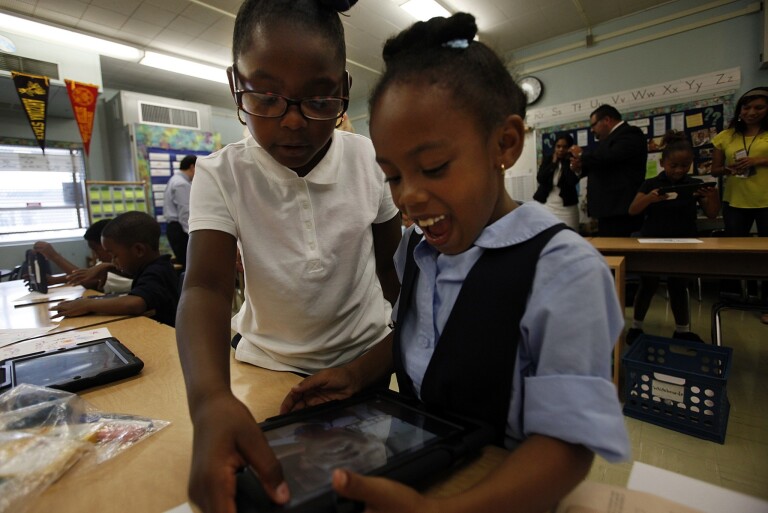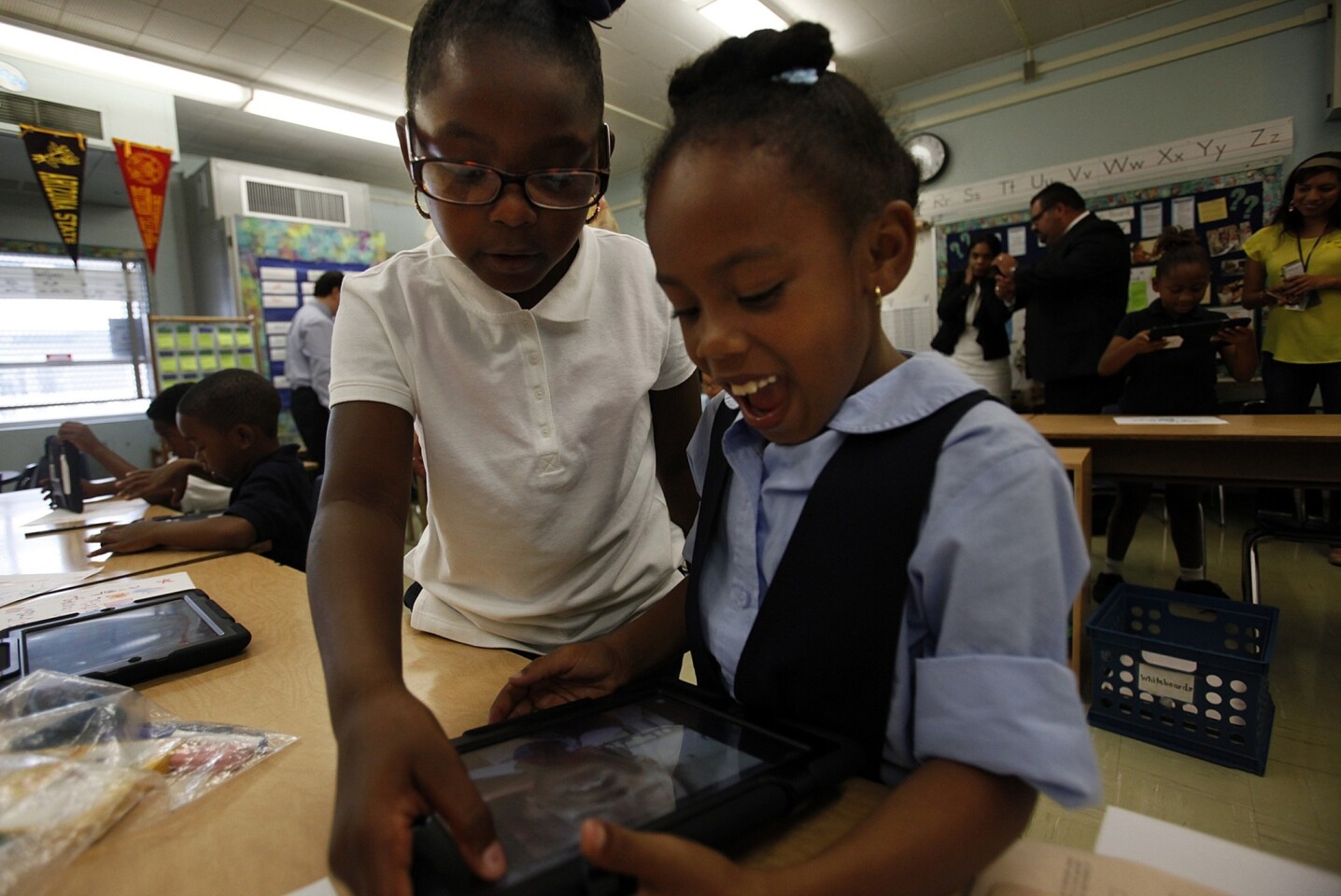 Jadah Manning, left, and Zaryah Robinson explore a new iPad in Karen Finkel's class at Broadacres Avenue Elementary School.
(Bob Chamberlin / Los Angeles Times)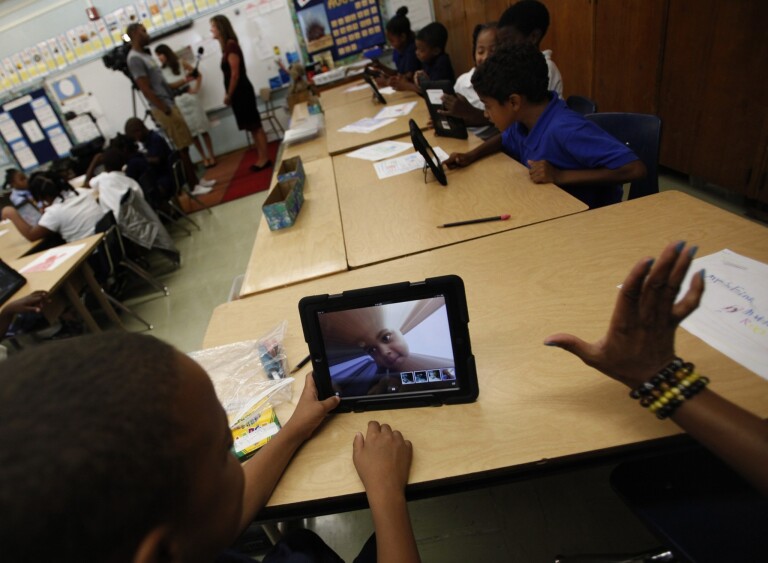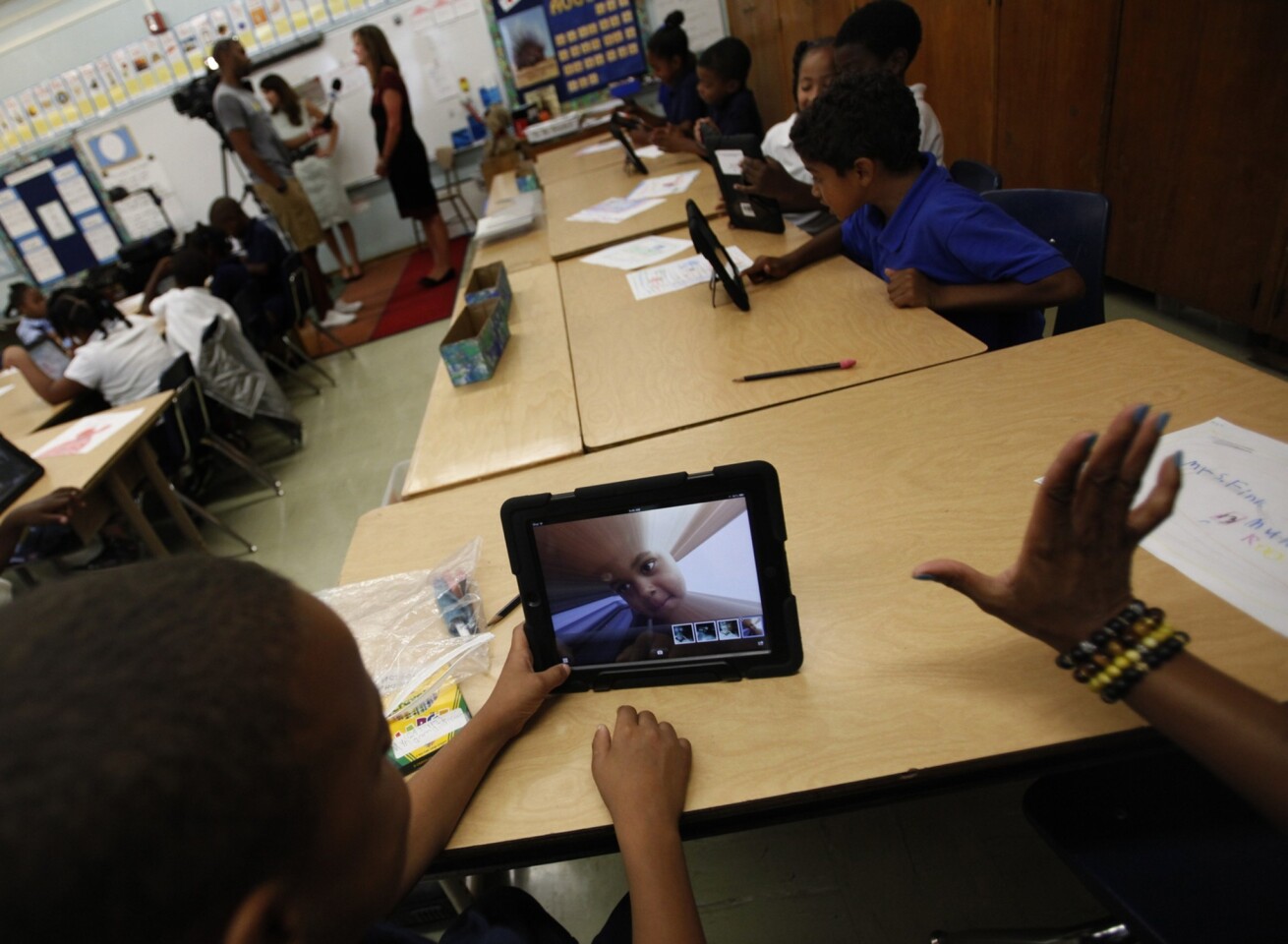 Muhammad Nassar Jr. takes a picture of himself as Karen Finkel's class explores the possibilities of their new LAUSD-provided iPads at Broadacres Elementary.
(Bob Chamberlin / Los Angeles Times)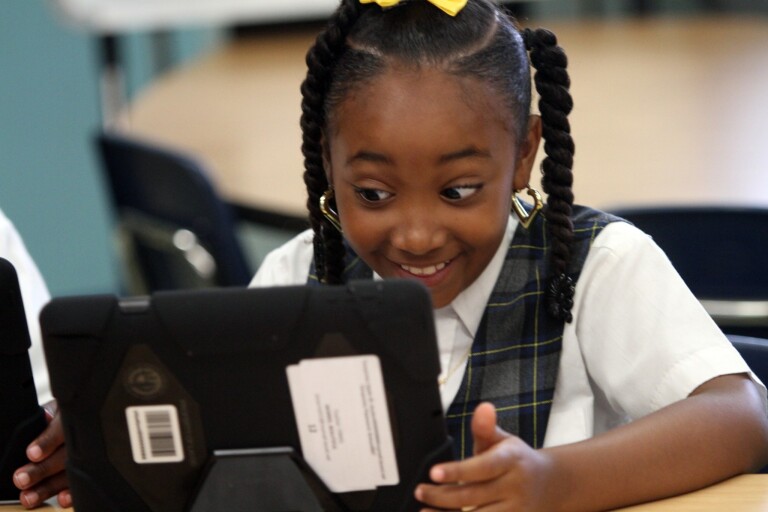 Beautiful Morris smiles as she works on her new iPad, provided by the Los Angeles Unified School District.
(Bob Chamberlin / Los Angeles Times)
A committee that oversees school bond spending has rejected major portions of a proposal to expand the use of iPads in the Los Angeles Unified School District.
District officials had sought approval from the panel for $135 million in spending. Instead, the committee on Wednesday authorized $45 million. The panel failed to approve plans to provide iPads to all teachers and school administrators. And, it reduced the number of iPads requested for students.
The decision creates new complications in the $1-billion effort to provide tablets to every student and teacher in the nation's second-largest school system.
The Board of Education will have the final say, and is expected to consider the matter in December. Until now, however, L.A. school Supt. John Deasy has been unwilling to bring forward bond spending without the approval of the School Construction Bond Citizens' Oversight Committee.
The committee is made up of 13 members, representing various groups, including the mayor, the city controller, charter schools, the L.A. County Federation of Labor, the California Tax Reform Assn., parents and the construction trades. It was established to heighten confidence that voter-approved bonds, which are repaid by property taxes, would be spent wisely.
The oversight committee became a statewide model and a fundamental element of the nation's largest school construction program. Critics have called the board too passive on occasion, but it took issue Wednesday with what L.A. Unified wants to do.
The district is hoping to spend $135 million in the spring semester for the next portion of the tablet distribution. A $50-million rollout for 47 schools began in the fall.
The next installment would pay for 24,541 tablets at 38 schools and 28,385 iPads for teachers and administrators across the school system.
The plan also calls for buying an additional 67,480 tablets to allow for all students to take new state standardized tests with the iPad on a rotating basis. More than 380,000 students are expected to take part in a trial of the new standardized tests next spring.
In addition, the plan calls for buying more than 116,000 keyboards and 2,000 storage and charging carts.
The remaining major cost item is equipping every teacher and student at seven high schools with a laptop computer — to see if that device is superior to a tablet for older students.
But the committee only approved tablets for the 38 schools and the laptop plan.
Keyboards are required for the new state tests, but the committee wanted more information on that proposal. Members also said it was premature to buy tablets for all teachers and administrators. Some schools may not receive tablets for close to three years from now under a slower distribution schedule, even if the program goes forward.
District senior staff also had wanted 67,480 additional tablets for this spring's testing. The oversight committee challenged the district's math and also wanted to take into account older computers that could be used for the tests.
"What is the rush? Why are we rushing on to spend a billion dollars of taxpayer money" without evidence of the academic benefit, said member Stuart Magruder. "I am frustrated with the reliance on anecdotal evidence in place of clear research."
A committee majority is open to reconsidering what it turned down, pending new and more detailed information.
Wednesday's action could create a bind for the upcoming testing, said district chief strategy officer Matt Hill. The district is trying to take an inventory of older computers, but currently lacks that information. And new iPads would need to be ordered in early December to be in place in time for testing, Hill said. The bond committee is not scheduled to meet again until Dec. 18.
"I don't know how we can get it to schools in time," he said in an interview.
Hill added that he would recommend overriding the decision by the oversight committee.
"My job is to help lower the stress level at schools," he said about the challenges of the impending tests.
ALSO:
Costco in Simi Valley labels Bibles as fiction; pastor disagrees
Relative arrested in beating death of 84-year-old Glendale man
McStay family mystery: Crosses, remembrance planned at desert site
Twitter: @howardblume
---
Get breaking news, investigations, analysis and more signature journalism from the Los Angeles Times in your inbox.
You may occasionally receive promotional content from the Los Angeles Times.