$54 million wasted on 'unnecessary' interest payments, city controller says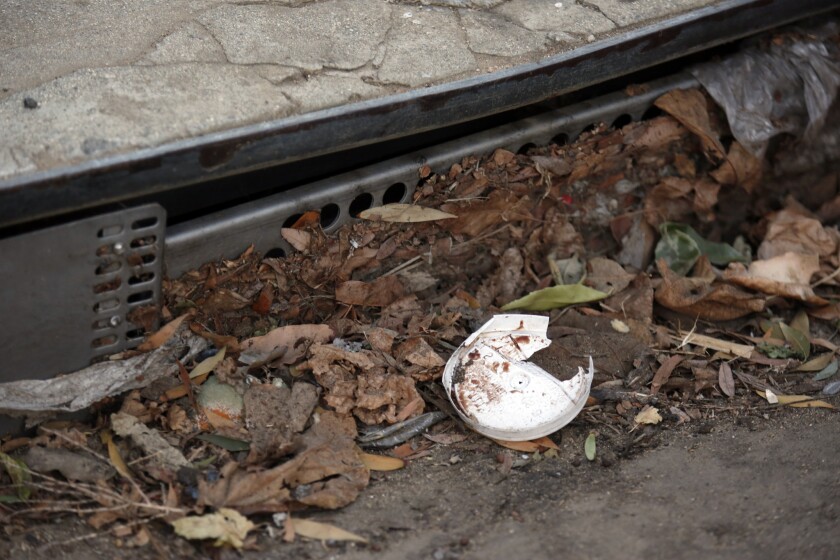 Los Angeles has, for years, stockpiled millions of dollars in funding meant to pay for various bond programs, forcing taxpayers to shell out at least $54 million in "unnecessary" interest payments on that dormant money, according to an audit released Wednesday by the city controller's office.
In launching an audit of Proposition O -- the voter-approved 2004 measure that financed stormwater cleanup -- Controller Ron Galperin found that the city often issued bonds for construction projects before the bills came due, leaving money idle in bank accounts. Taxpayers then had to pay "excess" interest on that borrowed money, Galperin said.
The Proposition O audit found that the city made about $6.8 million in unnecessary interest payments from 2010 to 2015, prompting auditors to examine other bond programs over the last several years and search for similar patterns.
In analyzing three such programs, auditors estimated that taxpayers paid an additional $47 million in excess interest because the city issued its bonds too soon.
City policy requires departments to have cash on hand to pay the full amount of multiyear construction contracts when those contracts are signed, Galperin said in the audit's cover letter. In his report, Galperin recommended that the city devise a legally permissible way to change its procedures so that the city can borrow money closer to when it will be spent.
"No savvy investor would borrow money and then leave it sitting dormant in a bank account. And yet, that's exactly what the city has been doing," Galperin said in a statement. "Changing our practices and becoming more efficient in how we finance construction projects will translate into savings for taxpayers."
Although the city got good rates on the bonds and earned some interest while the money sat unspent, the city had to pay investors at an interest rate that outpaced those gains. On average, taxpayers were forced to pay about 1.9% net interest on the unspent funds, the audit said.
The $6.8 million in Proposition O money spent on interest payments sits in a special fund and could have been used only on projects connected with the measure, Deputy Controller Lowell Goodman said.
If the city takes action and follows Galperin's recommendations, it could "free up additional funds that we could use to build even more environmental projects," Adi Liberman, director of the Proposition O Citizens Oversight Advisory Committee, said in a statement.
Under pressure from the federal government and environmental activists, voters overwhelmingly approved Prop. O in 2004, upping property taxes to pay for a slate of projects aimed at helping bring the city into compliance with the Clean Water Act.
Specifically, Prop. O authorized the city to issue up to $500 million in bonds to improve the quality of surface water, increase stormwater capture and reuse, bolster water conservation and other measures.
Galperin's office audited the first 10 years of the program and found that "city agencies with key roles… have done a commendable job overall." They have completed about half the approved projects and spent about $300 million, Galperin said.
See the most-read stories this hour >>
For example, the city spent $67 million of the Prop. O funding to outfit catch basins with screens that can stop trash from flowing into the waterways. Money also went toward the rehabilitation of Echo Park Lake and creation of a wetlands park in South L.A.
And the work continues. On Thursday, Mayor Eric Garcetti, Councilman Mike Bonin and other city officials broke ground on a stormwater capture and reuse facility in Venice that Garcetti's office said was financed by $23.6 million in Proposition O funding.
But auditors were also stuck by large balances they found, starting in 2010. After further investigation, they found that the city had paid unnecessary interest on idle funds because they had issued bonds prematurely.
Galperin's office then examined three other recent bond programs "to see if this might be indicative of a systemic problem," the controller said in his cover letter. Auditors found that taxpayers had paid excess interest totaling about $47 million on bonds for those programs.
"Our audit found that, although [Prop O] projects are taking longer than expected and certain administrative practices are in need of improvement, the performance of city agencies has been mostly positive," Galperin wrote in his letter. "The city must, however, address financial practices that … cost taxpayers."
ALSO
'An end to all the excuses,' says L.A.'s chief bureaucrat in push for $1.8-billion homelessness plan
'Earthquake?' Google promises faster information — and a map
Tenant activists lose fight against Hollywood building's conversion into a hotel
Twitter: @ByMattStevens
---
UPDATES:
12:58 p.m.: This article was updated with ground being broken on a new water treatment facility in Venice.
This article was originally posted at 7:30 a.m.
---
The stories shaping California
Get up to speed with our Essential California newsletter, sent six days a week.
You may occasionally receive promotional content from the Los Angeles Times.