How a judge's 'horrible experiences' with plumbers led to a murder conviction getting tossed out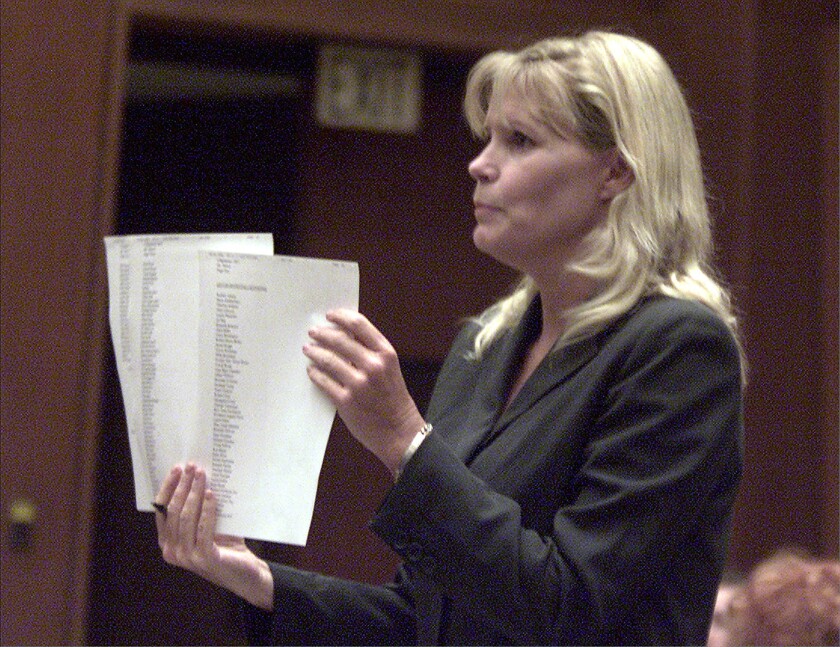 If Los Angeles County Superior Court Judge Eleanor J. Hunter's experiences with plumbers had been better, the murder case of Vincent Tatum might have gone differently.
Addressing a panel of potential jurors in her Compton courtroom, Hunter explained the importance of not prejudging witnesses and used her unfortunate run-ins with the tradesmen to illustrate her point.
Hunter said that she had "had horrible experiences with plumbers … during remodels or whatever, just horrible experiences."
"If I hear somebody is coming in, and I hear he's a plumber, I'm thinking, 'God, he's not going to be telling the truth,'" Hunter said.
The problem, according to a recent appeals court decision, was that Tatum, the defendant, worked for a plumbing contractor who was his key alibi. The contractor testified that Tatum was at work at the time of the slaying — a statement the prosecutor argued was a lie to protect his friend.
Jurors in the 2014 trial discounted the testimony and convicted Tatum of murder and attempted murder. Tatum was sentenced to 114 years in prison.
A divided three-justice panel of the 2nd District Court of Appeal threw out his conviction last week, ruling that Hunter's remarks on plumbers — and her rejection of a defense motion for a new trial — tainted the jury pool and resulted in an unfair trial.
"The court's statement that plumbers who came into court were liars validated the prosecutor's argument, irreparably damaging Tatum's chance of receiving a fair trial," two of the three justices on the appellate panel wrote in an Oct. 3 ruling.
Such comments "interfered with [Tatum's] constitutional right to a jury trial," the judges added.
Hunter, a former deputy district attorney who was appointed to the bench in 2005 by Gov. Arnold Schwarzenegger, could not be reached for comment. Judges are ethically prohibited from discussing pending cases.
The case stems from the Oct. 17, 2013, shooting in South Los Angeles of Victor Valentine and Devin Lowe. Tatum was accused of fighting with Valentine and Lowe, and during the dispute, walking up to the car in which both men sat and opening fire. Valentine died and Lowe survived.
At the outset of Tatum's July 2014 trial, Hunter used the anecdote about plumbers to explain that her personal experiences meant that she would "have already prejudged that person, and I wouldn't be able to be fair." Hunter apologized to the potential jurors if any of them were plumbers but said she always used the example.
Shortly after the remarks, Tatum's defense attorney sought a mistrial. Hunter refused, stating, "I could certainly tell the jury that was by way of example, and that's a personal thing."
Hunter offered to warn the potential jurors about the comments, but the defense lawyer asked her not to.
"I'd rather not accentuate it in their minds," the lawyer replied.
Hunter did not repeat her anecdote about plumbers the next day when she addressed a new panel of potential jurors. Of the group of potential jurors who heard Hunter's comments, six ended up on the jury.
The appeals court faulted Hunter for abusing her discretion by denying a mistrial. The justices also rejected the idea that Hunter could have told potential jurors to forget what they heard, likening such a futile attempt to the Wizard of Oz's famous instruction: "Pay no attention to that man behind the curtain!"
Danalynn Pritz, who represented Tatum on appeal, said the case was atypical. She noted that judges always run the risk of a reversal error when they stray from standard instructions or invoke personal anecdotes from the bench.
Pritz questioned why Hunter did not take the precaution of granting the mistrial.
"No jury was sworn. The case was at a very early stage," Pritz said. "She should have gone, 'Oops' – and called a new panel."
Frances Rothschild, the presiding justice for the 2nd appellate district, disagreed in a three-page dissent, saying reasonable jurors would not have understood Hunter's comments to say that plumbers are liars.
"Viewed in its full context, the point of the court's statement was to show how people, including the court, have biases based on their personal experiences and that the jurors must put them aside when they hear testimony," Rothschild wrote.
The presiding justice said it would be unreasonable to assume that when jurors heard Tatum's alibi witness, they recalled Hunter's anecdote.
The attorney general's office has a few weeks to ask the state Supreme Court to review the decision.
If the Supreme Court declines to review the case, the Los Angeles County district attorney's office must decide whether to retry Tatum, now 50. He remains in custody at California State Prison in Lancaster. A spokeswoman for the district attorney's office declined to comment.
Twitter: @MattHjourno.
---
For reporting and exclusive analysis from bureau chief John Myers, get our California Politics newsletter.
You may occasionally receive promotional content from the Los Angeles Times.