L.A. activists and civil libertarians protest proposed crackdown on City Hall disruptions
Yvonne Michelle Autry, right, is ejected during a City Council meeting.
(Al Seib / Los Angeles Times)
Yvonne Michelle Autry is ejected while fellow attendee Armando Herman waves his arms.
(Al Seib / Los Angeles Times)
Armando Herman gestures while attending a council meeting Tuesday.
(Al Seib / Los Angeles Times)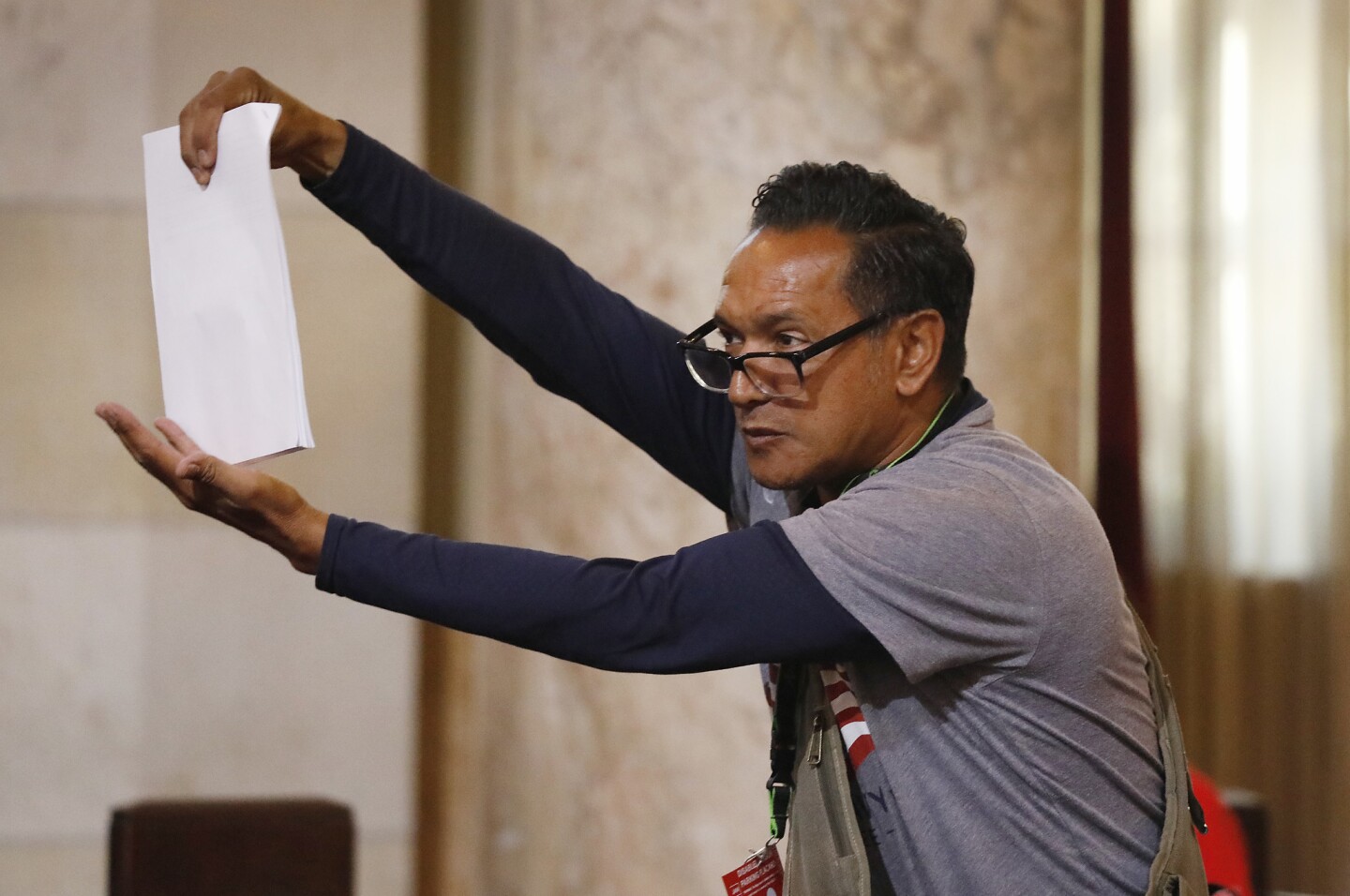 Armando Herman reacts during Tuesday's council meeting.
(Al Seib / Los Angeles Times)
Frequent L.A. City Council meeting attendee Armando Herman gestures while sitting in the gallery seats during a council meeting Tuesday.
(Al Seib / Los Angeles Times)
David Saltsburg uses profanity while addressing the council during public comment.
(Al Seib / Los Angeles Times)
Civil liberties attorneys and community activists are fighting a proposed crackdown on people who disrupt public meetings at Los Angeles City Hall, arguing that the measure would violate their rights to free speech.
Under the proposed rules, shouting from the audience and other unruly behavior could get people banned from attending City Council and committee meetings for several days at a time. Council members had argued that the restrictions are needed to maintain order and ensure that people feel safe at public meetings.
The push to tighten city rules follows years of complaints about racial epithets, profane and misogynistic language and other outbursts from the audience during city meetings. Some neighborhood advocates say that behavior has made them hesitant to testify in person at City Hall.
But the plan troubled some attorneys and activists, including the ACLU of Southern California, the Stop LAPD Spying Coalition and the Los Angeles Community Action Network, which advocates for skid row residents.
The council postponed a discussion of the proposal Tuesday due to a "threat of litigation" and to give council members the option of hearing from their lawyers behind closed doors, said Rob Wilcox, a spokesman for City Atty. Mike Feuer.
Dozens of people who showed up to oppose the plan vowed to return next week when the item is scheduled to be taken up.
"Banning people from attending future meetings is like a gag order," said Hamid Khan, coordinator of the Stop LAPD Spying Coalition, which opposes government surveillance. He said council members were using the behavior of "a few gadflies" as an excuse to roll back the rights of Angelenos to petition their government.
Council rules already allow audience members to be removed for behavior that disrupts the "orderly conduct" of public meetings, such as clapping, whistling, repeatedly waving their arms, stomping feet or uttering "loud, threatening or abusive language."
Under the proposed changes, someone who is ejected from a council or committee meeting could be barred from attending such meetings for the rest of the day.
If the same person is removed again from another meeting within three business days, he or she could be excluded from meetings for the rest of that day and three more business days. And if the same person is kicked out again soon after that, the individual could be barred from participating for that day and the following six business days.
City staffers say there has been an increase in such disruptions, often by the same small group of people. Earlier this month, frequent meeting attendee Armando Herman used profanity, a racial slur for African Americans and a vulgar word for the female anatomy while addressing the council.
After Herman finished speaking, Council President Herb Wesson addressed Jocelyn Duarte, who had been sitting in the front row and covering the ears of her 10-year-old daughter while Herman spoke. Wesson told Duarte he would welcome a note indicating how offended she was by the comments.
At that point, Herman began yelling from the audience and Wesson ordered him removed from the building for disrupting the meeting. Minutes later, Herman started shouting outside City Hall, loud enough to be heard by council members. Afterward, council members expressed frustration with such behavior, arguing that it was meant to offend and intimidate members of the public, especially children.
Duarte, who had come to City Hall for a ceremony honoring the Salvadoran American civic group for which she works, said later that she felt threatened by Herman's behavior. Such "hateful speech," she wrote in a letter to Councilman Mitch O'Farrell, "creates a hostile environment that is not conducive for others to exercise their right to freedom of speech."
Herman called his language "protected speech" and disputed the idea that his behavior in any way threatens public safety. He said council members are changing the rules in an attempt to silence critical opinions.
"I've been to hundreds if not a thousand meetings and now all of a sudden they don't like ... to be criticized," Herman said.
Federal courts have found that public speakers cannot be removed simply for uttering profane or offensive words. Five years ago, a federal judge found that Los Angeles had violated the U.S. and California constitutions when it ejected two public speakers from meetings.
Under California law, "it has to be an actual, substantive disruption to the meeting," said Brendan Hamme, a staff attorney with the ACLU of Southern California. Hamme said his group is concerned that the existing definition of disruption under city rules is overly broad. For instance, if someone is clapping briefly, "it's difficult to see how that would cause an actual disruption," he said.
Attorney Wayne Spindler, who has repeatedly been kicked out of city meetings, argued that the city would not be able to successfully defend the new rules in court. "They're disenfranchising people every day," said Spindler, who has sued the city over free speech and other issues. At council meetings, "right now you get a minute — and half the time they interrupt [you during] that minute."
Two years ago, city leaders shortened the time that each person can comment on certain council agenda items from two minutes to one. The council also routinely turns down requests to speak about an issue if it has already been discussed in one of its committees, a practice that has frustrated some residents.
During a two-minute public comment period at a council committee meeting on Monday, Spindler repeated a vulgar word for female genitalia 11 times while denouncing the proposed crackdown on audience disruptions. Spindler, whose law practice is based in the San Fernando Valley, also used a racist word for African Americans to describe council members and repeatedly referenced their Jewish heritage.
Spindler was removed from the committee meeting at the end of his testimony. Councilman Paul Krekorian said he ordered him out because Spindler continued to speak after his allotted time had ended, creating a distraction.
Twitter: @AlpertReyes
---
UPDATES:
4:45 p.m.: This article was updated with a comment from City Atty. Mike Feuer's spokesman.
This article originally published at 2:05 p.m.
---
The stories shaping California
Get up to speed with our Essential California newsletter, sent six days a week.
You may occasionally receive promotional content from the Los Angeles Times.