Missing finger and car license plate help convict 'Cowboy Gun Bandits' in federal case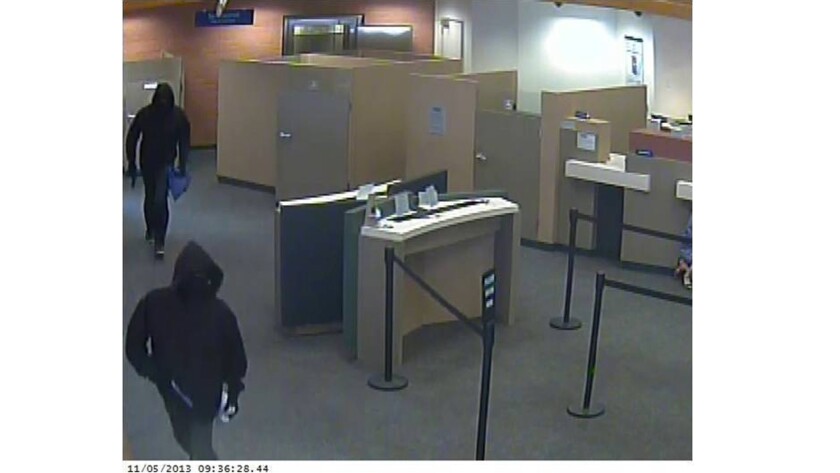 A federal jury in downtown Los Angeles on Tuesday convicted two men of being the "Cowboy Gun Bandits," a pair of gunmen who authorities believe committed more than 30 armed robberies in three months in Southern California.
At their sentencing Nov. 14, Dominic Dorsey, 48, and Reginald Bailey, 71, face a minimum of 107 years and up to life in prison, a spokesman for the U.S. attorney's office said.
The "Cowboy Gun Bandits" were known for terrorizing clerks and grabbing what little cash was in the register during a crime rampage in fall 2013.
One of the two men wielded a long-barreled Colt six-shooter like a character out of the Old West.
They wore black masks, black hoodies, black gloves and dark-colored pants. They moved fast and never left behind clothing fibers, DNA or fingerprints that experts could analyze.
In just three months, authorities estimate, they committed robberies from Los Angeles to Fresno. They rarely made off with more than a few hundred dollars.
But on Nov. 5, 2013, they had their big score.
The pair walked into a Citibank in Glendale about 9 a.m. and ordered all the bank customers and employees to the ground at gunpoint. They emptied the tellers' drawers and made off with more than $55,000 in cash. The robberies stopped after that.
Using witness statements and DMV and cellphone records, investigators sharpened their initially fuzzy outline of the suspects.
In June 2014, Dorsey and Bailey were arrested and booked on multiple gun and robbery charges. They were formally accused in only a fraction of their suspected crimes.
"They were planning on moving up from liquor stores to a bank," Assistant U.S. Atty. Joseph Axelrad told a jury in a downtown federal courtroom last week. "They were good, but they did make mistakes, and that's how they got caught."
Prosecutors admitted that the case was almost entirely circumstantial.
When Dorsey and Bailey were arrested, authorities didn't find the black hoodies, dark pants, shoes or even the money associated with the robberies.
A search of the men's homes and cars didn't turn up the gun used in the crimes, believed to be an 1873 Colt revolver.
But evidence presented at the trial showed the men's cellphones were within miles of each of the robbery locations hours before and after each of the crimes. Investigators said the men turned off their phones during each robbery, leaving a hole in their whereabouts.
In video from one of the robberies, Dorsey is seen getting out of the passenger side of a car stopped at a gas station pump, then going inside the market and making a small purchase as a regular customer.
He then got back into the car, which drove off. Less than 10 minutes later, the gas station was robbed. That was Bailey, prosecutors said.
The car used that day also matched one seen at many of the other robberies. One witness was able to give the last three numbers on the license plate, and records narrowed it down to a single black Nissan in the Los Angeles area. That car belonged to Dorsey's wife.
Then less than three weeks after the Citibank holdup, Dorsey made a $9,000 cash deposit on a new Mercedes-Benz. He listed Bailey, whom he identified as his uncle, as his emergency contact.
A closer look at Bailey turned up a host of clues linking him to the crimes, prosecutors told the jury.
Security video from the bank robbery showed that one of the robbers who matched Bailey's height and build also walked with a similar limp and appeared to be missing his left ring finger when he was fleeing with the bags of money.
Bailey has only four fingers on his left hand. When authorities arrested him, they found in his apartment black gloves in his backpack and a blue bandanna similar to one worn during one of the robberies.
For breaking California news, follow @JosephSerna on Twitter.
ALSO
Outrage, then gratitude: 12 hours in the life of the LAPD at a Watts housing project
How many trees are in Los Angeles? Ask Google.
Former federal agent sentenced to prison in sex-slave bribery case
---
The stories shaping California
Get up to speed with our Essential California newsletter, sent six days a week.
You may occasionally receive promotional content from the Los Angeles Times.