Coyote attacks force closure of Montebello park: 'People are not food for coyotes'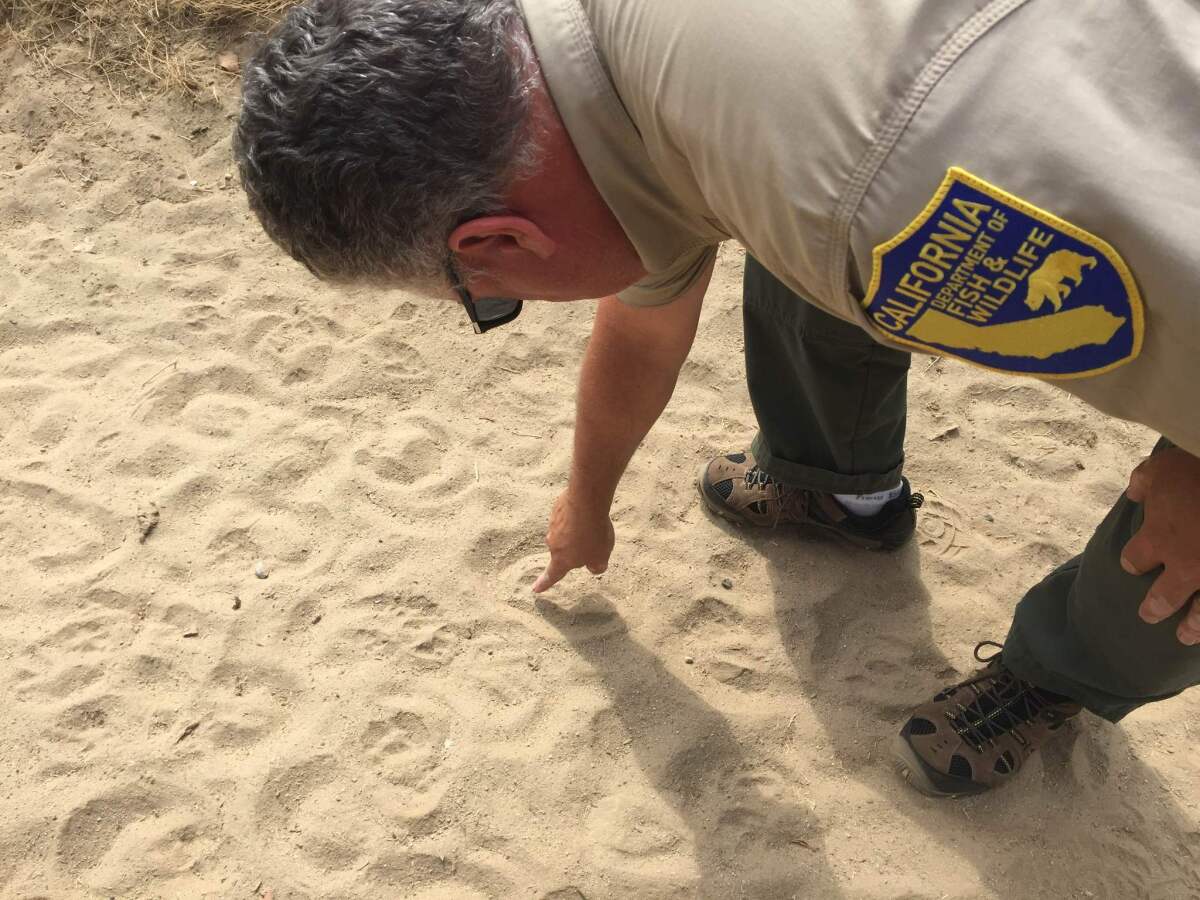 Police have ordered the closure of a popular Montebello park and petting zoo after three people were attacked recently by coyotes.
Although incidents of coyotes attacking small dogs and cats are a fact of life in Southern California, attacks on people are rare, and officials and neighbors alike expressed worry Tuesday over the animals' brazen behavior. Two of the victims were forced to seek treatment for possible rabies infection.
"People are not food for coyotes," said Andrew Hughan, information officer for the California Department of Fish and Wildlife. "Generally, they're afraid of us."
Wildlife personnel shot and killed four coyotes at Grant Rea Park Monday night and one more Tuesday evening, officials said. They also set up traps with bait but did not capture any animals that way.
The park, a grassy recreational area that covers about one square mile at 600 Rea Drive, features a petting zoo filled with ducks, goats, donkeys, sheep and other animals, as well as a playground, several baseball diamonds and picnic tables. Officials ordered the park closed Monday night and said it will remain closed until the Department of Fish and Wildlife determines that it is safe for the public.
The three victims -- two men and a teenage girl -- all suffered unprovoked attacks.
The first attack occurred July 22 when a teenage girl was sitting by herself under a gazebo. A coyote came up and bit her on the leg, and then made off with her shoe, Hughan said.
The second victim was attacked Saturday night about a block from the park in the driveway of his home, while he was lying on his back, working underneath a car. The coyote bit the man's leg, and at first, he thought it was a friend playing a trick on him, according to a neighbor. When he realized it was a coyote, the man threw his wrench at it to scare it away. He sustained eight puncture wounds and went to the hospital for treatment and received medicine to fight a possible rabies infection.
Several hours later, a homeless man was attacked while rummaging through trash cans in the park at about 1 a.m. Sunday. Of the three victims, he had the most severe injuries with a total of 19 puncture wounds on his legs. He was also treated for rabies, although authorities do not know whether the animals were infected.
Hughan said that he can understand how the small girl and the man lying on his back may have been targeted by the coyotes. But the most "unbelievable" case is the third one, because the man was standing and making lots of noise.
"There's really no explanation for why they bit any of these three people," Hughan said.
The park sits beside a large uninhabited plot of land that features a flood control dam and multiple aqueducts. Hughan said the flood control area has become a perfect habitat for coyotes. "Too many coyotes, too much access to the park, and too much food," are factors that have increased coyote-human interaction, Hughan said.
"Coyotes are very opportunistic," he said. "They are just dogs looking for an easy meal, and they end up coming into contact with people."
See the most-read stories in Local News this hour >>
In addition to setting coyote traps and hiring a contractor to shoot coyotes at the park, the wildlife officers are planning to work with the city to put lids on trash cans and make sure they are more diligent about keeping the park clean. Officers will also help educate the public in prevention techniques. A department brochure recommends installing motion-sensitive outdoor lighting, putting away pet food, bird feeders, trash and water, and trimming shrubbery to reduce hiding places.
Forensics specialists will test the deceased animals for rabies and compare DNA from the saliva on the homeless man's wounds to determine if the offending animal has been caught.
Hughan estimates that hundreds of people come to the park daily.
Melanie Wolovich, whose father has owned and operated the park's petting zoo for 24 years, was frustrated that the business has been forced to close temporarily.
"It's a little frustrating, but we understand," she said. "We want people to be safe."
The petting zoo is surrounded by a high fence to prevent coyotes from getting in, but the smell of animals may be part of what lures coyotes to the park, Hughan said.
Mary Lou Garcia, who has lived for 53 years on Avenida De La Merced where the man was attacked in his driveway, said she has seen coyotes walking along the street.
"I've heard them at night for the last 10 years," she said. Garcia expressed concern about letting her dog out in the yard. "I'm really worried now," she said.
Another neighbor, who would not give her name but said she has lived in the area for 40 years, said that she also sees coyotes all the time. Her friend's cat was attacked about a month ago, but she has never heard about coyotes attacking humans.
"They're not supposed to attack people; that's the problem," she said. "I'm being more cautious now."
Twitter: @ElevansErica
MORE LOCAL NEWS
Man shot to death by L.A. County deputy was not a carjacking suspect, officials say
Tyga must pay $480K for trashing Malibu home, could face arrest
Pilot fire grows to nearly 7,000 acres, shuts down local schools
Sign up for Essential California for news, features and recommendations from the L.A. Times and beyond in your inbox six days a week.
You may occasionally receive promotional content from the Los Angeles Times.