Garcetti, City Council to announce details of DWP salary pact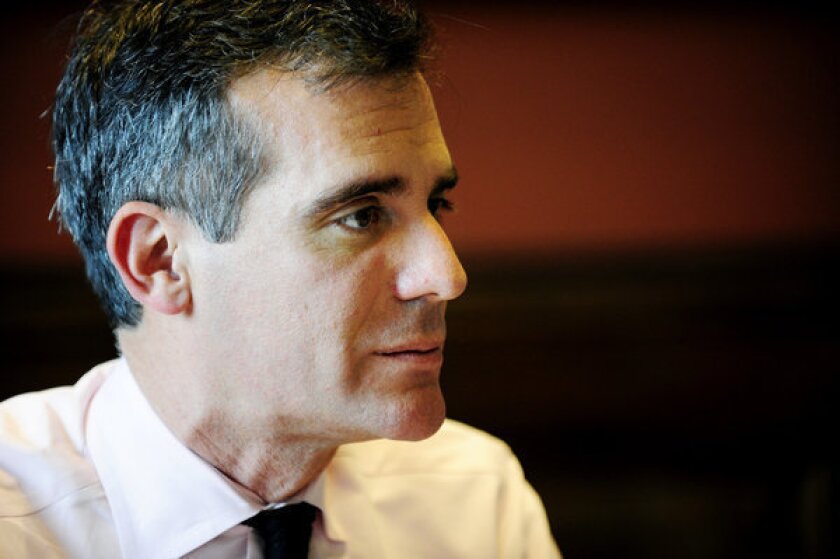 Los Angeles Mayor Eric Garcetti will appear at a news conference Thursday to announce details of a proposed four-year salary package for Department of Water and Power workers.
The proposal ends weeks of back-and-forth talks between elected officials and the utility's powerful employee union.
Garcetti and council President Herb Wesson will appear at the 11:30 a.m. news conference to discuss the proposed contract with Local 18 of the International Brotherhood of Electrical Workers. For weeks, Garcetti had declined to endorse the deal, even as council members praised its major points.
The news conference was called late Wednesday, hours after Garcetti met privately with the union's top official at a Silver Lake restaurant. Garcetti offered no details on what had transpired during the meeting but said in a brief statement that he was "pleased that we reached an agreement that pushes forward with DWP reform."
The council is scheduled to vote Friday. Union members still must vote to ratify the agreement, a process expected to take around two weeks.
The five-member board that oversees the utility also would need to vote on key elements in the pact, including a reduction in the retirement benefits of future DWP workers.
Council members have been emphasizing for weeks that the agreement would save $4 billion over 30 years, much of it by reducing retirement benefits for future DWP employees. But Garcetti would not endorse the agreement, saying he wanted additional salary concessions and changes that would allow city officials to rework costly or inefficient work rules.
In the middle was Wesson, who offered to provide "shuttle diplomacy" between the mayor and Brian D'Arcy, the top official at Local 18. On Wednesday, Wesson praised Garcetti and D'Arcy for getting through "a tough process."
"It was a tough deal. You had to try to educate the public, which I think we did a decent job of trying to do, and ... we had a mayor that wanted more," Wesson said. "And at the end of the day, we have to give him credit for what we were able to get."
The contract talks posed a serious political test for Garcetti, who won office after promising to reform the city-owned utility. During the campaign, the DWP union and its afiliates spent $2 million trying to defeat Garcetti.
By the time Garcetti took office on July 1, much of the DWP pay pact had been negotiated by former Mayor Antonio Villaraigosa and other members of the city's closed-door negotiating committee -- a panel that includes Wesson and Councilman Paul Krekorian. That panel secured two key concessions: three years of zero raises and a new, less expensive retirement plan for newly hired DWP workers.
When Garcetti refused to sign off on the agreement Wesson called for a lengthy public hearing about the deal's major components. Garcetti, for his part, appealed to the public to sign an online petition asking for support as he sought to revise the terms of the proposed contract in the city's favor.
Since Garcetti took office, negotiators for the city won new language requiring DWP employees to produce a doctor's note after taking three consecutive sick days. They reworked the size of a planned 2016 pay increase, ensuring it would stay at 2% instead of between 0% and 4%. The latter change is expected to save $10 million over four years, according to budget officials.
Negotiators also rewrote the proposal to give the mayor and council more power to reexamine agreements affecting DWP bonuses, overtime and work rules. Garcetti has taken aim at those agreements, which can cost ratepayers millions annually, particularly one that requires DWP workers to be offered overtime pay when outside contractors are hired.
Garcetti met Wednesday evening with D'Arcy, the IBEW executive, at Edendale Grill. A Garcetti spokesman refused to discuss the meeting. Shortly after a Times reporter entered the restaurant and came into Garcetti's view, both men got up and left.
ALSO:
Family of teen slain by DEA agents awarded $3 million
$3-billion proposal to repair Los Angeles streets advances
L.A. pushed to review earthquake vulnerable apartment buildings
Twitter: @davidzahniser
---
Life is stressful. Our weekly mental wellness newsletter can help.
You may occasionally receive promotional content from the Los Angeles Times.