Del Mar Fairgrounds to host huge cannabis festival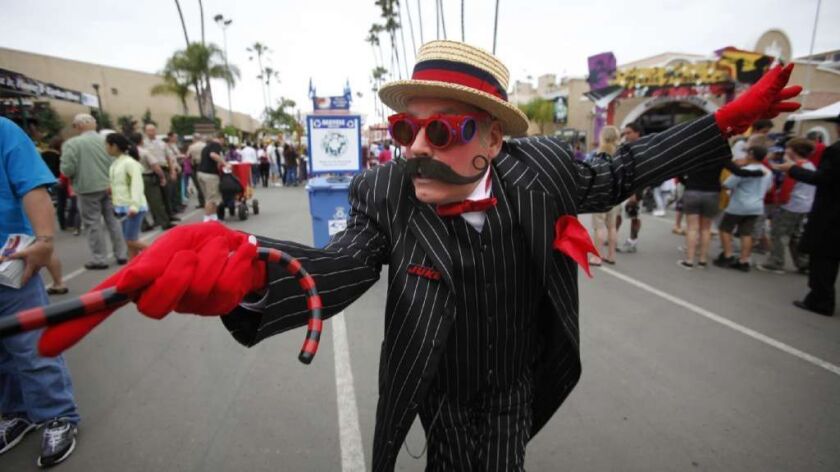 Reporting from San Diego —
The Del Mar Fairgrounds has approved a contract for its first cannabis festival — and the largest in San Diego County.
As many as 6,000 people are expected for the Sept. 23 event, which organizers are calling the Goodlife Festival. Attendance will be limited to those 21 and older. No sale, sampling or "gifting" of pot products will be allowed, but attendees will be able to bring their own marijuana to consume in designated areas. Goodlife will allow the sale of cannabidiol and hemp, both of which lack the punch of tetrahydrocannabinol, the main psychoactive component in marijuana.
The festival is the brainchild of Lawrence Bame of Westward Expos, which has put on home and garden shows at the fairgrounds for more than 30 years. He's been percolating the idea for a cannabis festival for the past five years, and passage of Proposition 64 in November, which legalized recreational marijuana use, was the turning point he needed to move forward.
"It's the new dawn," Bame said. "This has been a long, long process. Nobody took this lightly."
Unlike Los Angeles, the Bay Area and other canna-friendly jurisdictions, cannabis gatherings in San Diego have been limited to events such as the San Diego Cannabis Farmers Market and LocalSesh — discretely promoted affairs in rented-out venues with a few hundred attendees. (A cannabis trade expo at the San Diego Convention Center in August did not allow marijuana on site.)
But with the visibility that comes from a high-profile venue like the Del Mar Fairgrounds, San Diego's cannabis activists are hailing Goodlife as their movement's coming-out party.
"This will be the biggest show at the most prestigious location in all of San Diego County," one organizer said. "It's our time to shine. If you look everywhere else, they have their cannabis festivals. But what's going on in San Diego? Not much. This is the next step up for San Diego, definitely a watershed moment. After this, it's going to be so mainstream it's not even funny."
Cities across San Diego County have clamped down on cannabis as much as state law allows, uniformly barring dispensaries and grow operations. But because the fairgrounds are state-owned, city and county officials have no jurisdiction. So for one day, at least, Del Mar will be an oasis of pot-tolerance.
Cannabis events have sparked controversy in even the pot-friendliest of places. In Denver, Seattle, San Jose and Los Angeles, local officials and venue owners have shunned the gatherings, forcing organizers to look farther and farther afield.
The purge in Los Angeles last year fanned promoters out into the dusty hinterlands in search of somewhere to put down stakes. One of those refuges has been the San Bernardino County Fairgrounds. Until last spring, the 87-acre facility had never hosted a cannabis event, and its arrival whipped the surrounding High Desert towns into a fever pitch.
Tempers there flared in the run-up to the second cannabis event, the three-day Chalice California festival in July, which billed itself as "the biggest hash festival in America." The Victorville City Council called on fairgrounds managers to cancel Chalice and bar other cannabis events. The fair board responded by adding more events to the calendar. One of the members resigned her seat in protest.
The 22nd District Agricultural Assn. Board of Directors, which runs the Del Mar Fairgrounds, does not appear to have been aware that the deal had been inked for the Goodlife Festival. Board President Russ Penniman was unavailable for comment. Board member Frederick Schenk said the board does not hear about events so far in advance.
"I'm not educated enough on the issue to have a position," he said. "Between now and September, I'm sure that the board will become much more aware."
The Del Mar version will be far smaller than cannabis festivals at other state fairgrounds. More than 100,000 people took over most of the San Bernardino fairgrounds for the Chalice festival, but Goodlife will be limited to the paddock area. Tim Fennell, CEO and general manager of the 22nd District Agricultural Assn. Board of Directors, said any concerns he may have had were put to rest after talking with his counterparts elsewhere in the state.
"The voters voted, it's legal and we're a public entity," Fennell said. "It'd be hard to deny somebody like Lawrence access to a public facility. Other DAA's have been doing it for years legally. How would I deny this?"
Montes writes for the San Diego Union-Tribune.
---
For reporting and exclusive analysis from bureau chief John Myers, get our California Politics newsletter.
You may occasionally receive promotional content from the Los Angeles Times.