Utah man arrested in L.A. sheriff's deputy shooting may be linked to an earlier homicide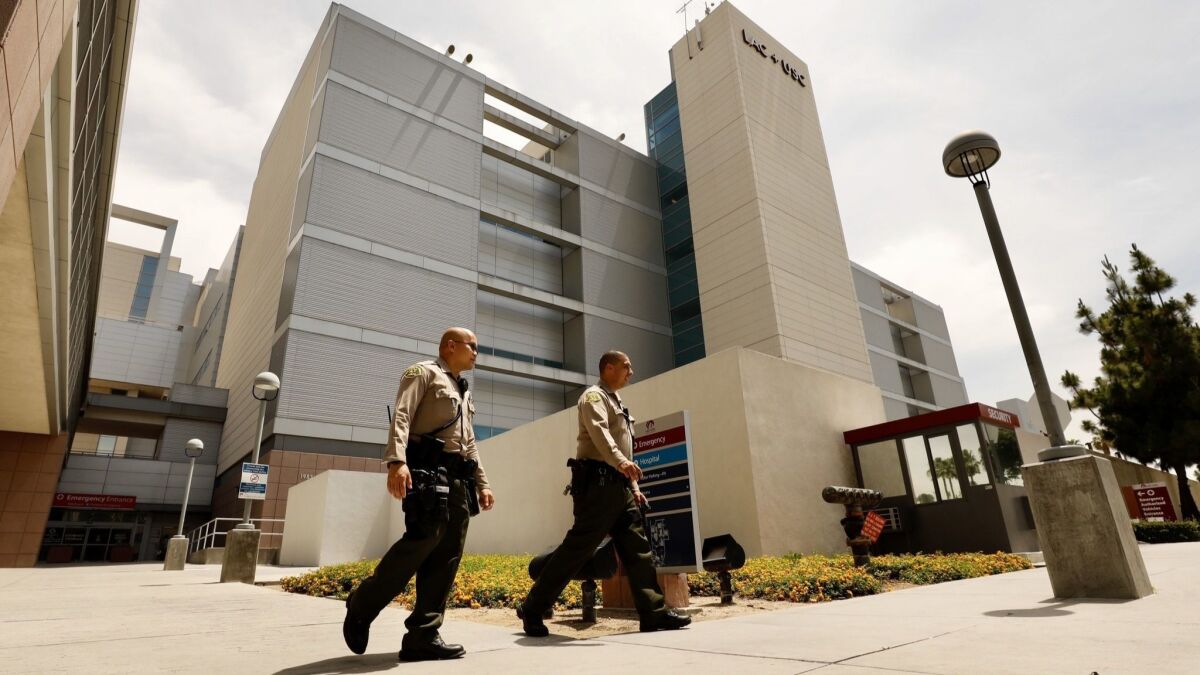 A Utah man who had been missing for weeks is suspected in a pair of shootings that left a Los Angeles County sheriff's deputy on life support and another man dead in downtown L.A., authorities said Tuesday.
Rhett McKenzie Nelson, 30, of St. George, Utah, was arrested in Long Beach on Tuesday morning, less than a day after police say he opened fire on Deputy Joseph Solano inside a Jack in the Box in Alhambra.
The seemingly random attack — which police believe was Nelson's second shooting in the span of an hour Monday — rocked Los Angeles' law enforcement community.
"I always dreaded this day would happen and it happened way too soon," said Los Angeles County Sheriff Alex Villanueva, who spoke at an afternoon news conference alongside Los Angeles Police Chief Michel Moore.
Nelson was captured by Long Beach police after he called his father in Utah and referred to "committing murder in Southern California," according to Sheriff's Department homicide Capt. Kent Wegener. Villanueva said there is evidence that Nelson referenced killing two people during the phone call.
Nelson's father then called Long Beach police, which conducted a "reverse lookup" of the phone number Nelson called from, Wegener said. Officers were dispatched to Nelson's location at a church and spotted his vehicle driving away. The vehicle matched the description of the Kia Sorrento linked to the attack on the deputy the night before, authorities said.
The SUV came to a stop in a driveway in the 2400 block of Granada Avenue, and Nelson was taken into custody without incident, police said. A revolver recovered inside the vehicle was similar to the weapon used in the attack on Solano, Wegener said.
Investigators could not immediately say how Nelson obtained the weapon or if it was legally owned.
Nelson is suspected of walking into a Jack in the Box restaurant in Alhambra around 5:45 p.m. Monday and shooting Deputy Solano, a 13-year-veteran of the L.A. Sheriff's Department, once in the head. Solano was listed in "grave condition" and remained on life support at L.A. County-USC Medical Center on Tuesday afternoon, Villanueva said.
Solano, 50, was off-duty and waiting for his meal at the fast-food restaurant on Valley Boulevard. Villanueva said Solano had driven his mother's car to a nearby Jiffy Lube for maintenance just moments before the shooting.
"He definitely was a kindhearted, generous, person … we're all rooting for him to make a recovery," the sheriff said.
A motive for the shooting remains unknown. Nelson did not attempt to rob the deputy or anyone else in the restaurant, said Lt. Derrick Alfred, who is supervising the team of homicide detectives investigating the shooting.
"He kind of lingered in the restaurant for a little while before deciding to go up and shoot the deputy," Alfred said.
Solano was wearing plain clothes with no holster, badge or anything to signify he was a law enforcement officer at the time of the attack, investigators said.
A native of Southern California, Solano first joined the Sheriff's Department in 1999 before taking a job with the Alhambra Fire Department the following year, Villanueva said. He returned to the Sheriff's Department in 2006 and is assigned to the custody division, said the sheriff, who appeared visibly shaken during a news conference downtown.
Chief Moore said Tuesday that detectives are also trying to determine whether Nelson was involved in a fatal shooting that took place downtown at 4:50 p.m. Monday, less than an hour before the attack on Solano.
Moore said a man was standing in the 1900 block of East 7th Place when he had a "brief exchange" with a person in a car. The victim, who was identified only as a 30-year-old man, was shot at least once and died at the scene, Moore said.
After a description of Solano's assailant became public, Moore said detectives began to explore possible links between the shootings and noted that Nelson's clothing and vehicle were similarly described in both incidents. Moore said he could not confirm whether the gun used in that shooting matched the revolver found in Nelson's vehicle.
His father, Bradley Nelson, said in a statement that he and his family reported his son missing in late May.
"My wife Jean and I, along with our family, are saddened beyond words to hear of the shooting of Los Angeles Sheriff's Deputy Joseph Solano, and to learn that our son Rhett is being held in connection with this horrifying and senseless attack," Nelson said.
"Rhett has been missing since May 26, 2019, leading us to file a missing person's report with authorities. We have spent much time and effort in an attempt to help Rhett and bring him home safely, and we have been distraught and worried since his disappearance. We are cooperating fully with authorities and will provide them with all information they request concerning Rhett and his struggles. We ask that people please pray for Deputy Solano and his family."
In a Facebook post, Bradley Nelson said his son left home without any clothing or his laptop.
"We've had no contact with him, his phone is dead or off since then," the post read. "He has a history of opiate abuse and has been clean for about 6 months, but we know what a terrible struggle that is."
Nelson came to Southern California around the first week of June, Wegener said. It was not clear why he traveled to Los Angeles.
Times staff writers Hannah Fry, Jaclyn Cosgrove and Richard Winton contributed to this report.
The stories shaping California
Get up to speed with our Essential California newsletter, sent six days a week.
You may occasionally receive promotional content from the Los Angeles Times.