Heartbroken family of slain Dodgers fan begs witnesses to speak out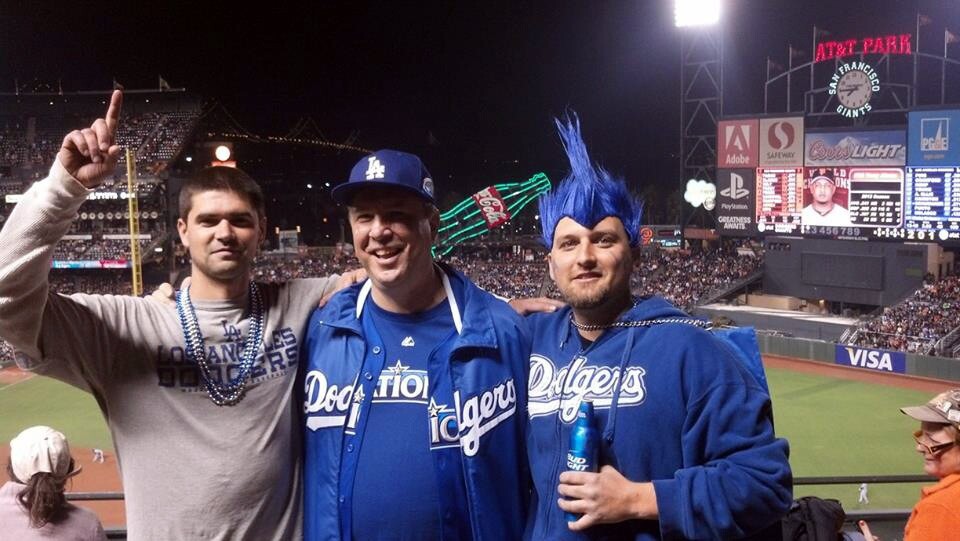 This photo, taken Sept. 25 and provided by Matthew Gomes, shows, from left to right, Jonathan Denver, his father, Robert Preece, and his brother Rob Preece at a baseball game between the San Francisco Giants and the Los Angeles Dodgers in San Francisco.
(Matthew Gomes / Associated Press)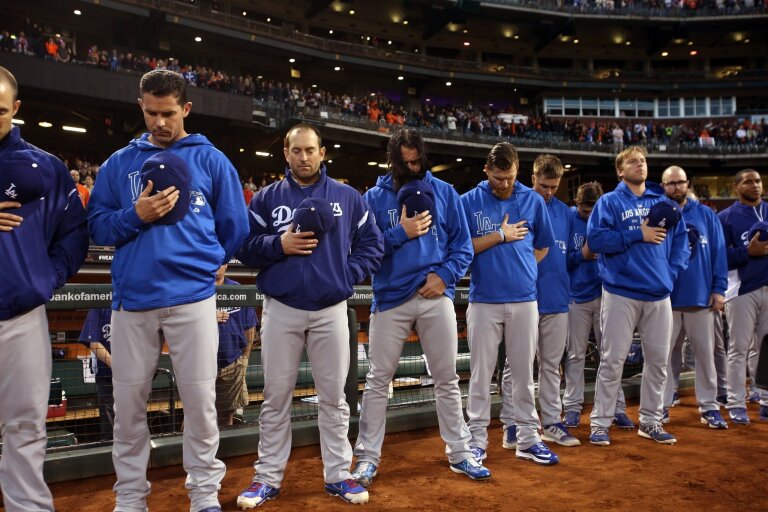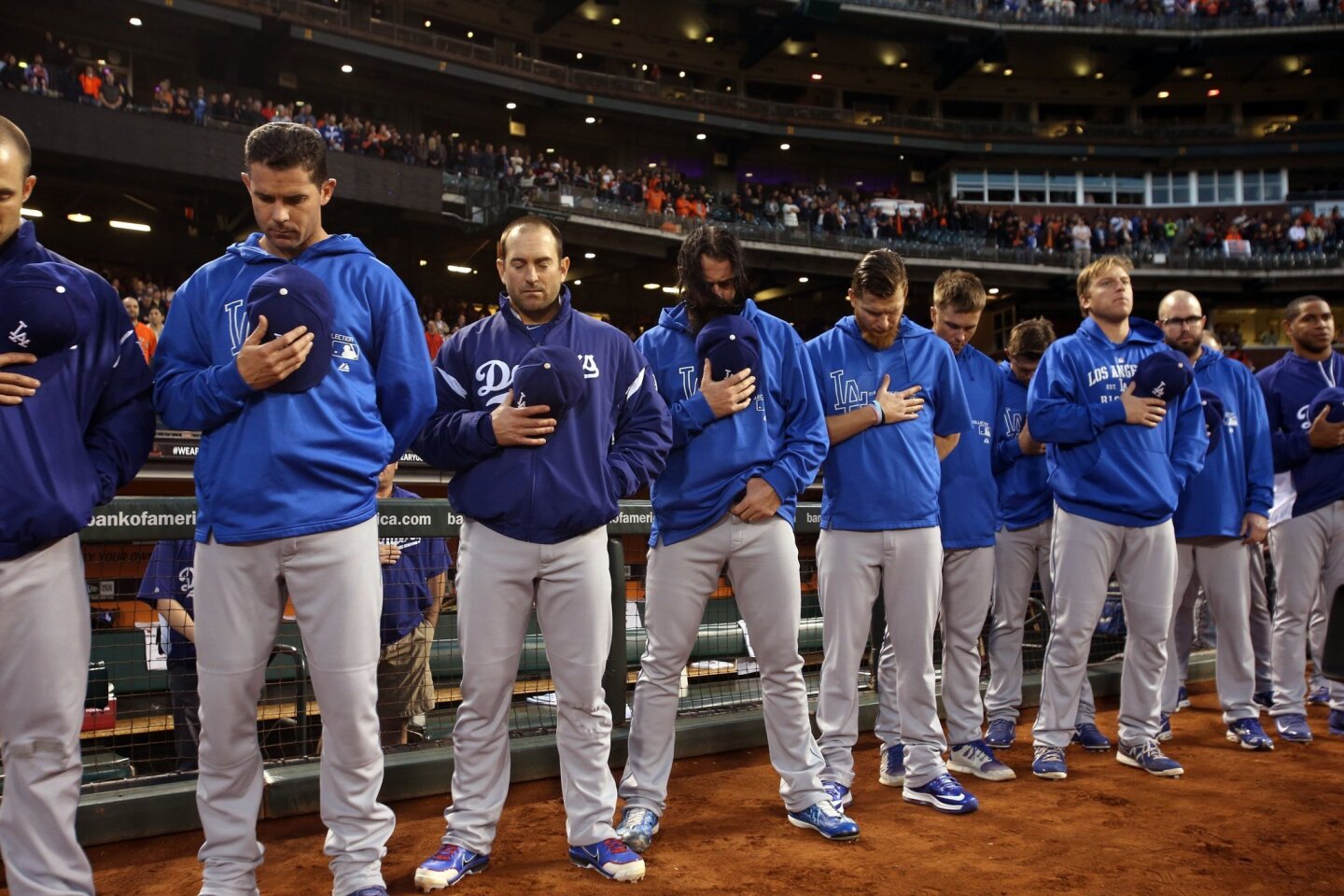 Los Angeles Dodgers bow their heads during a moment of silence before the game against the San Francisco Giants at AT&T Park in San Francisco to remember the death of 24-year-old Jonathan Denver.
(Ray Chavez / MCT)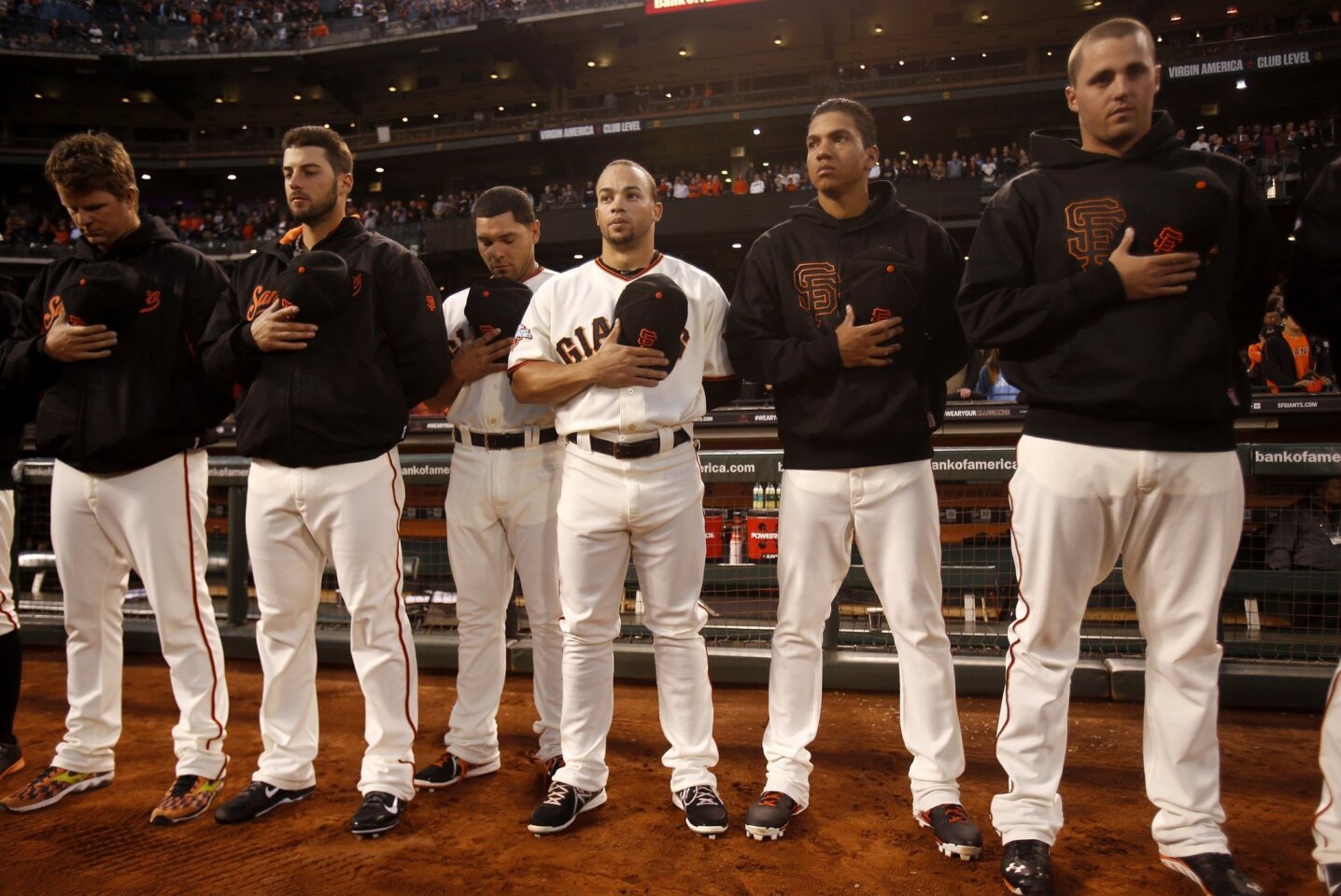 The San Francisco Giants pause during a moment of silence before play against the Los Angeles Dodgers at AT&T Park in San Francisco.
(Nhat V. Meyer / MCT)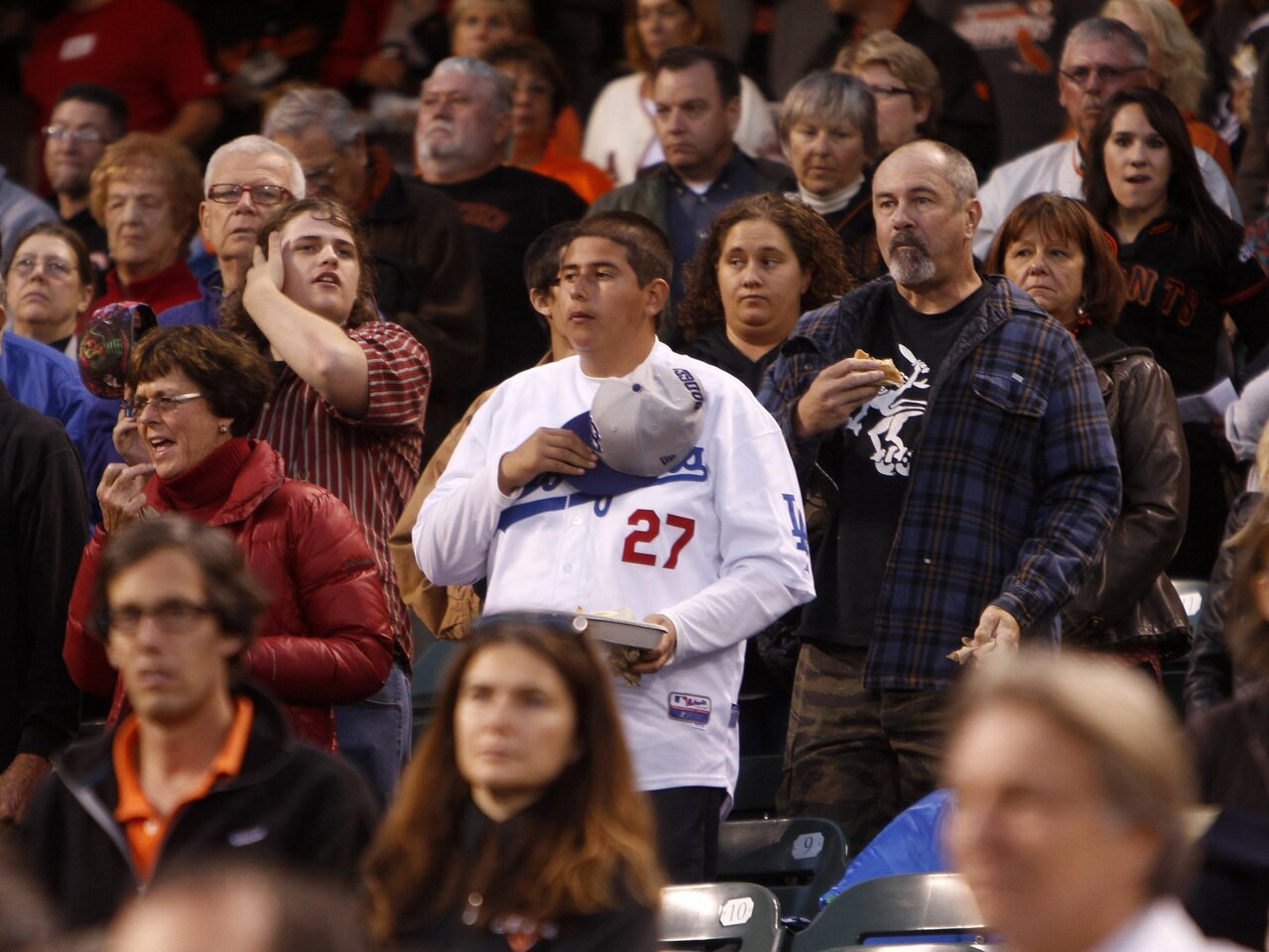 Fans observe a moment of silence before the San Francisco Giants play host to the Los Angeles Dodgers on Thursday at AT&T Park in San Francisco. Dodgers fan Jonathan Denver was stabbed to death near the ballpark after Wednesday night's game.
(Nhat V. Meyer / MCT)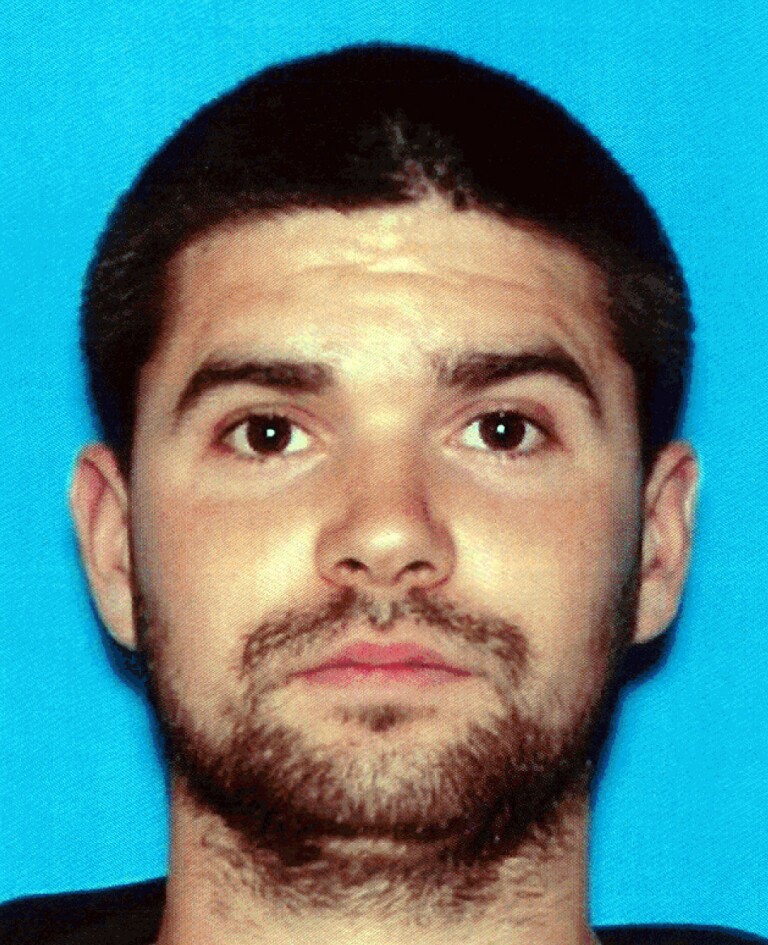 Stabbing victim Jonathan Denver, 24, of Fort Bragg, Calif., is shown in an undated photo provided by the California Department of Motor Vehicles. Police say a fight that led to the death of Denver, a Dodgers fan, near San Francisco's AT&T Park on Sept. 25 was sparked by the storied rivalry between the Los Angeles Dodgers and the San Francisco Giants.
(Associated Press)
San Francisco Police Chief Greg Suhr speaks at a news conference in San Francisco. Michael Montgomery of Lodi was taken into custody shortly after the incident and will be charged in the slaying of Dodgers fan Jonathan Denver, police said.
(Jeff Chiu / Associated Press)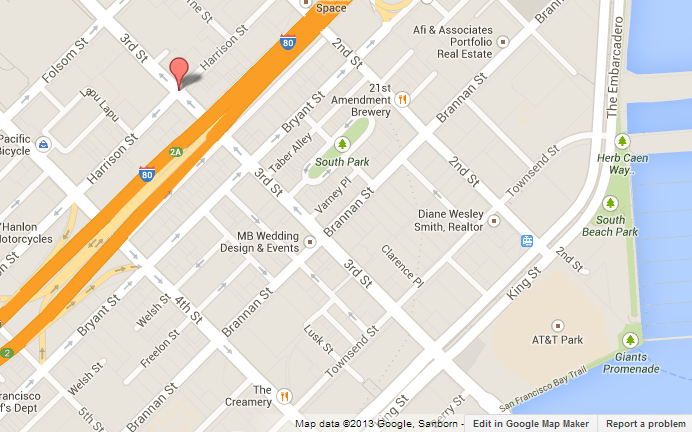 A map shows Third and Harrison streets, a few blocks from AT&T Park in San Francisco, where a Dodgers fan was fatally stabbed the night of the Giants-Dodgers Sept. 25 game.
(Google Maps)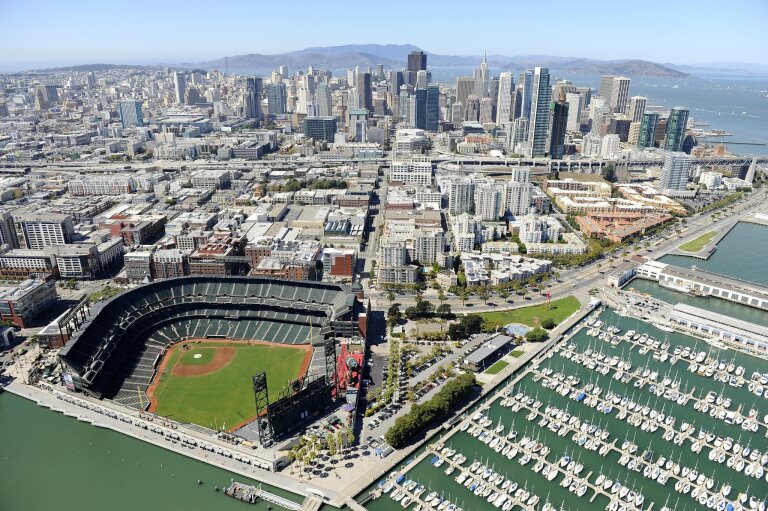 An aerial view of San Francisco's AT&T Park. A Los Angeles Dodgers fan was stabbed several blocks from the park on the night of the Dodgers-Giants Sept. 25 game.
(John G. Mabanglo / EPA)
The San Francisco Giants' Tony Abreu runs toward home plate as he is caught stealing with the Los Angeles Dodgers' Jerry Hairston Jr. giving chase in the second inning of the Sept. 25 game at AT&T Park in San Francisco. Jonathan Denver, a Dodgers fan, was fatally stabbed near the ballpark the night of the game.
(Josie Lepe / MCT)
More than 40 friends and family members of a Dodgers fan slain after a Giants game in San Francisco passed out fliers and begged witnesses to Wednesday's fatal stabbing to come forward.
Jonathan Denver's parents, brother and aunt said information about the stabbing will help bring closure to the Denver family, as well as to the family of a 21-year-old Lodi man who was arrested and released. He has not been charged.
The family was handing out fliers, including one with a photo from the game Denver had attended on the night he was killed.
PHOTOS: Fatal stabbing of Dodgers fan
"We need your help," says one handout. "The SFPD and district attorney's office are seeking additional independent evidence regarding the death of our friend and family member Jonathan Denver," it reads, asking anyone with information that "can help bring forth the truth" to contact either agency.
The Lodi man, Michael Montgomery, was arrested after the incident and booked into San Francisco County Jail on Thursday afternoon. But Dist. Atty. George Gascon late Friday sent the case back to police for further investigation, saying more witnesses needed to be interviewed to support or rule out legally justified homicide.
Police said Montgomery implicated himself in the stabbing but is said to be claiming self-defense.
Robert Preece of Alhambra, Denver's father and a security supervisor at Dodger Stadium, said: "I also understand that the Montgomery family is likely suffering as well." He pleaded for any witnesses to contact authorities "so that both families can have some measure of closure."
He described losing a child as "a heartache no parent should have to endure."
His son was a 24-year-old apprentice plumber from Fort Bragg, Calif., nicknamed "Burrito." Denver loved his dogs, Buster and Blue, and adored his brother, Rob, who was his roommate and dear friend, his mother said.
ALSO:
LAPD chief defends car impound policy
Man killed on 101 Freeway after falling out of 'party bus'
Santa Monica Airport crash: Number of victims not yet known
lee.romney@latimes.com
---
For reporting and exclusive analysis from bureau chief John Myers, get our California Politics newsletter.
You may occasionally receive promotional content from the Los Angeles Times.