Man charged in double homicide of teenagers in Florence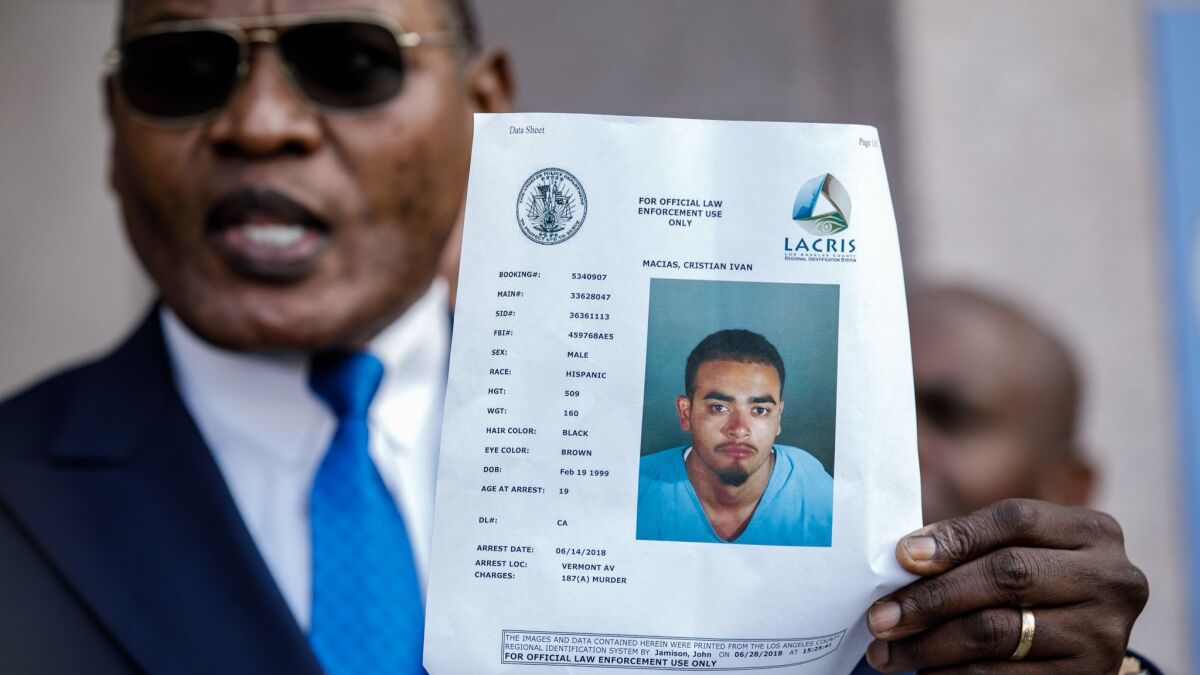 A 19-year-old suspected of being a gang member has been charged with killing two teenagers in a Mother's Day shooting in South Los Angeles, authorities said.
Cristian Ivan Macias was arrested on suspicion of murder June 14, police said at a news conference Friday.
In the early morning hours of May 13, four teenagers were walking near South Grand and West Manchester avenues when they were all struck by gunfire, said Los Angeles Police Capt. Peter Whittingham.
Monyae Jackson and La'Marrion Upchurch, both 15, were killed.
The four teens were shot "senselessly, for no reason that we can determine," Whittingham said.
Police think Macias is affiliated with a local gang, but the victims were not. Information from the community led to the arrest, authorities said.
"It is not OK to ... shoot and/or kill our young men on the streets of Los Angeles," Whittingham wrote in a statement.
Macias was charged June 18 with two counts of murder with the special circumstance allegation that he committed multiple murders, and two counts of attempted murder, according to the Los Angeles County district attorney's office.
Prosecutors also allege that the killing was committed for the benefit of a street gang.
Family and friends of at least three of the four victims were at the news conference, but only Kevonte Watkins, Monyae's older brother, spoke to the media.
Monyae, he said, was not an ordinary 15-year-old. His brother described him as a bright, intelligent teen who liked to make people around him laugh, and commanded attention on the football field as a running back, Watkins said.
"He gave me the inspiration to be the positive role model in his life," Watkins said, before taking a deep breath. He and his family still have unanswered questions for police, including why Monyae was handcuffed after he was shot, Watkins said.
Asked about the allegation that the shooting victims were put in handcuffs at the scene, Whittingham said, "The matter is being looked into separately," adding that "procedural issues" should not overshadow the investigation.
Watkins also was concerned that only one person has been arrested when he has heard there were more people involved, Watkins said.
"It's not a good feeling because I know that they're still out there," he said.
Police did not release additional suspect information but said the investigation into the killings is ongoing.
Contact the Homicide Report. Follow @latimeshomicide on Twitter.
Reach Sonali Kohli at Sonali.Kohli@latimes.com or on Twitter @Sonali_Kohli.
---
Life is stressful. Our weekly mental wellness newsletter can help.
You may occasionally receive promotional content from the Los Angeles Times.