L.A. County polling stations deluged with early voters
Thousands turn out for early voting in Los Angeles County this weekend. (Bryan Chan / Los Angeles Times)
Thousands of Angelenos braved long lines and, in some cases, waited up to four hours to take advantage of early voting this weekend at half a dozen polling stations set up around Los Angeles County ahead of Tuesday's general election.
"We're seeing good turnout" at several of the county's polling stations, said Brenda Duran, a spokeswoman for the Registrar-Recorder/County Clerk's office in Norwalk. "People are very enthusiastic about the election. They are being very patient."
A total of 7,756 ballots were cast last weekend at early voting stations, Duran said. But that number could double this weekend.
On Saturday alone, more than 8,000 Angelenos cast ballots, Duran said. So far, more than 25,000 people have voted early in L.A. County, she said.
Early voting stations across the county are open from 8 a.m. to 4 p.m. Sunday. Voters can cast their ballots at the following stations: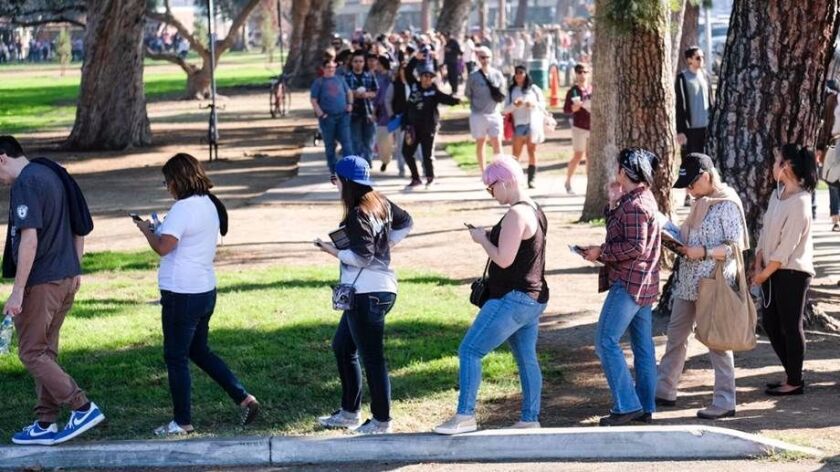 Norwalk: Registrar-Recorder/County Clerk's Administrative Office,12400 E. Imperial Highway
West Covina: West Covina City Hall, 1444 W. Garvey Ave. South
Culver City: West Los Angeles College, 9000 Overland Ave.
North Hollywood: North Hollywood Regional Library, 5211 Tujunga Ave.
Torrance: El Camino College, 16007 Crenshaw Blvd.
Lancaster: Antelope Valley College, 3041 W. Ave K
Duran said that Torrance, Culver City, West Covina and North Hollywood were seeing some of the largest crowds. Some voters said that stations were so crowded on Saturday that they left and returned on Sunday.
Jason Wesley, 37, said he arrived at the North Hollywood station about 6:45 a.m. Sunday to make sure he was one of the first to vote. The Navy and Marine Corps veteran said he's going to be out of town on election day and wanted to ensure his voice was heard.
By 9:45 a.m., Wesley had turned in his form to vote, but he had yet to be called up to actually cast his ballot.
"It's not the experience for me," he said of the early voting line. He plans to change his strategy in the future.
"I'm gonna vote by mail every time," he said.
---
The perils of parenting through a pandemic
What's going on with school? What do kids need? Get 8 to 3, a newsletter dedicated to the questions that keep California families up at night.
You may occasionally receive promotional content from the Los Angeles Times.