Fearing massive earthquake, California considers requiring lists of buildings most likely to collapse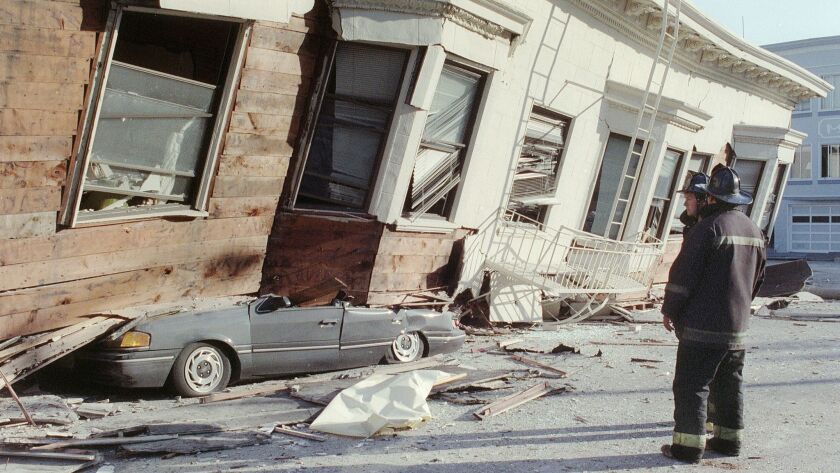 Structural engineers and seismic experts can drive along a street and quickly identify at least some buildings most vulnerable to collapse in a major earthquake. There are some telltale signs: parking spots under apartments, brick walls that have not been reinforced, first floors held up by flimsy poles.
But it's harder for the average person to do this analysis, and some have long argued that the public should know the potential risks.
Now the Legislature has sent to Gov. Jerry Brown a bill that would require cities and counties in the state's most seismically vulnerable areas to create lists of buildings that could be at higher risk of major damage or collapse.
This could mark a major advance in efforts over the last decade to identify seismically vulnerable buildings in California. Los Angeles and other cities have generated lists of buildings that face the greatest risk of collapse. Some cities have ordered owners to retrofit those buildings to make them more secure.
But the regulations are far from even across the state, and there are many areas where little has been done to assess the risks.
Such an undertaking could be controversial. It would also raise a basic question: What should be done with the buildings that make the list? The Times earlier this year reported that many Inland Empire cities identified old brick buildings that faced a risk of collapse but ended up not doing anything to make them safer, or even letting the public know.
There's a big limitation to the bill — it does not provide funding. The law would take effect only if state officials can find a source of funding for the project. But backers of the bill say creating a list of possibly vulnerable buildings would represent a major step in alerting Californians whether the buildings in which they live and work should receive more study to determine whether they're at risk in an earthquake.
"California contains thousands of buildings that are known to present an unacceptably high earthquake risk of death, injury and damage," says the proposed legislation, Assembly Bill 2681, which was written by Assemblyman Adrin Nazarian (D-North Hollywood). "Protecting our state's economy, affordable-housing stock and social fabric from the long-lasting turmoil of earthquakes is of utmost importance."
After the powerful 1985 Mexico City earthquake, California passed a law in 1986 instructing cities to identify one of the most hazardous types of buildings — unreinforced brick buildings. But the state has not done so for other building types that have proved to be deadly in past earthquakes, such as wood-frame apartment buildings with a flimsy ground story that often houses cars, known as soft-story buildings, as well as brittle concrete buildings built with inadequate steel reinforcement.
In recent years, a number of California cities, including San Francisco, Los Angeles, Berkeley, Alameda, West Hollywood and Santa Monica have created their own lists of some of these potentially vulnerable buildings.
Los Angeles has tallied up about 13,500 possibly vulnerable wood-frame buildings and 1,500 suspected brittle concrete buildings; San Francisco has counted nearly 5,000 potentially vulnerable wood-frame apartment buildings. Both of those cities have mandatory laws in place to require retrofits for those building types; San Francisco has retrofitted 45% of its wood-frame buildings covered under a mandatory strengthening law, and Los Angeles, 5%.
But many others have not begun to compile lists, and some experts like David Khorram, Long Beach's superintendent of building and safety, say it's time for Californians to be able to know whether the buildings they live or work in should be studied more to find out if they are particularly vulnerable when shaken.
"If you don't know how sick you are, or how vulnerable you are, to me, it's a sign of ignorance," Khorram said. "A mandate like this will help and encourage smaller cities to accomplish what the bigger cities are doing."
The bill would require the state to maintain an inventory of these potentially vulnerable buildings.
Among those supporting the legislation are Los Angeles Mayor Eric Garcetti, the West Hollywood City Council, the Fair Housing Council of Riverside County, the San Gabriel Valley Council of Governments, the State Building and Construction Trades Council, the Structural Engineers Assn. of California, the U.S. Green Building Council and the U.S. Resiliency Council.
Creating an inventory of possibly vulnerable buildings "is an essential first step in developing longer-term solutions to mitigate the seismic vulnerability that we live with every day," Garcetti wrote in a letter to lawmakers.
Some others representing local governments, however, are voicing opposition to the bill. The League of California Cities, as well as California Building Officials — an association of local building officials — say the mandate will be burdensome to small building departments.
"If local government is to be the conduit to recognizing where these vulnerable buildings are, we have to figure out how to pay for that," said Matthew Wheeler, executive director of the building officials group.
Rony Berdugo, a League of California Cities lobbysist, wrote to lawmakers: "This bill does not require any actual improvements to the seismic resiliency of the buildings that are inventoried and falls short of actually making cities safer."
It's unclear what an inventory would cost. Rough estimates published by legislative staffers say that while amounts are uncertain, costs that might need reimbursement by the state could be in the tens of millions of dollars to create an inventory by 2021, with a total possibly exceeding $100 million. Advocates for the bill, however, say recent inventories conducted by local governments suggest a far lower cost, which could be $15 million to $20 million, to create an inventory statewide.
While some vulnerable buildings such as soft-story apartments are fairly easy to identify, potentially risky buildings such as those with brittle concrete or steel moment frames require more extensive assessment.
The bill passed the state Senate on a 28-10 vote and the Assembly on a 55-23 vote. The bill exempts single-family homes and other residential buildings with four or fewer units, buildings owned by the state or federal government, and structures generally not intended to be occupied by humans. Hospitals and public schools, which are regulated by other state agencies, are also not subject to the bill.
A separate bill on earthquake safety, AB 1857, which passed the Senate 38 to 0 and the Assembly 77 to 0, is also being considered by the governor.
The bill would create a committee to consider whether a tougher building standard for new construction should be created — one that enables a building to be usable after a major earthquake. Currently, the minimum building standard allows buildings to be so damaged they must be torn down after an earthquake.
The panel would also be asked to determine whether that tougher building standard should be made mandatory or voluntary.
---
UPDATES:
Midnight, Sept. 13: This article was updated with more information about types of buildings that are exempted from the legislation.
11:10 a.m.: This article was updated with more context.
8:30 a.m.: This article has been updated with more context about the proposed law.
The story was originally published at 4 a.m. on Sept. 12, 2018.
---
Life is stressful. Our weekly mental wellness newsletter can help.
You may occasionally receive promotional content from the Los Angeles Times.