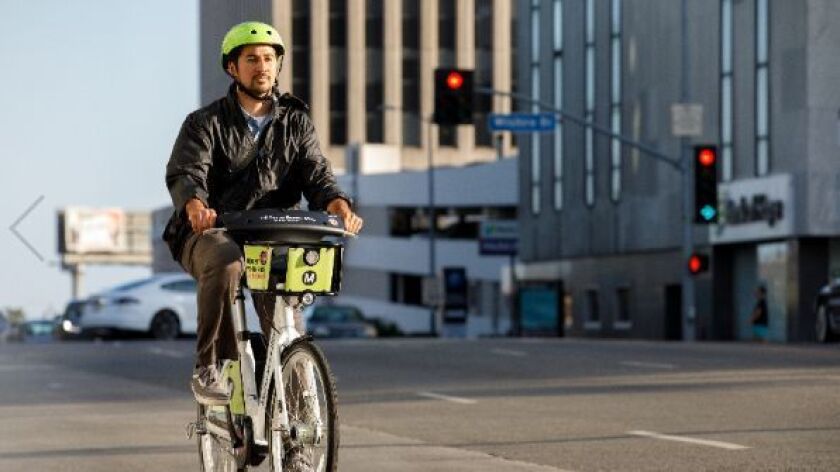 More than 300 electric bikes are joining the Los Angeles County bike-share program, officials announced Thursday.
The expansion program headed by the Metropolitan Transportation Authority and L.A.'s Department of Transportation are planned to add more than 20 "e-bike" stations to Central Los Angeles.
The stations, which are expected to be placed in Expo Park, University Park, Pico Union, Koreatown, MacArthur Park, Echo Park and Silver Lake, are to be installed throughout the summer.
L.A. wants to track your scooter trips. Is it a dangerous precedent? »
The bikes offer riders an electric, pedal-assisted "boost" of power from its motors and batteries, requiring less physical effort to travel and helping the user pedal up to 17 mph.
"Metro is introducing a new group of no-sweat bikes," said L.A. County Supervisor and Metro Board Chair Sheila Kuehl in a statement. "Climbing hills and riding long distances are no obstacle because you've got an electric motor that will help you glide from the Metro station to your destination."
L.A. Metro's downtown subway project may not open until mid-2022 »
Rides cost $1.75 for each 30 minutes. Unlocking fees for the bikes will be waived until Aug. 31.
Officials said the bike-share expansion was made possible through a grant that Metro received from the state last year.
Metro, which launched the bike-share program in July 2016, plans to expand its fleet to more areas, including North Hollywood and other cities in the San Fernando Valley, creating a system of more than 4,000 bicycles.
---