L.A. Metro's downtown subway project may not open until mid-2022
The massive subway project under construction beneath the streets of downtown Los Angeles has long been seen as the linchpin in L.A. County's ambitious rail expansion plans, a way to ease commutes and attract more riders to a rapidly growing transit system.
The twin tunnels known as the Regional Connector are designed to knit together three rail lines into two mega-routes that will allow passengers to ride from East Los Angeles to Santa Monica or from Azusa to Long Beach without changing trains.
Early progress on the project was rocky, forcing Metropolitan Transportation Authority officials to increase the budget twice, to $1.75 billion, and push back the opening date by a year, to December 2021.
Now, it appears riders may wait longer still. As the contractor grapples with labor shortages, progress has slowed, pushing the completion date to mid-March 2022, Metro said. Rail service is scheduled to begin about five months after that.
Slower progress, and damage to the historic Los Angeles Times building, are the latest wrinkles in a complicated construction project that has required nearly four miles of excavation for two 1.9-mile tunnels and three subway stations.
Still ahead is the intricate process of connecting the three lines in the tunnels that run between Little Tokyo and the financial district.
"We haven't given up on having the contractor actually do the work faster," said Rick Clarke, Metro's chief program management officer. That could involve paying the contractor to work faster, he said, or just hoping that it will — something Metro can't count on, he said, but would be "one of the nicer things that could happen."
The estimated construction completion date has slipped about four months since December. But the contractor, a joint venture of Skanska USA and Traylor Bros., is still on track to finish before the new deadline that Metro established two years ago, officials said.
"It's probably a little bit early to be predicting what day or week they'll be finished," said project manager Gary Baker. "I'm very confident that we'll finish this as contracted."
When construction began more than four years ago, crews almost immediately encountered problems as they worked to relocate aging water pipes and fragile utility lines buried beneath streets in the heart of the central city.
Reinforcing and moving the lines so tunneling could safely proceed added months and millions of dollars to the project's schedule. The tunneling machine later got stuck under 2nd Street after striking a steel structure.
The project is still on track to open well before the 2023 deadline set by federal officials, who are disbursing a $670-million grant and a $130-million low-interest loan for the project.
But slower progress in recent months has eaten through some of the float in that schedule, Baker said.
The labor shortages span a wide range of jobs, he said, including management and craft labor such as concrete workers, carpenters and electricians. Without more hiring, Baker said, the project will continue to progress more slowly.
"There's a lot of strain on the construction industry in general — large businesses, small businesses, even Metro — in attracting qualified staff," Clarke told Metro's directors last month. "We're seeing more and more bottlenecks coming up."
Those bottlenecks could pose schedule and budget challenges as Metro prepares to build nearly a dozen new rail lines across Los Angeles in the next four decades. The historic building boom will create thousands of vacant positions in construction and engineering.
Five rail segments are under construction, including the Regional Connector, the Crenshaw Line through South L.A., and the extension of the Wilshire subway to West Los Angeles, which is being built in three phases.
Labor shortages typically drive up the price of bids from contractors, Clarke said, because companies wind up raising salary offers to attract qualified workers. That could lead to Metro paying more to build each project.
The biggest crunch for Metro will come over the next decade, as the agency works to finish 28 transit and highway projects before the 2028 Summer Olympic Games, an initiative dubbed "28 by '28."
Twenty of the projects are slated to be finished within the decade, including the Crenshaw Line, a smaller train to Los Angeles International Airport, the Wilshire subway extension and a Van Nuys light-rail line.
Metro would need an additional $26.2 billion to build the other eight projects by then. Those include several interchange improvements, a rail line to Artesia and a Sepulveda Pass transit line.
Metro is also tracking several issues that could add costs to the Regional Connector's budget, Baker said.
That includes negotiations with the city of Los Angeles over a yard where Metro stages construction vehicles, and plans to build a permanent ventilation fan plant. City negotiators asked for $25 million for a three-year lease for the staging yard, $10 million higher than Metro had expected, Baker said.
And a new design for a pedestrian bridge from a Metro station to the Broad museum could add $6 million to the $10-million budget, Clarke said.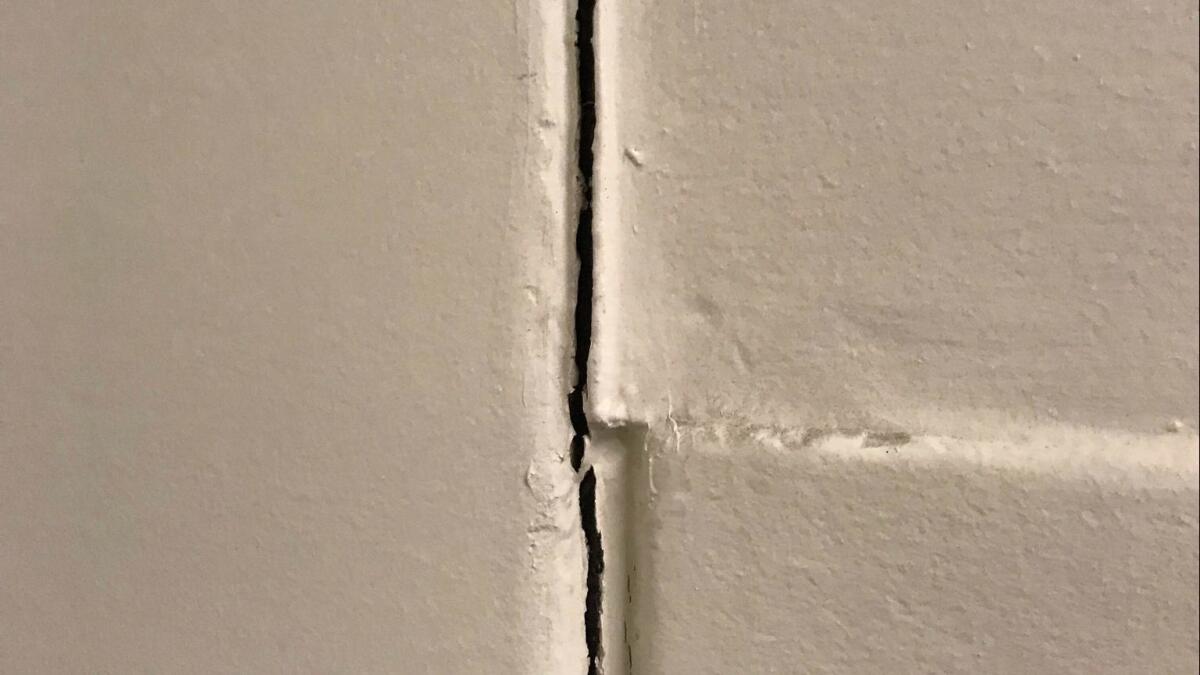 Also, the historic former headquarters of The Times, across the street from a future Regional Connector station, has sustained damage during construction.
Cracks running from floor to ceiling are visible in several hallways and near a freight elevator in two Art Deco-style buildings. The structures, built in the 1930s and 1940s, were granted historic-cultural monument status last year.
"I'm just aghast," said historian and preservationist Richard Schave, who filed the landmark application to protect the Times Mirror complex. He called on city leaders, including Mayor Eric Garcetti, to investigate the damage and ensure that the building and its tenants can be protected.
In a report on the subway prepared for federal regulators, Metro wrote that evidence of damage inside the building "raises threats" to the project's cost.
The damage appeared in January, Metro said. The agency has installed tiny gauges on each crack that monitor whether they have grown. Most of the cracks are not widening, and the damage appears to be cosmetic, Baker said.
During the construction of L.A.'s first modern subway in the 1990s, the owners of the historic Wiltern Theatre and a Hollywood apartment building listed on the National Register of Historic Places sued Metro, alleging that the subway construction had damaged their properties.
Onni Group, the Canadian developer that purchased Times Mirror Square in 2016, is not planning to sue over the damage but is "monitoring it closely," chief of staff Duncan Wlodarczak said.
The Times moved into new headquarters in El Segundo last summer after being purchased by Dr. Patrick Soon-Shiong.
Onni's plans to redevelop the downtown complex include restaurants, shops and a grocery store on the ground floor of the existing buildings, with commercial tenants in the floors above.
A parking garage and a 1973 office building designed by William Pereira along Broadway, which did not receive historic status, would be demolished to make way for two towers of 37 and 53 stories with more than 1,100 apartments, a swimming pool and ground-floor retail.
For more transportation news, follow @laura_nelson on Twitter.
Sign up for Essential California for news, features and recommendations from the L.A. Times and beyond in your inbox six days a week.
You may occasionally receive promotional content from the Los Angeles Times.