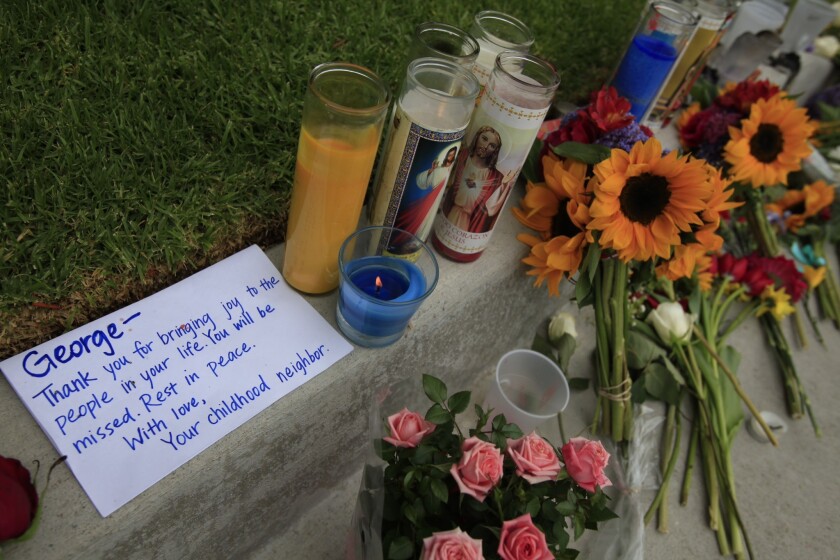 Isla Vista, Calif -- —
Santa Barbara County sheriff's officials said Friday that deputies hadn't known that Elliot Rodger was in possession of any weapons during three interactions they had with him in the year leading up to his rampage in Isla Vista.
"The issue of weapons did not come up," sheriff's spokeswoman Kelly Hoover said. "We had no information that he had weapons or reason to believe he had weapons."
Rodger had legally purchased three guns, proof of which would have been available in law enforcement databases.
The Sheriff's Department has said it handled its dealings with Rodger properly and that deputies followed all rules, including during an April welfare check at Rodger's apartment.
Law enforcement experts said most departments don't have explicit rules requiring officials to check gun registration when officers perform welfare checks.
That decision, they said, is often left to the discretion of officers.
The Sheriff's Department had three interactions with Rodger in the year before last Friday's rampage, which left six people dead.
In January, officials said, Rodger accused his roommate of stealing three candles worth $22 and performed a citizen's arrest. The Santa Barbara County Sheriff's Department eventually arrested the roommate and booked him on petty theft charges.
Last summer, he accused several people of assaulting him. But investigators concluded he was the aggressor in the incident and a detective suspended the case.
Then on April 30, four deputies, a UC Santa Barbara police officer and a dispatcher in training went to Rodger's apartment to perform a welfare check, officials said Thursday.
The visit occurred after a person who identified himself as a friend of Rodger called a county mental health staff member. Based on that call and information from Rodger's mother, sheriff's officials said in a statement released Thursday, the staffer requested the welfare check.
Sheriff's officials did not detail what information the deputies had when they made the visit. But a Rodger family friend told The Times that his mother had contacted his therapist in April, concerned over bizarre videos her son had posted on YouTube. The family friend said the therapist contacted a mental health service, who referred the matter to police.
When the group spoke to the 22-year-old outside his apartment, the department said, he was "shy, timid and polite."
"Based upon the information available to them at the time," the statement continued, "sheriff's deputies concluded that Rodger was not an immediate threat to himself or others, and that they did not have cause to place him on an involuntary mental health hold, or to enter and search his residence. Therefore, they did not view the videos or conduct a weapons check on Rodger."
Hoover, the sheriff's spokeswoman, did not provide details, including whether anyone at the department ever checked the law enforcement database to see if Rodger had purchased guns.
Ed Obayashi, a veteran police trainer and legal advisor to several California law enforcement agencies, said most departments don't have a set policy on asking about firearms during welfare checks.
"The decision is very much in the hands of the officers at the scene," he said. "They are the ones going to make a decision whether this person is going to harm themselves or others."
In this case, Obayashi said the deputies would not have had probable cause to search Rodger's apartment without more information to show that he was a threat to others and so would have needed his consent.
Los Angeles Police Department Cmdr. Andrew Smith said a standard welfare check by his department's patrol officers wouldn't prompt a gun ownership inquiry. But the LAPD's mental health unit might run such a check, depending on the circumstances, he said.
Former L.A. police Captt. Rick Wall, who now works as a consultant on mental health and safety for businesses and educational institutions, said he thought it would be appropriate to ask about weapons in a case like Rodger's because others were worried about his depression.
Rodger wrote of the April 30 interaction in a 137-page document in which he outlined what he called his "Day of Retribution," saying he had three semiautomatic weapons hidden in his bedroom at the time and had written up plans for the assault.
"I tactfully told them that it was all a misunderstanding, and they finally left. If they had demanded to search my room ... that would have ended everything," he wrote. "For a few horrible seconds I thought it was all over. When they left, the biggest wave of relief swept over me."
---