Man convicted in 1988 killing of Inglewood cop to be set free over objections of family and law enforcement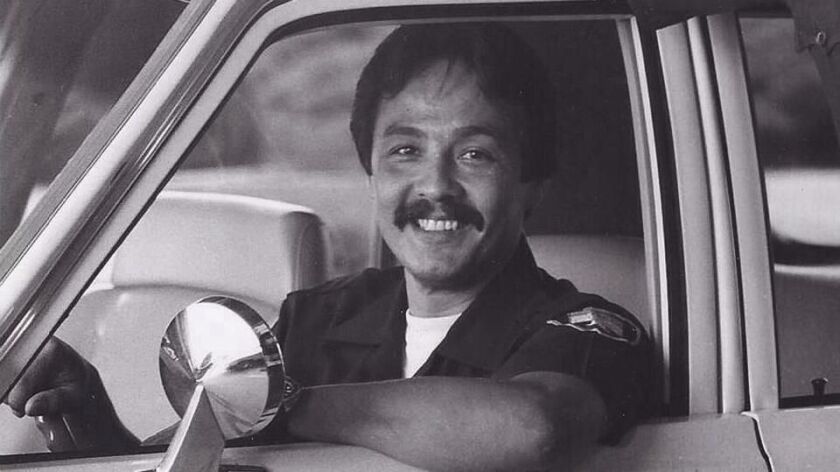 A man convicted of masterminding a robbery that led to the 1988 slaying of an Inglewood police sergeant is set to be released from prison despite the furious pleas of the slain officer's family and law enforcement leaders, officials said.
Joevone Elster, who was convicted of first-degree murder and robbery in the shooting death of Inglewood Sgt. George Aguilar, will be released from state prison next week, said Luis Patino, a spokesman for the state department of Corrections & Rehabilitation.
It was not immediately clear, however, whether Elster would instantly become a free man. Patino said Elster would be released into the custody of the Los Angeles County Sheriff's Department. A Sheriff's Department spokeswoman said he is wanted on a forgery warrant but could not offer additional details Thursday night.
Elster did not fire the shot that felled Aguilar, but the sergeant was killed during a car chase that followed a gas station robbery plotted by Elster to gain revenge against a former employer. He was sentenced to 32 years to life in prison in 1989.
A parole board deemed Elster suitable for release in April of 2016, but Gov. Jerry Brown reversed that decision months later, records show. Elster appealed, and a Los Angeles County judge overturned Brown's decision in March 2017.
Elster was denied parole three times between 2008 and 2014, according to Evan Westrup, a spokesman for the governor's office. Brown decided not to fight the Los Angeles court decision overturning his reversal because his appeal was unlikely to succeed, Westrup said.
News of Elster's pending release was met with shock by Aguilar's son, who was 24 when his father was killed.
"We were devastated. We were speechless. We were scared. We were just completely shocked. Even if this were going to happen, I figured they might call and tell us it was three months down the road, not three days," said George Aguilar Jr., 53, who learned of Elster's pending release earlier this week. "My sister and my wife were actually fearing for their safety because we have fought to keep this man in prison."
Elster was one of five men charged in what prosecutors termed an "evil plot" to rob a Los Angeles gas station. Prosecutors said Elster, a "disgruntled" former employee, masterminded the plot that sparked a chain of events ending in Aguilar's death.
Elster, who was 22 at the time of the shooting, and Van Otis Wilson were waiting at the gas station to rob an employee who was supposed to transfer cash to a bank on the morning of March 31, 1988, according to prosecutors and court documents. Wilson, Elster and three other men followed the employee as he drove toward Inglewood, then robbed him at gunpoint, prosecutors said.
Aguilar, who was off-duty at the time, began pursuing the suspects moments later, records show. Gunfire erupted as the sergeant attempted to pull in front of the fleeing suspects.
Leslie Holget fired the shot that killed Aguilar. He committed suicide after leading police on a 45-mile chase later that night. Elster and Wilson did not fire on the sergeant, but were charged under California's "felony murder" statute, which allows defendants to be held responsible for a death that occurs during the commission of a felony crime, even if the defendant did not directly cause the victim's death.
Elster became eligible for release in May 2009, according to a spokesman for the California Department of Corrections & Rehabilitation. Wilson was also convicted of first degree murder and robbery and sentenced to 33 years to life in prison.
Patrick Anthony Carr was also charged in the case, but he pleaded guilty to second-degree murder and was sentenced to 15 years in prison in exchange for his testimony against Elster and Wilson. A 16-year-old defendant was also remanded to the custody of the state until he turned 25.
Wilson has been denied release twice, and his next parole hearing will be scheduled sometime before February 2019, said Patino, who could not provide details on the status of the other two men convicted in connection with Aguilar's death.
Even if this were going to happen, I figured they might call and tell us it was three months down the road, not three days.
George Aguilar Jr., who was 24 when his father was killed
In reversing Brown's decision, Los Angeles County Judge William Ryan pointed to Elster's expression of remorse for the crime and his spotless disciplinary record in the state prison system. Elster has attained an associate's degree and earned a certification as a substance abuse counselor while incarcerated. He has not been subject to discipline during his entire 27 years in prison, court records show.
A psychologist also found Elster was unlikely to re-offend or commit a violent act, according to court records. Elster also told prison officials he plans to take college courses in the Bay Area upon release, and Ryan said the fact that he has developed employment skills, including working as a porter and technician while in prison, greatly reduces the likelihood that he will commit another crime, records show.
"The Court does not reach this conclusion lightly and is not unmindful of the impact this decision will undoubtedly have on Sergeant Aguilar's family and friends.… [Elster] orchestrated a heinous offense for which he was appropriately punished for 27 years," Ryan wrote in his decision. "Based on the record before the Court, however, it is clear there is no evidence demonstrating that [Elster] currently poses an unreasonable risk of danger to society."
Aguilar was the first Inglewood police officer to be killed in the line of duty. An avid runner and scuba diver, Aguilar was a 16-year veteran of the department, his son said. He also spent two years working for the now-defunct Compton Police Department.
"My dad actually loved his job. That was everything to him. Aside from us, the next most important thing to his life was being a police officer," Aguilar Jr. said. "He was very energetic. He was a comedian."
Aguilar was survived by three children. His youngest son was just 5 at the time of his death, according to Aguilar Jr. The family has launched a social media campaign that it hopes will spur politicians to fight Elster's release, and Aguilar Jr. said relatives and friends have written letters to Brown hoping he will appeal.
Inglewood police did not immediately respond to a request for comment.
Elster is the second man convicted in connection with the death of a Southern California police officer set to be freed from state prison in recent weeks. Earlier this month, Voltaire Williams was granted parole after serving 27 years for his role in the 1985 shooting death of Los Angeles Police Det. Thomas C. Williams.
Voltaire Williams, who was not related to the slain detective, had been convicted of conspiring to murder him, though he did not take part in the actual killing.
Gov. Brown opposed Williams' release, but could not outright block his parole because he had not been convicted of murder.
News of Elster's expected release drew angry reactions from law enforcement leaders. In a blog post published Wednesday afternoon, the union representing Los Angeles County sheriff's deputies called the decision to grant Elster parole "outrageous."
"It is crucial to the security of the state of California, and to the safety of the men and women who enforce its laws, that cop killers forfeit their freedom for life when they murder a law enforcement officer," the blog post read. "If not, the underlying message is that killing a police officer is worth the risk, because you may not have to be in prison for life."
Follow @JamesQueallyLAT for crime and police news in California.
ALSO
3 suffer burn injuries from fire at Google conference venue in Mountain View
A California mom drizzled gas station cheese on her Doritos. Now, she's fighting for her life
State auditor urges UC regents to boost oversight of budget but says audit found nothing 'nefarious'
---
UPDATES:
8:30 p.m.: This story was updated with additional information from the Los Angeles Sheriff's Department.
6:15 p.m.: This story was updated with additional information from corrections officials.
This story first published at 3:15 p.m.
---
The stories shaping California
Get up to speed with our Essential California newsletter, sent six days a week.
You may occasionally receive promotional content from the Los Angeles Times.