Newsletter: Essential California: A professor's allegations against a would-be Supreme Court justice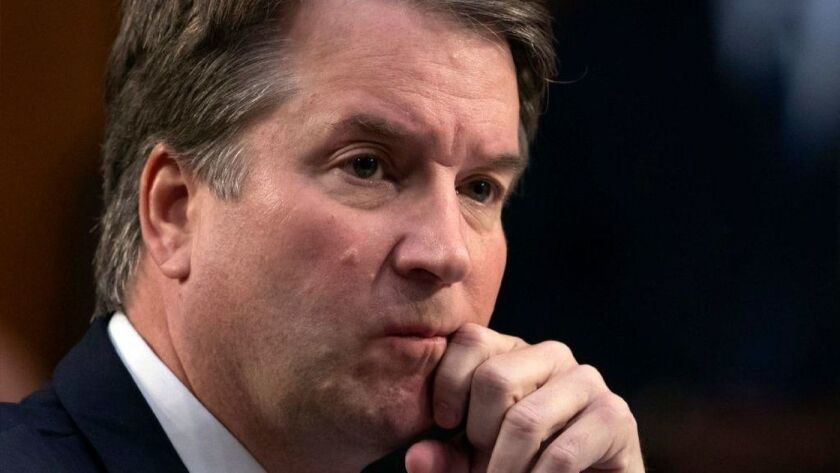 Good morning, and welcome to the Essential California newsletter. It's Monday, Sept. 17, and here's what's happening across California:
TOP STORIES
Judge Brett Kavanaugh's nomination to the Supreme Court faces a potentially damaging delay after a California professor who has accused him of sexually assaulting her when they were in high school publicly identified herself and told her detailed story. Los Angeles Times
-- The University of Palo Alto professor goes on the record. Washington Post
-- Anita Hill and Christine Blasey Ford: Will we see a different Washington and a different America? Los Angeles Times
-- Sen. Dianne Feinstein, Kavanaugh, a high school accuser and discord inside the resistance. The New Yorker
#MeToo and Hollywood
A year after #MeToo, many movies remain in limbo. The fallout isn't limited to Weinstein properties. Other movies that have been orphaned amid the #MeToo movement include the latest films by Woody Allen, Roman Polanski and Louis C.K. Distributors have to weigh the cost of releasing these movies against the potential publicity backlash that could scare audiences away. Los Angeles Times
-- The lawyer who found a stronger voice in the #MeToo world. Los Angeles Times
-- China and #MeToo: It's complicated. Los Angeles Times
-- Hosting the first Emmys of the #MeToo era, Colin Jost and Michael Che have a lot to prove tonight. Los Angeles Times
Complicated history
Stanford University's leaders plan to strip some prominent campus references to Junipero Serra, the canonized 18th century priest who established the California mission system that critics now blame for decimating Native American communities. Los Angeles Times
-- The California resistance as through the lens of history. From Serra to President Trump. Has California always been exceptional? Pacific Standard
-- Can Serra be both the founder of California and a shameful racist? Both a saint and a sinner? Mercury News
A $15-billion question
Who is to blame for California's most destructive fire? The answer will have huge implications for residents who lost their homes and are trying to rebuild, insurers faced with massive claims and, perhaps most important, to Pacific Gas & Electric. Wall Street estimates the utility giant faces up to $15 billion in liabilities from this and other fires that devastated California's wine country last year. It has raised the possibility of bankruptcy if it cannot get some relief. Los Angeles Times
-- The new science of "fire weather." Science News
Get the Essential California newsletter »
L.A. STORIES
On the town: For $235, L.A. diners get treated to designer food and Method acting. Is this innovation or the height of parody? Los Angeles Times
Respect: Oprah Winfrey on first responders to the Montecito mudslide and fires: "Thank you for living out loud what it means to be a hero." KSBY
Bill Plaschke weighs in: Assessing what is wrong with USC's football program. Los Angeles Times
Plus: A college football history tinged with racism and activism. Los Angeles Times
Another swing: Frank McCourt has emerged in the sports world — in France. New York Times
CRIME AND COURTS
The fine print: Callers seeking treatment from StemGenex, a La Jolla medical clinic offering stem cell therapies for Parkinson's, multiple sclerosis and other serious ailments, were hoping to hear encouraging news. For many, that's what they got. Plaintiffs allege in depositions filed in a federal court lawsuit that they were told the clinic had a 90% "success rate" in treating its patients. As it turned out, however, the success rate they cited was inaccurate, former executives say. Los Angeles Times
Naming names: The San Jose diocese will release a list of priests accused of being sexual predators. San Francisco Chronicle
"There is no justice yet": Six months after the police shooting of Stephon Clark sparked national debate, Sacramento is still seeking answers. Sacramento Bee
DECISION CALIFORNIA
Hey, California voter, way to go! People may say you're sun-baked, a bit too laid-back and, when it comes to picking presidents, largely irrelevant. But thanks to you, the state is sitting dead center in the November fight for control of Congress. Los Angeles Times
Case study: The GOP has a headache on its hands in Rowland Heights. Wall Street Journal
Get more midterm election coverage on our Decision California page.
POLITICS AND GOVERNMENT
Rock star status: The hottest ticket at last week's three-day climate change summit was a private meeting with the governor of California. Los Angeles Times
A tip: For some people, there's a way to avoid those DMV lines. Los Angeles Daily News
CALIFORNIA CULTURE
X-ray vision: An amazing artists detective story at the Huntington: How blue is "The Blue Boy"? Los Angeles Times
Listen up: A small theater in Iowa as a lesson for Hollywood. Some doubted the Webster Theater could compete with Netflix and streaming, but Jeff Pingel and Kay Ross kept the faith. The movie marquee, they say, "is the heart of the American downtown." Los Angeles Times
When life gives you lemons …: San Francisco's leaning tower is an engineering disaster, but also now a tourist attraction. San Francisco Chronicle
Lens of history: A photographer has made it his mission to go to retirement homes across California and take portraits of military veterans. Orange County Register
Capital infusion: Cash is coming to make L.A. a biotech hub. Will it be enough? Wall Street Journal
Storied name: Salesforce co-founder Marc Benioff is picking up Time magazine for $190 million. Wall Street Journal
Sharing their stories: San Diego, a city of immigrants. San Diego Union-Tribune
CALIFORNIA ALMANAC
Los Angeles area: Sunny, 83, Monday. Sunny, 79, Tuesday. San Diego: Partly cloudy, 78, Monday. Partly cloudy, 76, Tuesday. San Francisco area: Partly cloudy, 63, Monday. Partly cloudy, 60, Tuesday. San Jose: Sunny, 71, Monday. Partly cloudy, 72, Tuesday. Sacramento: Partly cloudy, 81, Monday. Partly cloudy, 80, Tuesday. More weather is here.
AND FINALLY
This week's birthdays for those who made a mark in California: actress Aisha Tyler (Sept. 18, 1970) Rabbi David Wolpe (Sept. 19, 1958), former Dodgers manager Tommy Lasorda (Sept. 22, 1927).
If you have a memory or story about the Golden State, share it with us. Send us an email to let us know what you love or fondly remember about our state. (Please keep your story to 100 words.)
Please let us know what we can do to make this newsletter more useful to you. Send comments, complaints and ideas to Benjamin Oreskes and Shelby Grad. Also follow them on Twitter @boreskes and @shelbygrad.
---
The stories shaping California
Get up to speed with our Essential California newsletter, sent six days a week.
You may occasionally receive promotional content from the Los Angeles Times.