Hosting the first Emmys of the #MeToo era, Colin Jost and Michael Che have a lot to prove
Stephen. Seth. Jimmy. The other Jimmy. Emmy hosts tend to be recognizable by their first names.
On Monday it's Michael and Colin's turn to emcee the biggest night in television. In case you were wondering, that would be Michael Che and Colin Jost, anchors of "Weekend Update" on "Saturday Night Live," where they are also co-head writers.
While the duo is not as well-known as their predecessors, NBC is betting the resurgent popularity of "SNL," which is up for 21 Emmys this year, will help boost ratings — or at least stop the bleeding. Lorne Michaels, who's reigned over the show for most of its 43-year history, will also executive produce the ceremony for the first time since 1988, and is expected to draw from the show's deep bench of talented alumni.
Ratings for the broadcast have been in decline since 2013, as TV audiences have fragmented and Emmy voters have embraced niche shows on cable and streaming networks over mainstream hits.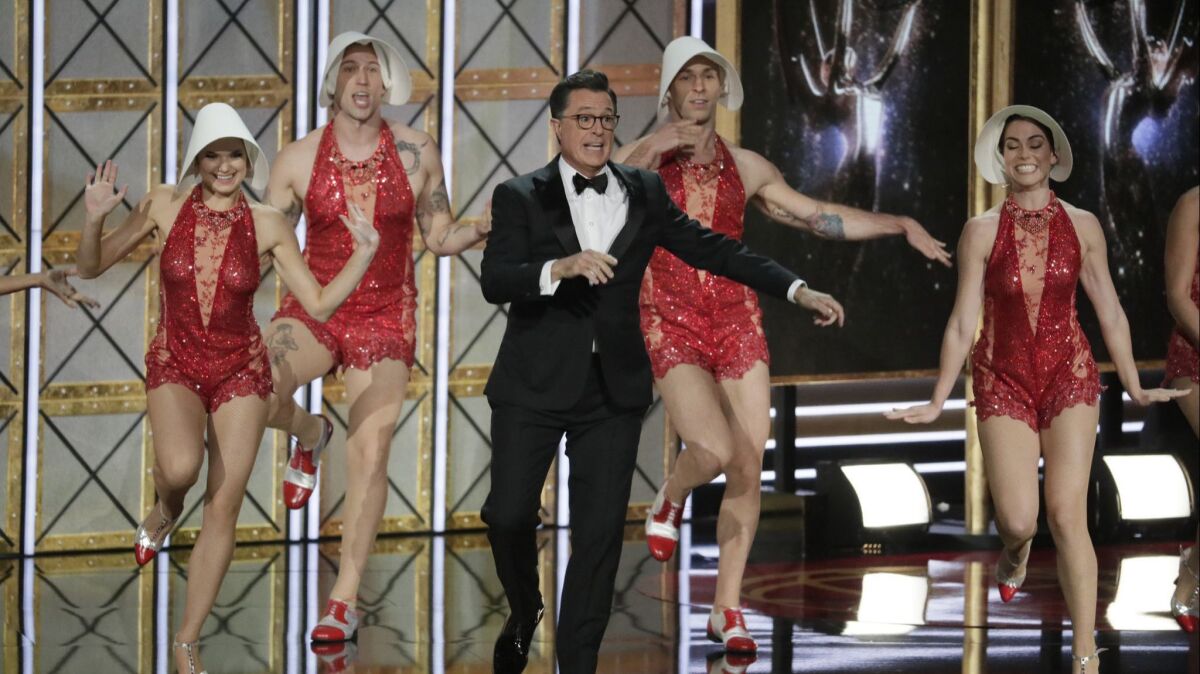 2018 Emmys: Everything to know before the big show »
Last year's politically charged ceremony, which was hosted by Colbert and included frequent jabs at Donald Trump, weighty acceptance speeches and a controversial cameo by ousted White House press secretary Sean Spicer, scored just 11.4 million viewers — nearly tying the record-low ratings of 2016. Some observers were quick to blame the broadcast's political bent for its lackluster performance, but the absence of the blockbuster "Game of Thrones" from the nominees may have also been a factor.
While that HBO drama is back in contention this year, and will compete with other mainstream favorites such as "This is Us" and "Stranger Things," Che and Jost may still feel compelled to take creative risks in order to goose the ratings and create some social media buzz. If they're too partisan, they'll invite a backlash. Ignore the zeitgeist completely; they'll be called tone-deaf.
The "Update" desk has spawned other well-received awards show hosts, including Jimmy Fallon and Seth Meyers (who've each hosted both the Emmys and the Golden Globes) and Amy Poehler and Tina Fey (just the Golden Globes so far).
Jost has been a writer at "SNL" since 2005, not long after graduating from Harvard, and replaced Seth Meyers as "Weekend Update" anchor in March 2014. A former "Daily Show" correspondent, Che joined him at the desk a few months later, becoming the first African American to anchor "Weekend Update" and helping bring diverse perspectives to a show that has struggled to be inclusive.
Their relative youth (Che is 35; Jost, 36) could be a magnet for younger viewers, and "SNL" is in the middle of a ratings renaissance. Original episodes last season averaged a weekly audience of 9.4 million, with delayed viewing factored in, making it the second most-watched season of the sketch show in 23 years. But it's hard to know exactly what role Jost and Che, with their "best bros forever" chemistry, play in the show's current success.
And they will face a number of challenges Monday night, starting with their untested endurance as hosts. Delivering pithy one-liners for 10 minutes on "Weekend Update" is one thing, but presiding over a three-hour-plus ceremony showcasing the best in TV is quite another.
There's also a sense among some critics that they are the wrong hosts for the current cultural moment. When the Emmys were handed out last year, Bill O'Reilly had recently been fired by Fox News, but Harvey Weinstein still had a job, as did perennial favorites Kevin Spacey, Louis C.K. and Jeffrey Tambor.
RELATED: Emmys hosts Michael Che and Colin Jost discuss the big night, their evolving partnership and Tina Fey's advice »
Monday's ceremony, where female-centric shows such as "The Handmaid's Tale" and "The Marvelous Mrs. Maisel" are expected to pick up multiple awards, will be the first to take place in the full throes of a movement that continues to roil the industry. This week alone has brought the departure of men once thought untouchable, including "60 Minutes" executive producer Jeff Fager and former CBS Chairman Les Moonves.
Awards shows are especially popular with female viewers, yet the last woman to host the Emmys was "Glee" star Jane Lynch in 2011. Perhaps inevitably, NBC's decision to tap two men for this year's gig prompted negative headlines such as "SNL doesn't think women are funny enough to host the Emmys."
If NBC wanted to leverage the enduring appeal of "SNL," there are plenty of women who could have done the job, say the critics, including Fey, Poehler, Kate McKinnon, Leslie Jones, Kristen Wiig and Maya Rudolph. (Or the network could have hired any number of stars outside the "SNL" orbit, such as Kristen Bell or Megan Mullally.)
Che and Jost are seasoned veterans at topical comedy, and they've addressed #MeToo from their "Weekend Update" perch. But hosting an inherently schmoozy event such as the Emmys, making people laugh and being sensitive to public fatigue with polarizing politics while also recognizing the gravity of the moment represents a precarious balancing act.
(Another complicating factor? The as-yet-unknown but potentially disastrous aftermath of Hurricane Florence, which is currently bearing down on the Carolinas.)
Che and Jost have the benefit of following other hosts into this tricky terrain. Seth Meyers successfully threaded the needle at January's Golden Globes, making light of his unenviable job. "A special hello to hosts of other upcoming awards shows who are watching me tonight like the first dog they shot into outer space," the "Late Night" host joked in his opening monologue.
2018 Emmys: Here's the complete list of nominees »
But unlike Meyers, who's carefully positioned himself as an ally for women and members of the LGBTQ community in the Trump era, both Jost and Che have been accused of trafficking in dismissive, insensitive humor.
Shortly after the 2016 election, Jost was criticized for making what was seen as a transphobic joke on "Weekend Update." In the run-up to Monday's ceremony, he's hinted that they'll tread lightly on topical material, telling The Times last month that most awards shows "are way too self-serious and focused on things that 99% of the country doesn't care about." He also recently told Vanity Fair that, by the time the Emmys roll around, "People are going to be desperate to give men a chance, finally. It'll probably be #HeToo by then."
Che has gotten even more flak for his views on gender politics, apparently defending Louis C.K.'s attempted comeback and "right to speak and make a living," in a recent Instagram post. He quit Twitter several years ago after clashing with feminists. He's also used the platform to criticize "standup tragedy," comments that were widely interpreted as digs at "Nanette," the acclaimed special from comedian Hannah Gadsby that harnessed the rage of #MeToo and sparked a thousand think pieces.
"I wanna laugh," Che wrote.
Follow me @MeredithBlake
Get our L.A. Goes Out newsletter, with the week's best events, to help you explore and experience our city.
You may occasionally receive promotional content from the Los Angeles Times.