L.A. real estate developer and billboard executive fined over political donations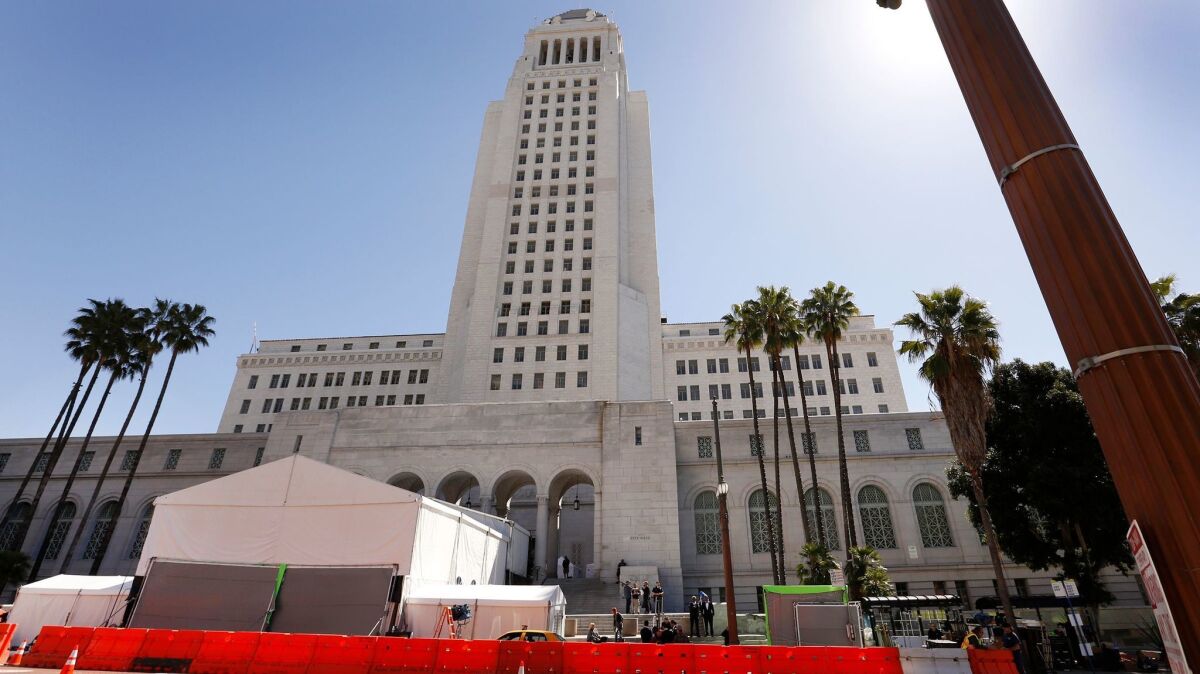 A real estate developer and a billboard executive were fined Tuesday by the Los Angeles City Ethics Commission for flouting city rules that restrict how much donors can give to politicians.
The Ethics Commission agreed Tuesday to impose a $16,455 penalty on Ingrid I.S. Lee, also known as In Soo Lee, for exceeding city limits on political contributions by routing many of the donations through real estate companies.
Ethics commissioners also voted for a $15,000 fine for Joseph Kouba, one of the owners of billboard company Summit Media, for violating those same limits when he made donations to politicians both in his own name and through Summit Media.
Los Angeles limits how much any political donor can give to candidates or elected officials during each election cycle. If a donor owns a company or completely controls its political donations, those campaign contributions are supposed to be tallied up along with his or her own personal donations.
But it isn't always clear who owns a business entity, making it challenging to tell exactly who is financially backing candidates and whether campaign donors are following the rules.
Lee exceeded the city limits by $3,870 by making donations through real estate companies Ceiland Coast Inc., Coastland Project LLC, Injae LLC and Westcal Property Management Group, the investigation found. The donations were given to campaigns to elect Councilman Gil Cedillo and Councilwoman Monica Rodriguez, as well as to an officeholder account for Cedillo.
Kouba, in turn, made donations to local politicians and directed Summit Media to donate to the same candidates and officials, according to the city investigation. Those donations, which exceeded city limits by $2,600, supported Cedillo, Councilman Jose Huizar, Councilman Marqueece Harris-Dawson and Councilman Paul Krekorian.
In both cases, city investigators said that the violations were serious and showed "a pattern of activity." In addition, they found that the violations by Lee indicated "an intent to conceal or deceive," noting that she was aware of the restrictions on how much she could give.
Investigators did not find any evidence that Kouba was trying to be deceptive, according to their report. However, they noted that Kouba had been fined $1,000 eight years ago for putting up political ads without including a legally required disclaimer.
Ethics Commission staffers nonetheless recommended that both Lee and Kouba face less than the maximum penalties — which could have totaled $32,910 for Lee and $20,000 for Kouba — because they had cooperated with the city investigations. Both Lee and Kouba declined to comment on the fines ahead of the Tuesday vote.
Investigators did not say, in their written reports, whether any of the politicians who received the excess donations were aware of the ties between Kouba or Lee and their companies. Representatives for those politicians told The Times that they were not aware of any connection when the donations were made.
"The donors provided different names, addresses and contact information," Rodriguez campaign attorney Stephen Kaufman wrote in an email.
"Similarly, Councilmember Huizar and his campaign had no way of knowing that these contributors were related," added Kaufman, who also represents Huizar.
One lawmaker already has paid money to the city because of the improper donations: Following an audit of his 2013 campaign, Cedillo agreed earlier this year to pay $7,000 to the city to resolve findings that his campaign four years ago had taken "excess contributions," including donations from Kouba and Summit Media.
"We were not aware of any connection between any other parties involved," Cedillo campaign treasurer David Gould wrote in response to questions about the donations tied to Kouba and Lee.
Business entities have repeatedly been used by Los Angeles donors to effectively sidestep the city limits on political contributions: In April, the ethics commission imposed a $17,000 fine on real estate investor Leeor Maciborski, who wrote checks through more than a dozen companies to help elect Councilman Mitch O'Farrell four years earlier.
The Times previously had highlighted those donations as an example of the lack of transparency surrounding political donations from business entities. Following an audit of that campaign, O'Farrell agreed to pay the city $4,000 to resolve audit findings for accepting those and other excess contributions.
Some cities sharply restrict political donations from businesses and other organizations. San Diego, for instance, allows candidates to take money only from individuals and political parties, banning all other entities from giving directly to candidates.
L.A.'s Ethics Commission has weighed whether to demand more information from businesses and other groups that donate to local campaigns, but so far has not imposed any new requirements.
Campaign officials have warned that if Los Angeles imposes any restrictions on campaign contributions from businesses or other entities, those groups simply could shift their donations to independent committees that are not directly controlled by candidates, which can spend unlimited amounts to support their favored politicians.
Twitter: @AlpertReyes
---
Life is stressful. Our weekly mental wellness newsletter can help.
You may occasionally receive promotional content from the Los Angeles Times.