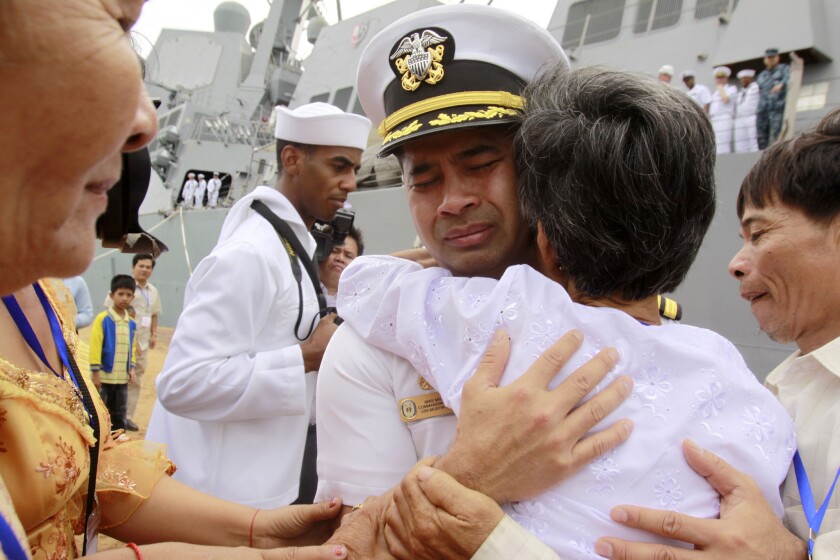 Reporting from San Diego —
The highest ranking Navy officer charged in the sprawling "Fat Leonard" bribery and contracting fraud scheme was sentenced to more than six years in federal prison on Friday, the longest term handed down so far in the scandal.
Cmdr. Michael Vannak Khiem Misiewicz, 48, pleaded guilty earlier to one charge of conspiracy and one charge of bribery. Prosecutors said that for nearly two years, he accepted gifts, travel, stays at fancy hotels and the services of prostitutes — all paid for by Leonard Glenn "Fat Leonard" Francis, the owner of a port servicing company that supplied Navy ships across the Pacific.
In exchange, Misiewicz gave Francis confidential information on ship schedules for the U.S. 7th Fleet, for which he served as deputy operations officer in 2011 and 2012. He also used his influence to try to steer ships to ports in Asia that were controlled by Francis' company, Glenn Defense Marine Asia, prosecutors said.
In court Friday, prosecutors said Misiewicz also passed Francis classified information related to the Navy's ballistic missile defense operations in the Pacific.
In court and in a three-page letter submitted to U.S. District Court Judge Janis L. Sammartino, Misiewicz said he was "ashamed" of his actions. He tearfully apologized to his family seated in court.
He is one of 10 people charged so far in the scheme, and his sentence exceeded the 71 months prosecutors had sought. Sammartino, while acknowledging Misiewicz's sterling 28-year Navy career, said his actions were a betrayal "to your country and your shipmates."
See more of our top stories on Facebook >>
Francis spent years bribing key Navy officers and civilian officials so they would use their influence to get him contracts and send ships to his preferred ports. Once there, he routinely defrauded the Navy by overcharging for services he had contracted to provide, such as fuel, fresh water and shore transportation.
Sammartino also ordered Misiewicz to pay $95,000 in restitution to the government and fined him $100,000.
So far, nine of the 10 people charged have pleaded guilty.
Moran writes for the San Diego Union-Tribune.
ALSO
Electric vehicle firm pays back wages to three workers after city investigation
May Day, Trump, Sanders: LAPD braces for weekend of political protest
Judge slams gay sex stings by Long Beach police, calling them discriminatory
---