L.A. Councilman Felipe Fuentes plans to step down early to become a lobbyist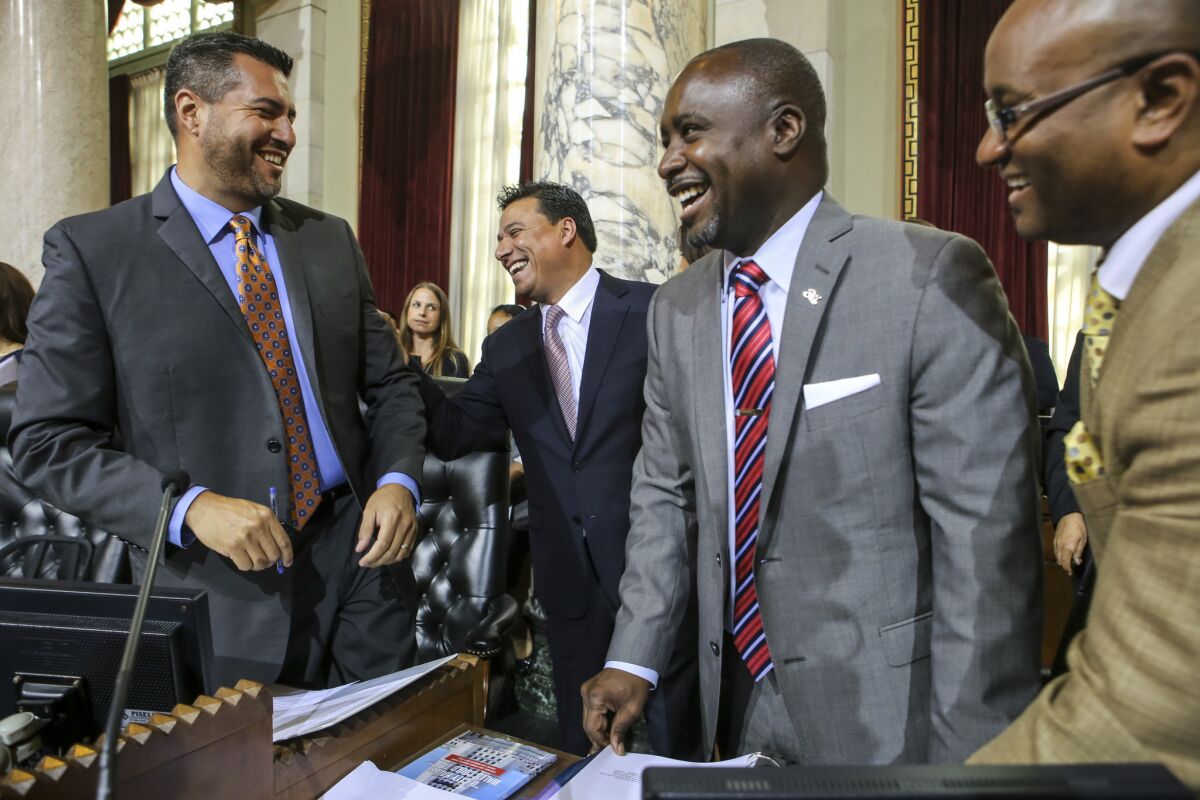 Los Angeles City Councilman Felipe Fuentes said Sunday he will resign from his post next month, a move that could leave his San Fernando Valley district without a representative on the council until next summer.
Fuentes, who represents the northeast Valley, intends to step down Sept. 11, nearly 10 months early, to become a lobbyist with the Apex Group in Sacramento. Under the city's election schedule, his replacement will be sworn in next July.
Fuentes, elected in 2013 to represent such neighborhoods as Sylmar, Pacoima and Sunland-Tujunga, had already announced in January that he would not run for a second term. Since then, 21 people have announced an intention to run for his seat in next year's municipal election.
In his new role, Fuentes will be a paid advocate for Associated General Contractors of California, a statewide trade group. Fuentes said he decided to leave early so he could represent that organization this fall, as the state's political leaders search for new ways of paying for the repairs of roads and other public works.
Addressing the state's infrastructure needs will require "very big fixes at the state and federal level, and this provides me the opportunity to be part of that," he said.
The early departure will probably cause Fuentes' district to be overseen temporarily by a caretaker — typically an official in the city's chief legislative analyst's office. Although the council could call for a special election, that scenario is unlikely, since the election to replace Fuentes is set for March and candidates have already begun raising money.
Fuentes, 45, acknowledged that his departure would put the district at a disadvantage on citywide policy issues, losing a voting representative until a new council member takes office. But he argued that initiatives planned at the local level, such as upgrades to a stretch of Van Nuys Boulevard, are already on track and will be completed in his absence.
"The bulk of the projects that we've got in the pipeline won't need me to be there," he said.
One neighborhood activist did not sound troubled to lose Fuentes ahead of schedule. Fuentes has been at odds with his constituents over plans for a new studio facility in Sun Valley and proposed routes for high-speed rail in the district, said David DePinto, president of the Shadow Hills Property Owners Assn.
"I would say unequivocally this is the best news I've heard for [the council district] in three years," he said. "We only had his word that he was not going to run again. Some of us were concerned he was going to change his mind."
During his first term, Fuentes was a driving force behind a measure, now heading to the November election ballot, to make the Department of Water and Power function more effectively. He also played a role in vetting the city's plan for increasing the minimum wage over the next five years, said Councilman Bob Blumenfield, who represents part of the west Valley.
"It's a huge loss," he added. "I think he's thoughtful and methodical and cares about his community, but also Los Angeles overall."
Fuentes, who earns $189,041 annually, has been in politics 17 years. He served in a number of political positions, including deputy mayor and as a member of the state Assembly. A lifelong Valley resident, he plans to relocate his family to Sacramento.
The list of hopefuls looking to replace Fuentes include Los Angeles school board member Monica Ratliff, former public works commissioner Monica Rodriguez and Karo Torossian, a planning aide to Councilman Paul Krekorian, who represents the southeast Valley.
If no one in the March election gets a majority, the top two vote getters will head to a May runoff.
Twitter: @DavidZahniser
ALSO
How do Americans view poverty? Many blue-collar whites, key to Trump, criticize poor people as lazy
This assemblyman was put under a restraining order. Now, where is he?
UC Berkeley cold-case killing is solved, bringing closure to Agoura Hills family
---
The stories shaping California
Get up to speed with our Essential California newsletter, sent six days a week.
You may occasionally receive promotional content from the Los Angeles Times.